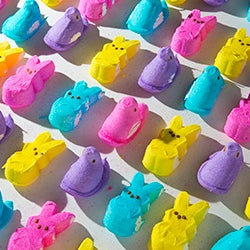 Easter is a major candy holiday, lagging behind only Halloween in sales volume. It wasn't always so. While the other dishes that adorn the Easter table and filled Easter baskets—spring lamb, dyed eggs, and hot cross buns—all trace their origins to the pagan spring festivals of ancient times, candy is a newcomer, dating back just to the 1800s, when European candy-makers first started hand-crafting chocolate eggs for the holiday. Candy eggs were wildly popular, and by the late 1800s, fine candy makers in major U.S. cities were offering chocolate eggs both hollow and filled, jelly eggs, and exquisite panorama eggs of sugar, icing, and paper for the Easter holiday. —Samira Kawash
Read more about the history of Easter candies in Samira Kawash article Basket Cases: The History of Easter Candy »
A box of chocolates today is a wonder of variety: caramels, nougats, truffles and pralines. But in the late 1900s, the most common sort of chocolate dipped candy was the simple chocolate cream–a handcrafted bonbon consisting of a fondant center coated in chocolate. The fondant could be colored and flavored, or it could just be plain white and intensely sweet. Plain fondant is almost obsolete in contemporary mass-market candies, with one exception: inside the Cadbury Creme Egg. The Cadbury Creme Egg, invented in 1875, is one of the most polarizing of Easter treats. Some love its sugary center, while others gag on the super-sweet filling. But love it or hate it, the Cadbury Creme Egg brings us as close as we can get to the chocolate creams so popular a century ago. –S.K.
Pictured: Cadbury Creme Eggs; $18.06 for pack of 64 CT at Amazon »
Chocolate bunnies are the most democratic of Easter candies. They range from the cheap, mass market versions found in drug and discount stores to the exquisite, hand-made products of fine confectioners–with price tags to match. Molded chocolate novelties were among the first candies to be specifically produced for the Easter holiday. The first chocolate molds were made by hand from tin coated metal sheets in the 1830s; the art reached its zenith in the 1880s and 1890s. Chocolate back then was not the smooth, flowing stuff we know today. It was difficult to work with, and hand-molding chocolates was a high art. Intricate shapes like rabbits and chicks were especially challenging to perfect. Fine confectioners would show off their skill and entice customers by displaying beautiful molded chocolates created to reflect the changing seasons. In the twentieth century, innovations like plastic molds, cheaper chocolate recipes, and molding machinery brought shaped chocolates to the mass market. But whether high art or mass commodity, every chocolate bunny poses the same dilemma: Ears first, or last? –S.K.
Lindt Lindor Easter Gold Bunny and Eggs Gift Set at Amazon »
These pretty pastel morsels are created by panning, a process that builds up a candy shell around a nut, chocolate, or chewy center. Before machines took over the work around the end of the nineteenth century, panning was a laborious practice that involved shaking a pan over a fire while slowly adding thin layers of sugar syrup. The widespread adoption of rotating steam-powered pans in the years after the Civil War, led to an explosion in panned candies. Panned chocolates didn't appear until the 1930s; M&M;'s, of "melts in your mouth, not in your hand" fame, is one of the most famous examples. Just as appealing as the hard exterior that keeps the chocolate from melting is the beautiful palette of colors that can be layered onto chocolate to create a dazzling spring-time array. These beautiful eggs are from Koppers, a New York candy-maker that's been making panned chocolate novelties since 1937 (including the famous, albeit not very Easter-ish, New York pickle). –S.K.
Pictured: Kopper's Fruit Cordial Eggs; $8.99 for 1 lb. at ohnuts.com »
Jelly beans trace their origin to the ancient Eastern delicacy known as Turkish delight. First appearing in the 1890s, jelly beans quickly became a year-round penny favorite and–due to their egg-like shape–an Easter staple. Jelly beans are so commonplace that it's easy to forget that they're a modern candy engineering marvel, combining the production of two of the most important candy machine inventions. The soft inside is made in a complex contraption called a starch mogul that combines and automates several steps of molding and pouring candy that were previously done by hand; the crunchy candy shell is built up in a rotating pan. Today, most jelly beans are made using a corn starch-based gel, which produces a firm, slightly sticky interior core. But I prefer jelly beans made with fruit pectin, which have a more tender bite. They're not always easy to find, but Easter is the time many promote their (more expensive) pectin varieties. –S.K.
Pictured: Russell Stover's Pectin Jelly Beans; $29.99 for 2 (12-oz) bags at Amazon »
Marshmallow became a popular candy in the early 1900s, when candy-makers developed recipes that used low-cost ingredients like gelatin in place of more expensive gum Arabic. Shaped marshmallows could then be made in quantity, and by the 1920s many companies were selling Easter bunny and chick- shaped marshmallow confections. The original Peep was a product of the Rodda Candy Company, in Pennsylvania, where marshmallow chicks were laboriously piped by hand using a pastry bag, and then finished with painted eyes and marshmallow wings. In 1953, Rodda Company was acquired by Just Born, a company that eventually mechanized and streamlined the Peeps process, and today, the original yellow Peep chick has metastasized into dozens of colors and shapes, available in various forms year-round. –S.K.
Assorted Peeps; $21.50 for 5 CT in 24 CT case at Amazon »
Today we associate candy corn exclusively with Halloween, but it wasn't always so. Candy corn, invented in the 1880s, was a popular year-round penny candy, and used to feature prominently in Easter baskets, where the "corn" invoked fields, barn yards, and animals (a good match for bunnies and chicks). But over time, candy corn became more closely associated with Halloween, and nearly disappeared from the rest of the candy calendar. In the 1960s, the Jelly Belly company–which traces its candy corn bona fides back to the 1890s–reclaimed the candy for Easter with "Bunny Corn", candy corn in pastel colors. You can buy cheaper versions of candy corn, but Jelly Belly's tender, flavorful bites are worth the premium price. –S.K.
Pictured: Jelly Belly Bunny Corn; $5.99 for 7.5 oz bag at Amazon »
For anyone growing up in the western part of the U.S. over the past half-century, no Easter basket is complete without an oversized decorated chocolate egg from See's Candies. The eggs, massive versions of See's regular line of chocolates, have been made the same way, with the same recipes, since the 1930s. There is something obscenely wonderful about these 7-ounce hunks of chocolates filled with everything from walnut buttercream to tender, marshmallow-y rocky road. But how to consume such a delicious monstrosity? The biters defend their technique as the most viscerally satisfying, while the more dainty slicers point out that gnawing on a hunk of fudgy candy is both unsightly and messy. Both factions will agree, though, that the egg never lasts long enough. –S.K.
Pictured: See's chocolate butter egg with walnuts, $9.70; chocolate butter egg with pecans, $16.80 for 13.5 oz. egg; Mayfair egg, $6.25; chocolate butter egg, $7.50; Rocky Road egg, $11.80; undecorated Rocky Road egg, $5.45 at sees.com »
Opulent panorama eggs–hollow sugar-shelled eggs containing miniature scenes that can be viewed through a peephole–first appeared in Victorian England, and became popular in US in the 1890s. The eggs are made by packing a sugar mixture into half-egg molds, allowing them to harden for several days, and then scooping out the inside until just a thin shell remains. Victorian-era eggs made use of many kinds of material, including paper, ceramic, fabric, and ribbons. Women frequently made these eggs as Easter treasures to give to friends and family, and they were treasured and handed down as family heirlooms. Modern food laws stipulate that panorama egg makers may use only edible frosting to create the interior scene, so today's mass produced panorama eggs are less intricate than their predecessors, but several confectioners sell hand-made panorama eggs to order. –S.K.
Pictured: Caran's Creations and Confections Panoramic Eggs; Large horizontal egg $26; large vertical $30; small horizontal $16 at caranscreationsandconfections.com »