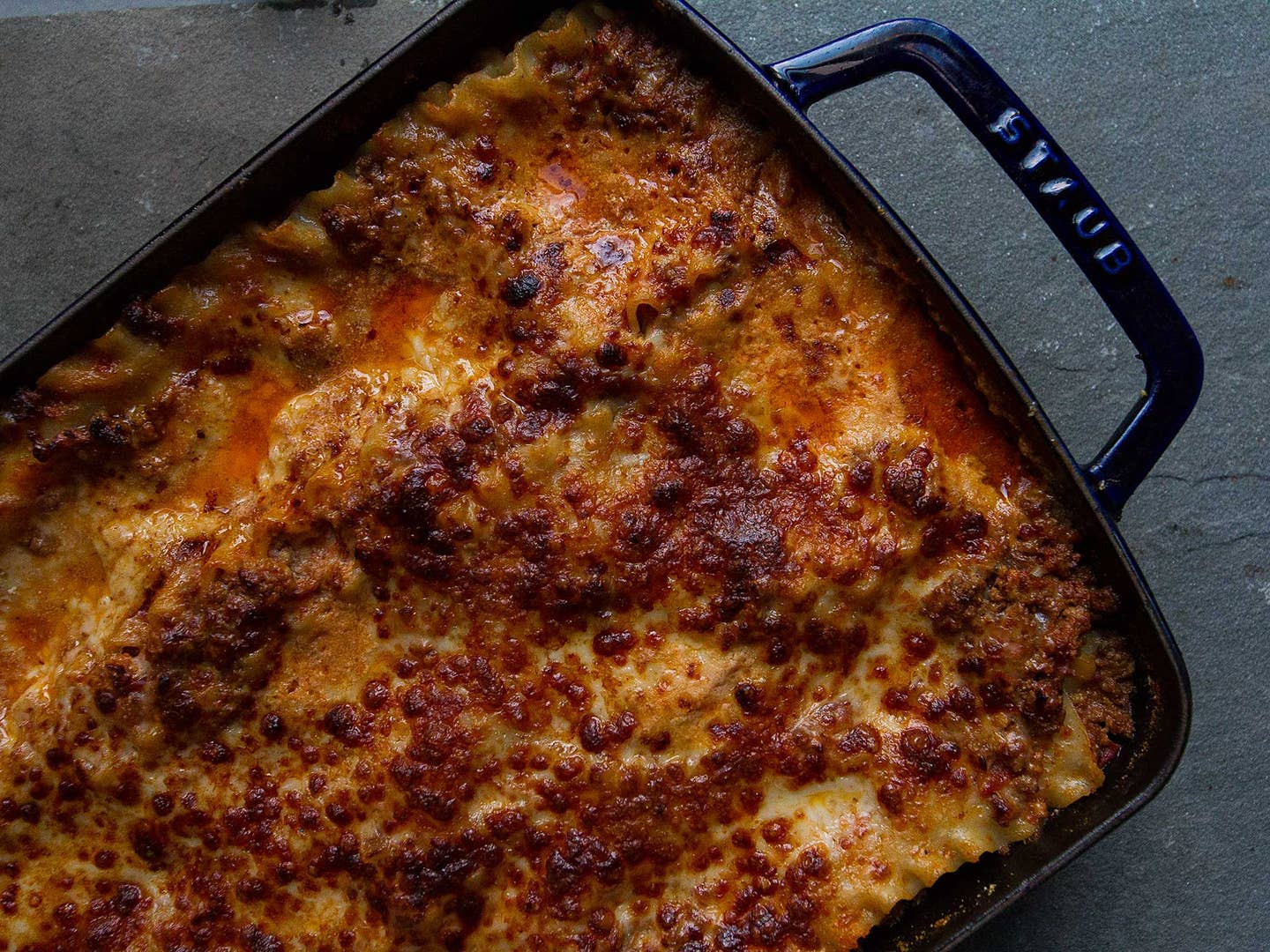 Recipes
The Quick Lasagna That Tastes Like it Took All Day
Because this crowd favorite is too good to wait for a special occasion
Everyone has that one dish that they make for everything. A potluck, a death in the family, a birth in the family—you name it. My go-to recipe for these occasions? Lasagna. Everyone eats lasagna. And if they can't eat it right away, they can stash a tray in the freezer and re-heat it whenever they're ready.
But lasagna gets a bad rap for being a labor-intensive dish. And to be honest, it often is. When I have the time, I roll my own sheets of pasta and simmer a pot of sauce for hours until it gets super rich and dark. But when I'm short on time, I'm okay cutting corners. I'll buy lasagna sheets and whip up a quick meat sauce. I'll even buy the pre-shredded mozzarella cheese. I make a simple béchamel sauce and mix that with some ricotta and mozzarella. And I eat most of it while I cook—I can't help it, I still love to dip chunks of bread into my sauce.
As good as 100% homemade lasagna can be, this "shortcut" version is the one I usually crave. My mom, who makes a fantastic lasagna, used to let me "help" when I was growing up. I would stand on the stepladder at the kitchen island, dipping my fingers into the cheese mix or dunking chunks of bread into her red sauce while we boiled the lasagna sheets. The dish is the distillation of comfort food, and when I come home, it's what I always ask her to cook.
Mom's not afraid to use store-bought lasagna sheets and sauce she had stashes away in the freezer. She makes hers plenty meaty—pork and beef for balance—and layers in plenty of cheese. Once you get into the rhythm of it, you realize that lasagna doesn't have to be a burden or something you only make for special occasions. It can be a simple weeknight meal; okay, a semi-simple weeknight meal. And it's a guaranteed crowd, something to lure your kids, friends, and family home any night of the week.