Seven Quirky and Classic Cookbooks for Every Kind of Seafood Lover
Tour the world's coasts with some of our favorite seafood-forward cookbooks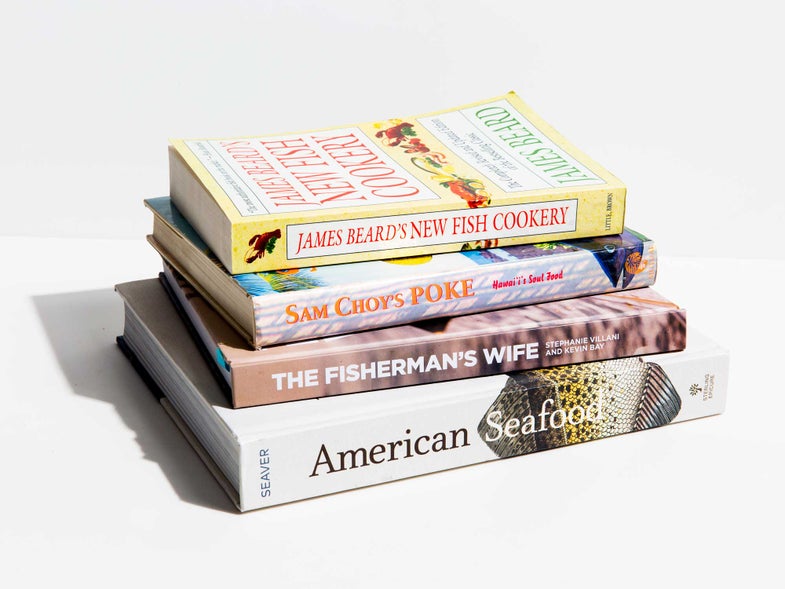 We may earn revenue from the products available on this page and participate in affiliate programs.
If there's one thing we've learned while putting together our Oceans and Islands issue, it's that there is a lot to know about seafood. There are so many different kinds of seafood around the world, and seemingly endless numbers of ways to enjoy it—basically, there's a lot to learn. Fortunately, that's where these cookbooks come in. We've put together a list of our favorite seafood cookbooks that range from service-oriented to, well, a little offbeat and weird. Some of them, like Sam Choy's Poke, revolve around just one preparation, while James Beard's New Fish Cookery takes a much, much more holistic approach. Read on for more of our favorite seafood-specific cookbooks!
Want more cookbook recommendations from SAVEUR? Check out our cookbook club series to see what we're cooking through that month.
Many cookbooks succeed by limiting their ambition, promising only easy recipes or focusing only on a tiny region. Barton Seaver took the exact opposite tack in American Seafood, dialing the ambition up to eleven to tackle a comprehensive look at the history, ecology, and kitchen utility of the hundreds of fish found off America's shores. He succeeds. (For his take on what he calls the most important fish in American history, see "Feast of the Single Fish".) —Chris Cohen, senior editor
The author of The Fisherman's Wife is one half of the husband-and-team behind Blue Moon Fish, a one-boat operation that cuts out the middleman at greenmarkets around New York. I am, full disclosure, a devoted customer of their stand, and this book is an invaluable resource when I come home with some North Atlantic oddity—dogfish, say, or porgy, or sea robin. If you live nowhere near the Northeast, though, there are simple and spectacular recipes for more common fish. More than that, it's an optimistic glimpse of how much better our seafood supply chain could be: local, sustainable, fresh, and delicious. —Chris Cohen
"Poke is going mainstream," Sam Choy wrote in the introduction to this 2000 cookbook. And he was right: 18 years later, we still love how excited he is about the Hawaiian raw fish preparation. Choy's Hawaiian spirit comes through in his versatile recipes, encouraging home cooks to improvise with their own local produce when Hawaiian ingredients aren't available. He personally signed our version , and it's a cookbook we keep close to our hearts. —Kai Burkhardt, digital intern
Originally published in 1976, this encyclopaedic tome still remains the authority on all things seafood, running the gambit all the way from abalone to yellowtail. As overfishing continues to plague the seafood industry, Beard urges us to try as many varieties as possible before they're gone, all while providing detailed preparation instructions and cooking suggestions for every single one. Despite the book's 500 pages, Beard still offers only one general rule on fish cookery: don't overcook it. —Kai Burkhardt
Though it's not a book strictly about fish, I often refer to this book when looking for seafood inspiration. Writer Giorgio Locatelli luxuriates in the relaxed Sicilian attitude in the kitchen—their open door policy and tendency to simply sprinkle tender, fat fish with a little sea salt and baste with olive oil over any other preparation. I love his recipe for stuffed and twirled sardines (beccafinco), with almonds, pine nuts, whole black olives, and raisins; or his risotto alla marinara, in which he instructs to heap clams, mussels, and shrimp into the rice mixture while it cooks. I'm still waiting to give his warm octopus salad with potatoes, green olives, and chiles a try. —Stacy Adimando, executive editor
The ocean is an unavoidable part of the foodways of Japan, with its nearly 19,000 miles of coastline and relatively small amount of arable land (only 12 percent is arable; 73 percent is mountains). Nancy Singleton Hachisu's newest book Japan pulls from a variety of the country's regional foods, and it's a challenge to find a single one that doesn't somehow reflect the influence of the sea, whether in the central ingredients themselves—like asari clams in the simple clam broth soup—or in the subtle seasonings like dried anchovies, shrimp, and kombu. —Alex Testere, senior associate editor
This book illustrates Greek food at its most basic (which I often find is the way the best Greek food should be). You'll find recipes for raw palamida (tuna) salad, clam chowder, and even some fish "meatballs." It's also not your everyday cookbook. Daniel Spoerri wrote a delightfully weird and funny diary about his time on Simi, which he describes as "an island in the Aegean, small, arid, no industry, no history, no tourism, withdrawn into itself and social and religious traditions thousands of years old." The whole thing is dense with footnotes that will take you on totally unexpected tangents, but once you start reading it, it's hard to stop, and you'll be wanting to cook like a Greek on a Cycladic island. —Katherine Whittaker, digital editor