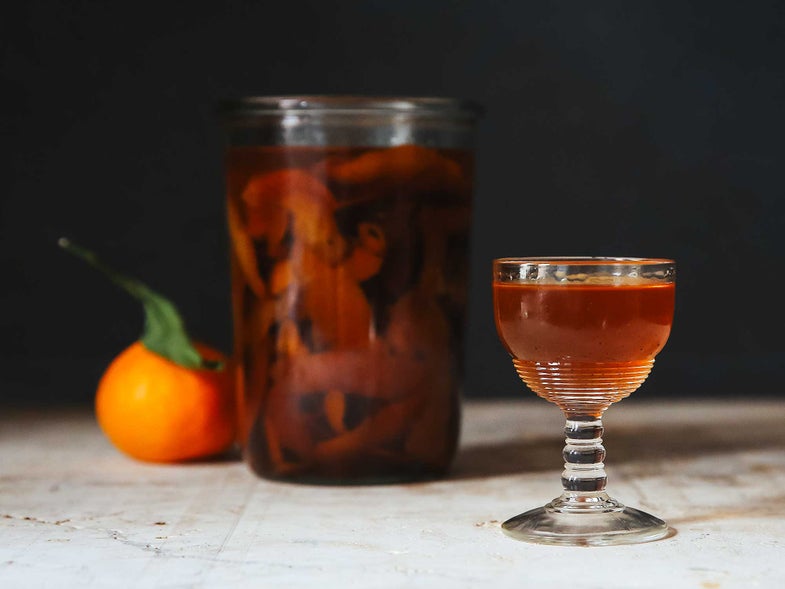 In the French Caribbean territory of Guadeloupe, this slightly sweet liqueur is prepared with the abundant clementines that appear around the holidays. Known as a shrubb (not to be confused with the vinegar-based shrub), it's prepared with rhum agricole, a local rum variation distilled from fresh sugarcane juice instead of molasses. In New Orleans, the author uses whatever variety of fresh citrus is growing in her backyard to make shrubb, sometimes swapping satsumas or kumquats for clementines. Peel the fruit with a vegetable peeler to avoid any added bitterness from the white pith.
Clementine-Rum Liqueur
An easy homemade liqueur recipe fragrant with citrus and vanilla.
Ingredients
1 750-ml bottle dark rhum agricole (such as Clément brand)
1⁄4 cup sugar, or more to taste
Peels from 8 clementines, white pith removed
1 vanilla bean, scraped
1 cinnamon stick
Instructions
In a large lidded jar, add the rhum and sugar and stir until fully dissolved. Add the clementine peels, vanilla bean pod and seeds, and cinnamon stick. Taste and add more sugar if desired. Cover and let macerate in a sunny spot for 2 weeks.
Strain twice through a few layers of cheesecloth. Serve, or store covered in a cool place.