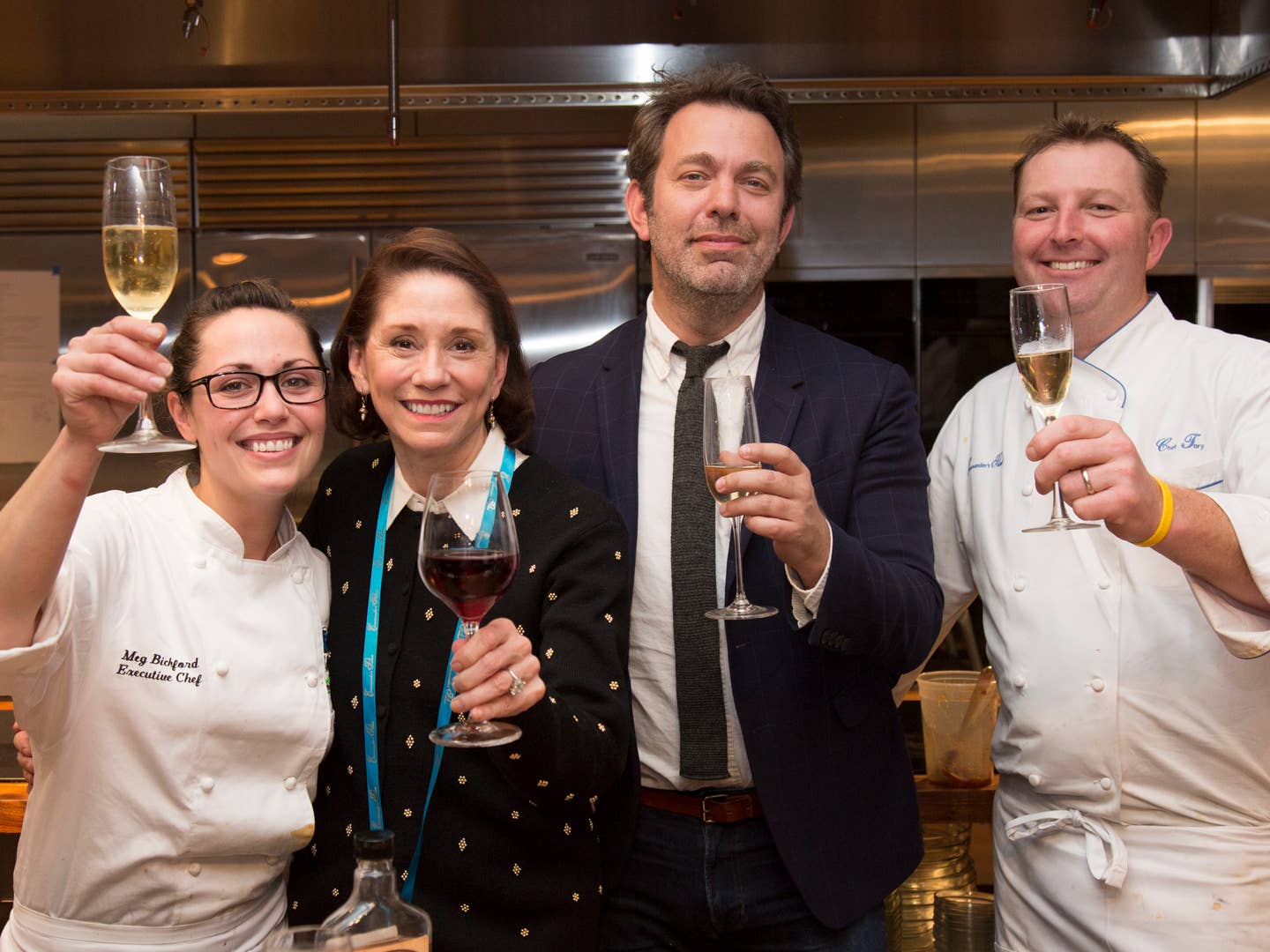 Recipes
Why a Sprig of Burnt Rosemary is the Perfect Holiday Garnish
A smoky lesson from a New York-meets-New Orleans SAVEUR Supper with Commander's Palace
When the team behind New Orleans' Commander's Palace came to the test kitchen to cook a SAVEUR Supper for us, we knew we'd have a good time. We expected the likes of hoppin' John and heaps of boudin and cocktails as mid-courses. We knew there'd be oysters—delightfully fat-bellied, almost-too-big-for-one-mouthful Gulf oysters, natch.
But we didn't think those oysters would be served with juniper sorbet and a dusting of sumac and a lick of…what's that amazing smell? "We singe some rosemary for the oysters," executive chef Tory McPhail told me oh so casually, as if I'd just asked him for the recipe to a peanut butter and jelly sandwich. Blow-torched rosemary sprigs lay scattered on a platter piled with oysters, their smoke not just sneaking into the bivalves' brine, but the rest of the kitchen, too. The resulting oysters were incredible—not overtly smoky like smoked oysters, just sweet and piney with a spicy camphorous edge, as if they were shucked by elves at some joyous North Pole barbecue.
Plenty of good smells came after: lobes of foie gras sizzling on the stove, black truffle shaved over a lovely poussin, Sambuca ice cream melting over sticky toffee pudding, which, yes, this dessert all the time please. But none commanded my attention quite like that primitive and powerful rosemary smoke.
So burn your rosemary. Set it aflame with your gas stove or a blow torch or even a lighter, extinguish it immediately, and let its fragrance billow everywhere. Treat it like incense, except as incense used for food you want to make taste and smell spectacular. Its smoke has remarkable staying power, and that North Pole barbecue vibe evokes the essence of holiday cooking.
Beyond oysters, the trick would work wonders for prime rib or pork loin or leg of lamb—yes, definitely leg of lamb—or the ham you have in mind for the holidays. More conceptually, it's a reminder that garnishes should add more to a dish than aesthetics. We eat with our noses as much as our mouths, and a kiss of smoky rosemary will do more for the flavor of a dish than the heaviest heap of parsley. It's black truffle-level aromatics at pharmacy chocolate truffle prices.
For more scenes from our New Orleans meets New York dinner, take a spin through the gallery below.
Special thanks to our friends at Ford.