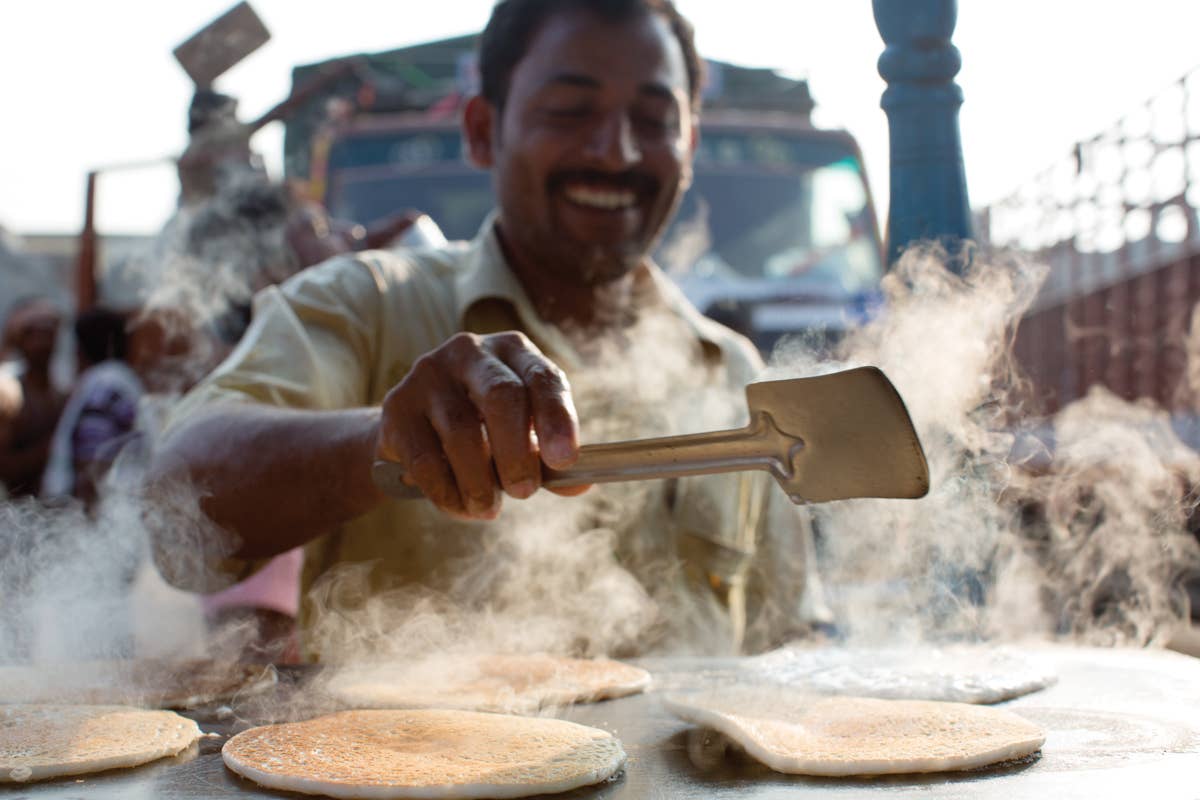 Travel
Travel Itinerary: Chennai & Pondicherry, India
As India's fourth-largest city, Chennai is often overlooked as a travel destination. But the capital of Tamil Nadu is a great jumping-off point for exploring the state's impressive Hindu temples as well as the intriguing former French colony of Pondicherry, a two-and-a-half-hour drive to the south. On my last visit this past winter, I was pleased to discover that Chennai—which you might know by its former name, Madras—has become increasingly cosmopolitan in recent years, with a slew of new glamorous hotels and restaurants on offer. Though just a short drive away, Pondicherry feels like a different world; Pondy, as it's referred to by locals, remained under French control until 1954 (seven years after the rest of India gained independence from the British). You'll detect that cultural stamp in the French quarter, which has a distinctly European vibe. The orderly grid of tree-shaded, bougainvillea-draped streets is lined with elegant old villas, many of which have been restored in recent years and converted to chic boutique hotels, restaurants, and shops.
10:00 AM: Morning Worship
For a short visit, it's best to hire a car and driver to get around Chennai efficiently—companies like Venkatesh Tourist Service and Car Rental Chennai will let you prearrange services at a reasonable day rate. Once rolling, hit Kapaleeswarar Temple, one of the city's oldest and most holy—not to mention extremely photogenic—as early as possible to beat the rising temperatures. The structure is thought to have been erected in the 7th century, but its best-known feature, the tower adorned with colorful miniature stucco figures, was added in the early 20th century. Savor the peaceful feeling here and snap some photos before heading back into Chennai's sultry urban heat.
Kapaleeswarar Temple
12 North Mada Street
+91/44/2464-1670
11:15 AM: Art & History
Though it's a bit of a hodgepodge and partially closed for renovations throughout 2014, the Government Museum is worth a visit in part just to gape at the historic buildings housing the collection; once part of the College of St. George, under British rule, the houses are now in a state of romantic decay. One of the best exhibits is the collection of bronze statues dating to the Chola Dynasty, whose rule lasted from around 1000 to 1200 CE and had considerable influence on South and Southeast Asian art and architecture. I also enjoyed scoping out the collection of antiques from the colonial period and before.
Government Museum
Pantheon Road, Egmore
+91/44/2819-3238
1:00 PM: Chowing à la Chettinad
Even if you're not staying at the lovely, historic Connemara Chennai hotel, it's worth booking lunch here to enjoy the elegant garden setting (mercifully air-conditioned, though there's plenty of indoor seating if you're not up for al fresco) and authentic Chettinad cooking. Be sure to order the house specialty of pepper chicken (boneless chunks of meat sautéed in a spicy gravy with tomatoes, ginger, garlic, chiles, and other herbs), a signature Chennai dish that's so delicious and beloved it's made its way onto menus all over South India. Round out your meal with kuruvapillai yera (deep-fried curry prawns) and kuhzi paniaram, a Tamil lentil-rice cake that's recognizable as a member of the dosa and idli family.
Raintree restaurant
Vivanta by Taj - Connemara hotel, 2 Binny Road
+91/44/6600-0000
vivantabytaj.com
2:30 PM: Souvenir Shopping
If Chennai's former name (it was known as Madras until 1996) brings to mind certain bright-colored plaids, be sure to hit up cotton street, where several dozen vendors set up every day around 11:00 AM to sell their vibrant, rainbow-hued wares. If you have time, do as I did and choose some fabric to be made into simple dresses and tunics by any local tailor for a reasonable price (a short-sleeved tunic and cropped leggings make a great everyday outfit in India, since it's both modest and relatively cool). Or bring your finds home to make into simple pillow coverings, tablecloths, and napkins for great setting for the South Indian feasts you'll be inspired to cook.
Cotton Street
Pantheon road at 1st street
4:00 PM: A Sweet and Cooling Snack
Dig into some artisanal ice cream at this classy little café, which plays jazz music all day. Owner Deepak Suresh makes a point of sourcing top-quality domestic ingredients: Peanut butter chocolate fudge ice cream contains small-batch peanut butter from Kerala, Indian robusta coffee goes into the delicious Madras Filter Kapi flavor, and domestic fruits like bananas, pomegranates, and at least three kinds of mangoes are turned into creamy ice creams and sorbets.
Amadora Gourmet Ice Cream
Wallace Garden 3rd Street, Nungambakkam
+91/44/4232-3482
6:00 PM: Seaside Strolling
Everyone eventually makes their way to Marina Beach, especially come evening, when Chettiars and tourists alike turn out to enjoy cooler temperatures and sea breezes. Go for a stroll to take in the action: Kite-flying, horseback riding, and local families engaged in all manner of merriment. Grab a coconut from one of the many street food vendors—they're particularly good in this part of India.
Marina Beach
Marina Beach Rd, Marina Beach, Triplicane
8:00 PM: South Indian Sampler
If there's one place to really get a feel for South Indian cuisine, it's Dakshin. The fine-dining restaurant divides its menu into the southern subcontinent's various eating regions, like Kerala, Karnataka, and even Pondicherry. It's best to go all out here and opt for the thali (either veg or non-veg), which gives a taste of everything—from a rainbow of chutneys made with everything from tomato to curry leaf to small portions of dishes like Kerala's meen mollee (fish in coconut milk) and Andhra Pradesh's spicy mutton curry.
Dakshin
Sheraton Park Hotel & Towers, TTK Road, Alwarpet
+91/44/2499-4101
itchotels.in
Dueling Dosas
While it's possible to argue endlessly about where to find the best dosas and other South Indian breakfast fare in Chennai, many will agree that longtime local favorite Menaka restaurant, inside the unassuming Hotel Palmgrove in central Chennai, is ground zero for tiffin, as this style of food is known. The place is famous for its garlicky, piping hot Mysore masala dosa, and for its idlis, pillowy rice-based cakes slathered with delectable dips. Bring an appetite and a dining companion or two so you can try some of everything.
Menaka
Hotel Palmgrove, 5, Kodambakkam High Road
+91/44/2827-1881
hotelpalmgrove.com
9:30 AM: Off to Pondi
Train service to Pondicherry is infrequent and indirect—better to line up a bus or taxi for the three-hour ride, which also lets you stop along the way in Mahabalipuram (Mamallapuram on some road signs), a beach town with famous seaside temples and monuments and a great fish curry restaurant. If you can arrange to leave most of your luggage in Chennai, the local bus is cheap, easy, and colorful. I made my way via autorickshaw to T. Nagar station and asked for the next bus to Mahabalipuram, which was expected in about 30 minutes. Finding the correct bus was a little chaotic in the T. Nagar station parking lot, but once on board, I enjoyed watching the palm trees speed by with the breeze in my face.
11:30 AM: Seaview Temples
Mahabalipuram (formerly Mamallapuram) was an ancient port for Indian traders sailing to Southeast Asia. As such, it has a number of important UNESCO heritage monuments including the photogenic beachside Shore Temple complex, partially ruined by salt air and seawater, with two temples dedicated to Lord Shiva (and thousands of sculptures to prove it), and the third to Lord Vishnu, who can be seen reclining in one large carving. There's also a cave temple nearby, impressively carved from one block of granite, and chariot-shaped temples known as the five rathas.
Shore Temples
Mahabalipuram
1:00 PM: Curry and a Beer
Walk down the beach from the Shore Temple to reach Sea Shore Garden restaurant, a dream of an open-air beach shack complete with a palm-frond roof. Ask for the catch of the day and you'll be presented with an eyeful of prawns, whole fish, and other seafood, which can be cooked to your liking. British TV presenter Ri Stein made the fish curry famous and it deserves the hype—fall-apart tender, richly spiced, and paired with astonishingly good French fries that beg to be dipped in the sauce, it's perfect paired with cold Kingfisher beer. You might be tempted to stay put at the colorfully painted, affordable motel (it's called a "resort," but that's definitely a stretch) behind the restaurant. Ask for a cab here if you need transportation onward to Pondy.
Shore Garden Restaurant
Othavadai Street, Fisherman Colony
3:00 PM: Bienvenue à Pondicherry!
Hit the streets for a wander through Pondi's charming French Quarter, which seems refreshingly sleepy compared to the rest of India; the honking horns, zooming vehicles, and other sources of chaos are largely absent, replaced by colorful villas shaded by trees and wooden shutters. As you get your bearings, you'll pass beautiful churches and quaint former governmental buildings established by the French, many of which have been beautifully restored and painted in pastel hues like pink, yellow, and blue. Bring your camera; I couldn't resist snapping dozens of photos of these picturesque streets.
4:00 PM: Snacks and Shopping
Pop into the chic restaurant and boutique Café des Arts, housed in a former colonial home and now run by French expats, for an iced tea or coffee and a sweet crêpe in the adorable vintage-furnished seating area. Then wander into the adjacent Nirvana shop for kitschy hand-made gifts and souvenirs. I picked out a few colorful leather zip pouches adorned with vintage Bollywood photos and an iridescent leather elephant keychain. A few blocks down Rue Suffren is Play Clan, an outpost of the funky design brand offering street-art-style riffs on popular Subcontinental motifs like Rajasthani mustaches or Indian classical musicians in the form of t-shirts, coffee mugs, and other giftable goods.
Café des Arts
10 Suffren Street
+91/99/9448-1914
6:00 PM: Sip at Shanti
Possibly the chicest (or at least sleekest) watering hole in town is the bar at boutique hotel Villa Shanti, housed in another former mansion and ideal for an apéritif. The space is wholly contemporary, however, with an elegant gray-and-cream décor scheme and low-slung modernist furniture punctuated by a giant pop-art painting of a love scene that hangs behind the bar. I needn't have ordered my typical gin and tonic, either, since the cocktails here are well executed—very hard to come by in India!
Villa Shanti
14 Suffren Street
+91/41/3420-0069
8:00 PM: Dinner en Rose
There is indeed a pink house here (home to a number of great shops you might want to poke into on another occasion for home goods or women's clothing), and the restaurant Maison Rose occupies its romantic courtyard. Experience a delightful space-time warp as you sit beneath the stars and order unexpected dishes like seer fish bouillabaisse or beef fillet with corn on the cob (Pondy is one the few places in India where it's easy to find a steak). If the chocolate and coffee parfait is on the menu during your visit, order it.
La Maison Rose
8 Romain Rolland Street
+91/41/3421-0806
lamaisonrose.com
Day 3: A Half-Day in Pondy and Back Again
7:00 AM: Two-Wheeled Tour
Hop on a colorfully painted vintage bicycle for an early-morning tour that showcases Pondy's diverse neighborhoods as they wake up for the day, from its Muslim quarter to a small fishing village and a lively market selling colorful fruit, handicrafts, and more. You'll wind up back in the French Quarter for a quick history lesson there, and then an al fresco breakfast (idlis, fluffy finger cakes for dipping in savory sauces, or darn-good baguettes, plus mango juice and coffee) in the courtyard of Sita Cultural Center. The center also offers fun classes in cooking, dance, yoga, and Ayurveda out of its restored former Tamil home digs.
Pondy Cycle Tour
+91/41/3420-0718
9:30 AM: Les Pastries
You can count on this Gallic-influenced town to have good bakeries, and Pondy's best is Baker Street, which turns out a flaky contender for best croissant in India, along with other boulangerie staples like pain au chocolat and baguettes.
Baker Street
No.123, Bussy Street
+91/41/3645-8888
10:30 AM: A Little Art, a Little Lounging, a Little Food
If you haven't figured it out already, there's not that much to do in Pondy—and that's kind of the point. With the French quarter's welcoming cafés and restaurants, it's a great place for relaxing. At Artika, you can at least get in a dose of culture—the stylish open-air café is also an art gallery, with rotating exhibits that run ultra-contemporary and even into the realm of fantastical. Once you've ogled, grab a comfortable, low-slung, high-design seat for a masala chai or iced coffee. If you're so inclined, grab lunch from the simple menu (scrawled on a large piece of art paper) of sandwiches, salads, crêpes, and pasta.
Artika Gallery
1 Labourdonnais street, Pondicherry
+91/98/9491-0080
12:00 PM: Back to Chennai
However you're heading home or traveling on, it's probably time to head back to Chennai, the area's transit hub. Buses run early morning and early evening, so a taxi is your best bet (unless you're keen to brave the local bus); arrange through your hotel or find an affordable rate through Pondicherry Taxi Service.
Connemara Chennai
This heritage hotel opened in 1854 and remains one of the city's most historic lodging options; a remodel in the 1930s accounts for Deco details like the palm-tree-lined outdoor pool and glamorous marble entry hall. The 5-star option boasts several exciting restaurants and bars, including Raintree, specializing in Chettinad cuisine like stir-fried pepper chicken, and Distil, a popular cocktail bar.
Binny Rd, Anna Salai, Chennai
+91/44/6600-0000
vivantabytaj.com
Villa Shanti
This 15-room boutique hotel is concealed within the courtyard of a 19th-century former private home. The space has been given a contemporary facelift, but the stark, straight lines of the gray columns are warmed up by antique wooden doors and dozens of potted plants. The excellent on-site restaurant serves Indian and continental fare al fresco and the attached bar is one of the most stylish watering holes in town.
14 Suffren Street, Pondicherry
+91/41/3420-0028
lavillashanti.com
Hotel de L'Orient
The former mansion housing this elegant heritage hotel dates to the 18th century, and it housed the department of education for a while during the 20th century. Now its sixteen rooms are filled with antiques, and its upscale courtyard restaurant, Carte Blanche, is one of the only places in town to find Pondy's so-called French-Indian "Creole" cuisine (think seafood and rice), which has almost died out.
17 Rue Romain Rolland, Pondicherry
+91/41/3234-3067
hotel-de-lorient.neemranahotels.com
Planning an Authentic Trip
When it comes to getting the most out of a place, whether on vacation or reporting a story, we seek out people who know their stuff to guide us and give us a glimpse of the true heart of the place they call home.
Practical Travel
A trip to India is guaranteed to be filled with unforgettable experiences and flavors, but there are certain things you should know before you go to make the most of your trip. Here's our advice on how to get there smoothly and hit the ground running once you land.
Best Guide Books
Traveling to India takes a bit of planning, which is why we've rounded up the best guide books and apps to help you navigate this vast and varied country.