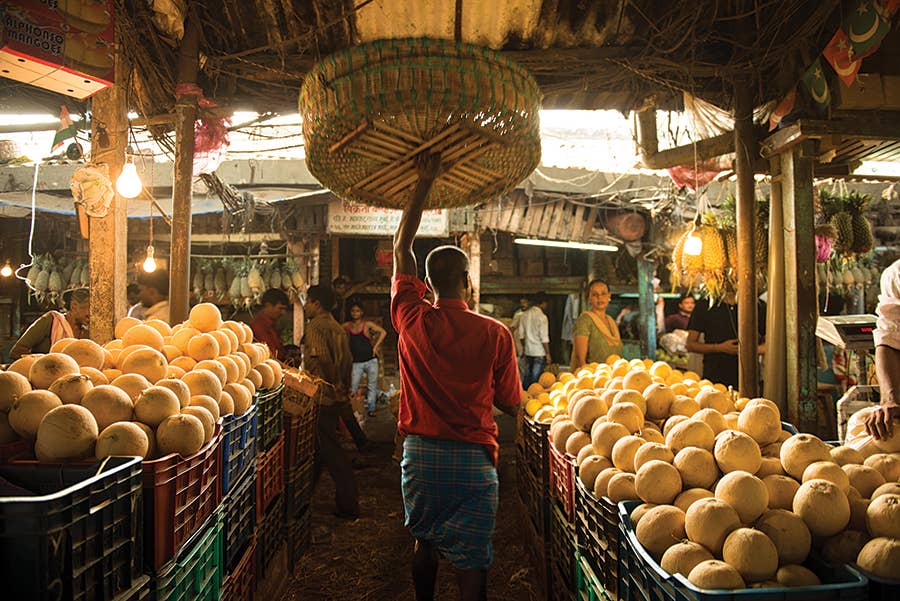 Travel
Travel Guide: Mumbai, India
With its intersecting maze-like streets lined with sweets shops, spice stalls, and snack carts, as well as an abundance of world-class fine-dining establishments, my hometown of Mumbai (formerly called Bombay) is a food-lover's dream.
Located in the state of Maharashtra, it is part of a region famous for Malvani food—a fish-dominated cuisine that uses generous amounts of spices, chiles, coconut, and tart tropical fruits like kokum. Of all Mumbai's specialties, my personal favorite is Bombay Duck, an odd-looking fish native to the Arabian Sea that is seasoned with a spicy masala, fried, and served whole. Not only is this fish the tastiest, but the story behind its christening is fascinating: During the time of the Raj, when rails were first built, the pungent-smelling fish was transported to the rest of the subcontinent on a mail train called the Bombay Daak. Calling someone a "Bombay Daak" became a popular insult, and the term, heard by the English as "duck," caught on as the name for this fragrant, delicious catch.
In between bites, Mumbai offers a dazzling parade of history and sights, from centuries-old fishing villages to art deco Bollywood theaters, to help you pass the time between samosas, kebabs, and curries.
—Harshvardhan Tanwar, Mumbai resident and tour guide with Kensington Tours
Ideal Corner
Housed in an art deco building, this charming, family-run motorcycle-garage-turned-café serves up traditional Parsi food. Dishes like delicate atheli chicken masala potato, a tender chicken simmered with richly spiced potato, and dhansak, mutton cooked with lentils and vegetables, give a nod to the Parsis' Persian roots. The menu changes daily, so you may find yourself visiting more than once. Be sure to order a fresh watermelon juice to wash it all down.
12 F/G, Hornby View
Gunbow Street, Fort, Mumbai
Rua Travessa De Revolucao
+91/22/2262-1930
Kailash Parbat
This traditional Sindhi restaurant was established in 1952 and continues to serve the ethnic cuisine of its community, who migrated from Karachi, Pakistan after Partition. It has expanded its menu over the decades (offerings range from Chinese to Punjabi dishes), but it remains the best in town for Sindhi specialties like bhee tikki, lotus stem fritters, sai bhaji, dal with green vegetables, and tuk, twice-fried potatoes.
5 Sheela Mahal, First Pasta Lane
Colaba, Mumbai
+91/22/2287-4823
kailashparbatandheri.com
Mohammad Ali Road
A visit to the stretch of street food stalls between Jama Masjid and Crawford Market is a must for any food-loving traveler, especially during the month of Ramadan. The street comes to life after sundown, when local Muslims break their fast, and attracts food tourists from all over the city. Seek out nalli nihari, a tender mutton bone marrow stew served with naan, and sweets like jalebis, sugar-syrup-soaked fried dough fritters. But if you eat only one thing, make sure it's a kebab from Sarvi on Dimtimkar Road.
*184/196, Dimtimkar Road,
Opposite Nagpada Police Station, Byculla
+91/98/2014-2967
Taj Ice Cream
The hand-churned ice cream at this inconspicuous shop in Bhendi's Bazaar is made using a sancha—a wooden tub with salt-sprinkled ice that is filled with an inverted copper cylinder—and the extra-creamy finished product is laced with chunks of fresh local fruit. There are always plenty of seats available at this 120-year-old ice creamery, as most local fans take their ice cream to go. Stop here for popular varieties like mango and sitaphal, sugar apple, which has a wonderful, custard-like flavor.
36/40 Khara Tank Street
Bohri Mohalla, Mumbai
+91/02/2234-6157
Trishna Restaurant
Located on a back street in the Fort district, Trishna restaurant serves up some of the best seafood in Mumbai. Make a reservation ahead of time as the dining room is perpetually packed with locals and tourists alike. Order the famous crab in butter-pepper-garlic sauce, batter-fried prawns koliwada, or the Hyderabadi-style rawa fish, barbecued with a crust of semolina and freshly ground black pepper.
7 Sai Baba Marg
Khala Ghoda, Fort, Mumbai
+91/22/2270-3214
trishna.co.in
Ziya at the Oberoi
The first Indian chef to receive a Michelin star, Vineet Bhatia has created a menu of modern Indian dishes with international influences. The restaurant's opulent setting, with sweeping views of the ocean and a glass-enclosed kitchen, only enhance the experience. Try the eight-course tasting menu or order ginger tandoori lamb chops drizzled with truffle oil and served on a bed of saffron-infused potatoes.
Netaji Subhash Chandra Bose Road
Nariman Point, Mumbai
+91/11/2389-0606
oberoihotels.com
Byculla Market
Don't leave Mumbai without experiencing the manic energy of the city's largest vegetable, fish, and meat market. The original, 156-year-old stone walls and picturesque scenes of hawkers selling their technicolor wares make this an amazing place, both to photograph and to shop.
Chhatrapati Shivaji Terminus
This 19th-century railway station, formerly known as the Victoria Terminus Station, is a UNESCO World Heritage site, but the station still serves as the headquarters of the Central Railway in India for both long-distance and commuter trains. Famous for its unique architectural mix of traditional Indian and Victorian Gothic Revival, the station is worth visiting whether you choose to take an adventurous ride on the trains or not.
Chhatrapati Shivaji Terminus, Fort, Mumbai
Lalbaug Spice Market
Your nose will feel a tickle as you peruse hundreds of spices at this popular market. Buy whole spices for a longer shelf life and grind them yourself back home, pick up some of the pre-mixed masala blends, or take your whole spices to the market's spice mill, where they will create a custom blend for you. There are also plenty of snack shops, chai wallahs, and vendors selling farsan, the crispy snack topping found at every chaat stand.
Lalbaugcha Raja, Sarvajanik Ganeshotsav Mandal
Shri Ganesh, Mumbai
Mahalaxmi Dhobi Ghat
The Mahalaxmi Dhobi Ghat, the world's largest human-powered laundry facility and colony, where washermen and their families have lived and made their work for generations, is a sight to behold. Dhobis, or washermen, soak soiled clothes in boiling water, then slap them against a flogging slab before drying and ironing them with charcoal-fueled presses. It's a marvel of organization and efficiency, a massive operation that has remained virtually unchanged for 140 years.
Dr. E. Moses Road Near Mahalakshmi Station
Metro Big Cinemas
This Art Deco multiplex movie theater was opened by Hollywood's MGM studios and exclusively showed MGM films from its opening in 1938 until 1970, when it was sold to a private Indian family. Today, the historic movie house is the place to see new Bollywood releases and to catch a glimpse of stars at red carpet premieres.
Anandilal Podar Marg, Marine Lines
Opposite Cowasji Jehangir Hall, Mumbai
+91/22/3984-4060
Worli Fishing Village
For a glimpse of ancient tradition, check out the markets at the Worli Fishing Village and see the Worli Fort, built in 1675 to defend the bay against piracy and enemy ships. Worli has been inhabited by the Kolis, a community of fishermen, for 600 years, and juxtaposed next to the modern-looking Bandra-Worli Sea Link, the village's narrow alleys, colorful buildings, groups of fishermen repairing their nets, and sheets laden with sun-drying spices and chiles offers a beautiful representation of old and new Mumbai.
VB Worlikar Marg, Worli Tip
Worli, Mumbai, Maharashtra
mumbaimagic.com
Badshah Cold Drink Depot
At this Mumbai institution the tables are decorated with sprays of mango leaves and the menu features a long list of fruit juices and Persian-style milk shakes. Try a tall glass of falooda, a sweet drink composed of layers of basil seeds, vermicelli, rose or saffron syrup, and milk, topped with a scoop of kulfi, dense, silky Indian ice cream.
152/156 Umrigar Building, Lokmanya Tilak Road
Mumbai, Maharashtra
+91/22/2342-5950
Leopold Cafe & Bar
This 143-year-old establishment, loosely modeled after a French café, serves an eclectic selection of Indian, Indo-Chinese, and continental fare, but the real draw is the bar. An extensive menu of cocktails, mocktails, and beers, along with a lively ambience, makes Leopold a great spot to hang out and imbibe while people watching.
Colaba Causeway, Mumbai
+91/22/2287-3362
leopoldcafe.com
Aer
The swanky rooftop bar on the 34th floor of the Four Seasons Hotel is a destination for locals and tourists looking for high-end tipples, nightly appearances by international DJs, and some of the best views in Mumbai.
114, E. Moses Road
Worli, Mumbai
+91/22/2481-8000
fourseasons.com
The Oberoi
In addition to its location on the Arabian Sea near the city's business, financial, and entertainment districts, The Oberoi's modern design and stunning waterfront views make it a top choice for business travelers and tourists alike. The service is as flawless as the décor. Choose from six restaurants, including the upscale Ziya, helmed by two-Michelin-starred chef Vineet Bhatia.
Netaji Subhash Chandra Bose Road
Nariman Point, Mumbai
+91/11/2389-0606
oberoihotels.com
The Taj Mahal Palace
Built in impressive Indo-Gothic style, the Taj Mahal Palace is steeped in history and luxury. Rare wines and whiskeys are sold under the hotel's private label. Don't miss the extravagant weekend brunch at Shamiana, one of ten on-site restaurants. Or just order up chocolate cake and champagne to enjoy with your panoramic views of the bay—the in-room experience is luxurious, with expertly prepared foods and the same well-curated beverage lists as the hotel's restaurants.
Apollo Bunder, Mumbai
+91/22/6665-3366
tajhotels.com
ITC Grand Central
At this luxury hotel in the heart of Mumbai, amenities include butler service, a spa, and five excellent restaurants, among them Kebabs & Kurries, featuring regional dishes from all over the country, and Hornby's Pavilion, where the South Indian executive chef serves a knockout southern Indian breakfast that draws as many locals as guests.
287 Doctor Babasaheb Ambedkar Road
Parel, Mumbai
+91/22/2410-1010
itchotels.in
Planning an Authentic Trip
When it comes to getting the most out of a place, whether on vacation or reporting a story, we seek out people who know their stuff to guide us and give us a glimpse of the true heart of the place they call home.
Practical Travel
A trip to India is guaranteed to be filled with unforgettable experiences and flavors, but there are certain things you should know before you go to make the most of your trip. Here's our advice on how to get there smoothly and hit the ground running once you land.
Best Guide Books
Traveling to India takes a bit of planning, which is why we've rounded up the best guide books and apps to help you navigate this vast and varied country.