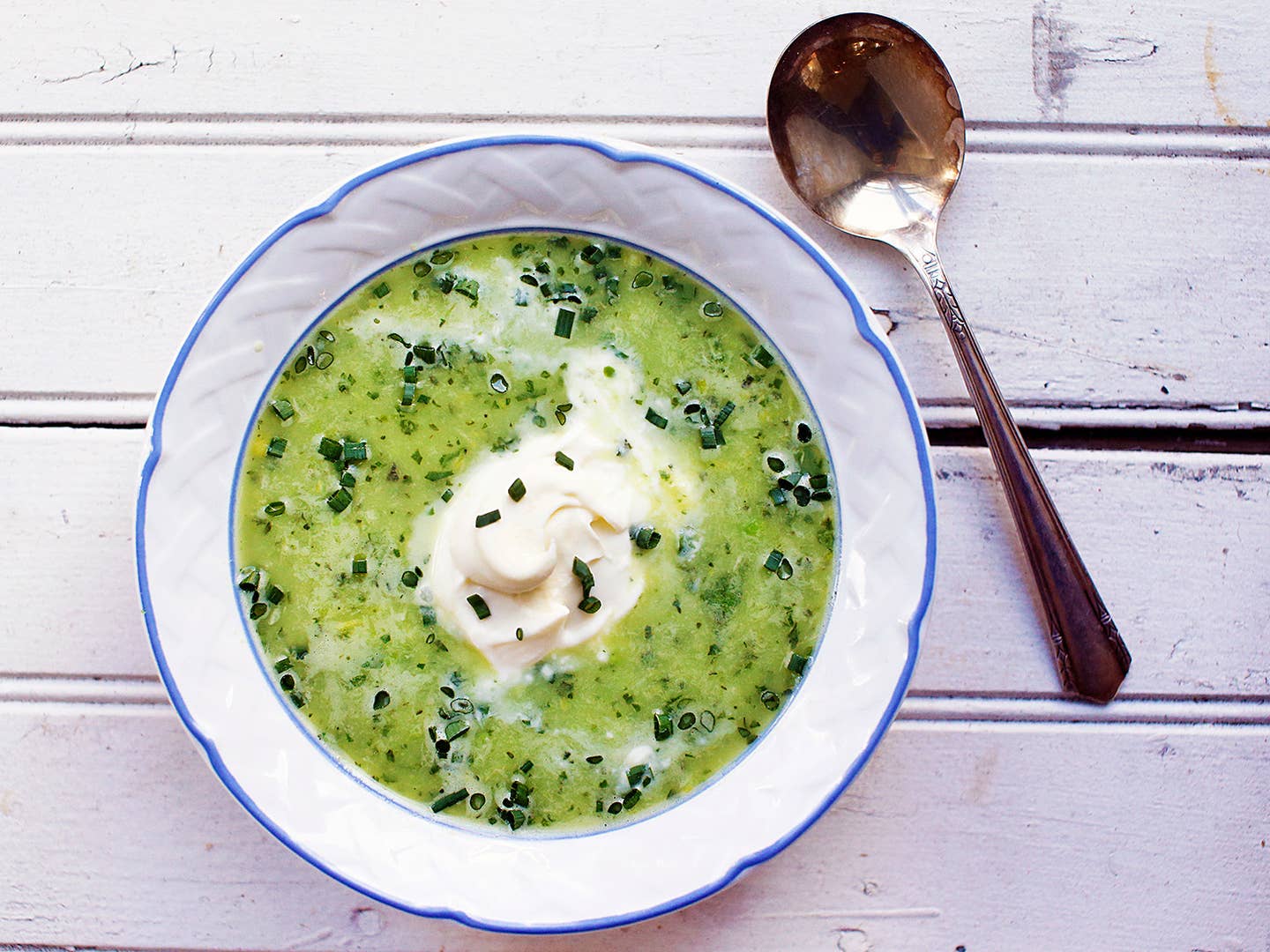 Culture
When Water Can Be the Key to More Flavorful Soups
You've already got this powerhouse ingredient on tap. Here's how to make the most of it
Take a gander down the potato chip aisle at your nearest grocery store, and it's obvious that Americans aren't ones to shy away from flavor. We've become a nation that injects, sprinkles, and douses everything we eat with flavor enhancers: hot sauce, Dorito dust, everything bagel seasoning, and beyond. But what often separates mediocre cooks from the really excellent ones is that, instead of looking for something to dash on top of an ingredient, they understand and respect the flavor of the ingredient itself. They seek to enhance it, amplify it, complement it—but never cover it up.
That's where water comes in. Stay with me: "This idea of embracing water as an ingredient is as old as time," says Julia Turshen, author of Small Victories: Recipes, Advice + Hundreds of Ideas for Home-Cooking Triumphs. "It's the story of stone soup." That story is, of course, that a cook started with a pot of water and a stone, and through the generosity of others, ingredients were added one by one, and the end result was a delicious and satisfying meal. There's a subtle difference between layering flavors and covering them up, and starting with water leaves you no other direction to go in.
Turshen was reminded of the simple genius of this idea while working with Jody Williams on Buvette: The Pleasure of Good Food. "We talked a lot about using water to carry flavor," she says. In Small Victories, Turshen goes further and counts embracing water as an ingredient as one of her "small victories." She writes that "when you use it as your cooking medium, the flavors of whatever you're cooking in it come through in a way that's so totally honest and straightforward. There's no hiding behind chicken stock." And while there's a time and a place for rich, savory chicken stock, subtle flavors—like those of floral spring peas or fresh parsley—can get muddied or lost.
The key to successfully using water as an ingredient is to remember its nature as a solvent. Water is, in fact, the "universal solvent," called such for its remarkable ability to break down and dissolve flavorful compounds. Heating the water increases its solvency, and thus becomes a vehicle for carrying those flavors and dispersing them throughout a dish.
That's exactly what's happening in her Spring Pea Soup with Leeks and Herbs. "The stems from the herbs and the tops and tails of the vegetables flavor the water, which becomes the base of the soup, harnessing all of the possible flavor of each ingredient." Its flavor is as bright as its spring green color, something perfectly seasonal to wake up the straggling senses still transitioning from a winter palate. The whole dish comes together in close to an hour—so there's no constant simmering of a meat-based stock—and the soup can be served warm or cold. A taste reveals that starting with water and using it to extract flavors actually adds intensity to the dish—there's nothing "watery" about it.
Using water for this recipe isn't a one-hit wonder, either: Embracing H2O as a kitchen staple has additional benefits. First, it eases the entry point. All you have to do to get cooking is open up the tap. Turshen practices cooking at home every day, and with water, she always has the first ingredient ready to go. Next, it's inexpensive. "Being resourceful is always on my mind, including economically," she says. "You don't have to spend a lot of money to cook." The pea soup is the perfect example of such thrift: stems of herbs, and tops and peels of vegetables, things usually tossed directly into the trash or compost bin, become essential elements of flavor, magically transformed through the simple act of simmering them in water. Finally, using water doesn't exclude anyone from the table. "I personally eat everything and eat almost all my meals at home, but I have a lot of people in my life who have dietary restrictions," she says. "It's important to be thoughtful and inclusive, and I never wanted to make separate dishes. I don't like being singled out, and I don't want to be, at my table or in my cooking. I want everyone to have a place." Embracing water also means that those who are vegetarian are free to pass along the pea soup as well.
Water is a workhorse in the kitchen. It helps you get started with ease, it extracts the heart of flavor from other ingredients, it's inclusive, and it even helps with the dishes. Delicious results ahead, no flavor packet required.