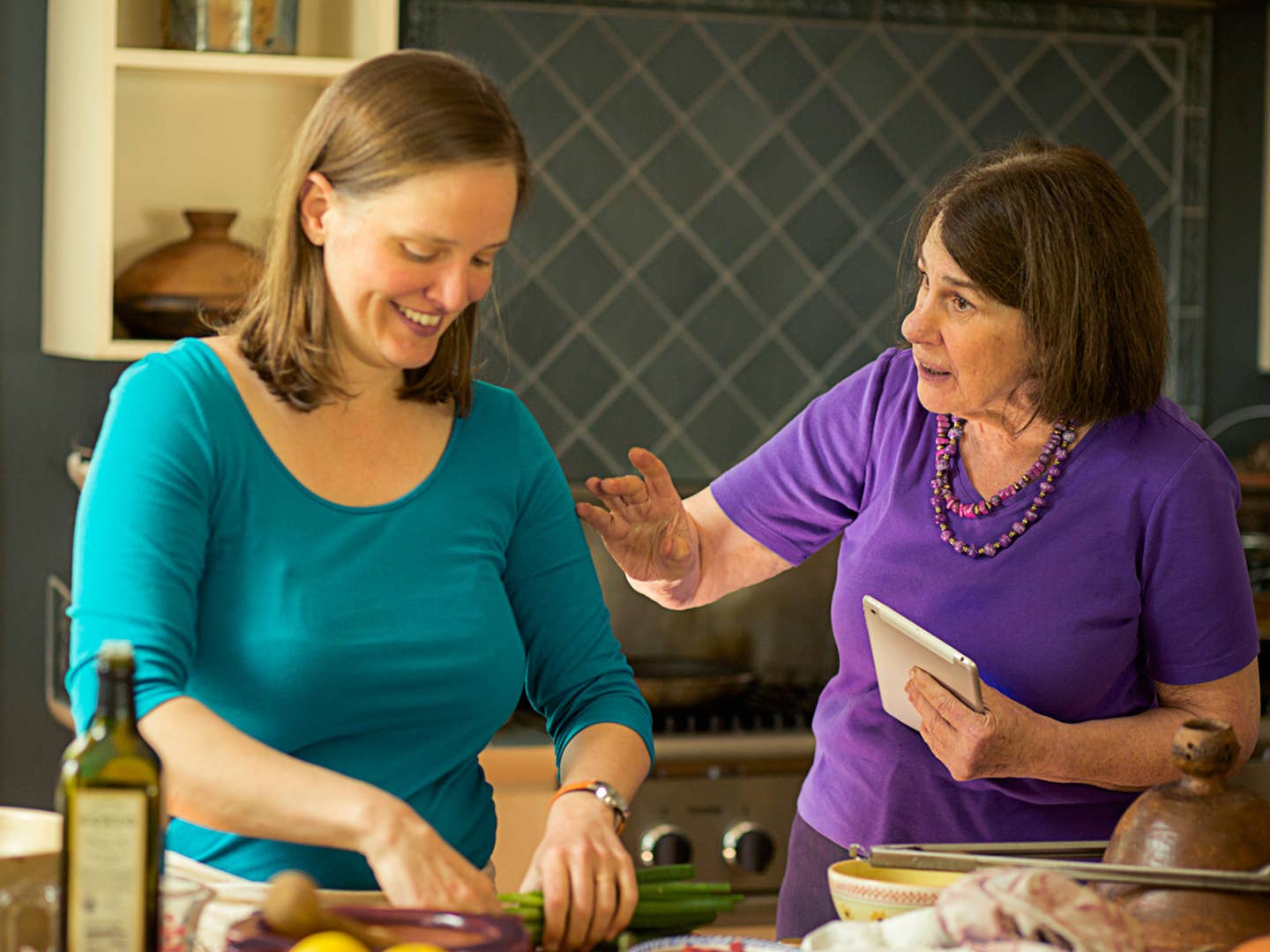 Culture
A Cookbook Kickstarter to Honor Paula Wolfert
An exciting new project that's part biography, part cookbook—and celebrates one of America's most influential cooks
Paula Wolfert is one of America's most influential and respected cookbook authors, having brought Mediterranean cuisine into our kitchens through nine seminal cookbooks. (The first, Mediterranean Cooking, published in 1977.) Her recipes have inspired and educated a whole generation of chefs and home cooks, from Yotam Ottolenghi and Mario Batali to your friend's mom who pulls out her tagine every time there's a dinner party. Three years ago, she was diagnosed with Alzheimer's disease.
To honor and celebrate Wolfert's career, a team has gathered to collaborate on a "biographical cookbook"—and just launched a Kickstarter for the project today. Writer and editor Emily Kaiser Thelin, photographer Eric Wolfinger, designer Toni Tajima, and cookbook author Andrea Nguyen are working with Wolfert to cook and compile fifty recipes from her canon, and tell the story of her life. The project focuses on memory, and how it relates to what we cook; but it also addresses Alzheimer's and the determination and openness with which Wolfert has approached her diagnosis. We spoke with Thelin about the project, and have rounded up a few of Wolfert's contributions to SAVEUR over the years below. Read on, and then go preorder a cookbook. (You can even get a "Keep Calm and Follow The Recipe" t-shirt! Everyone wins.)
How did this project come about?
Paula's been a hero of mine since I was in college, or right after—I got a job as a line cook at a restaurant, and the chef there introduced me to her cookbooks. Then I got hired at Food & Wine, and she had been a contributor since it was founded in 1978. I got to travel with her in Morocco for a story right before she reissued her first book and we were just walking around in the medina in Marrakesh. She told me how she and her first husband took a steamer to Morocco in 1959, then took a freight train and got off in Casablanca, then went to Marrakesh. Our trip was so cool, and I've wanted to write her biography for a long time. I was working on a story for the Washington Post about how she was cooking with Alzheimer's, and Eric Wolfinger was taking the photos, and we thought, "let's just do this ourselves." And then I was getting drinks with Andrea Nguyen, and she offered to help out.
Paula comes from a different generation of cookbook authors. What do you think makes her books so seminal?
They're both anthropological and analytical, but also totally immersive. So you can be sort of brainy and hedonistic at the same time. As a teenager, Paula actually trained under a precursor to Julia Child, a French-trained chef named Dione Lucas who founded a Cordon Bleu cooking school in London. So she has serious training, but she also has an incredible palate. And she's also just got a wry sense of humor. She tells amazing stories in her headnotes.
Right, back then you couldn't really Google "Moroccan food."
But her reporting standards are exceptional: She would go to a country and live there for weeks at a time, and really move in with people. She would become Georgian; she would become Moroccan; she would immerse herself in these cuisines.
What were the first recipes of Paula's that you cooked?
The very first thing was her charmoula sauce with cilantro and parsley, paprika and cumin. So many of her dishes are so unusual. I had a lot of fun in my twenties, cooking this whole Moroccan feast for friends with bastilla, couscous, and these delicious Moroccan flatbreads with chunks of suet in them...but she's also got some crazy simple recipes, like this no-stir polenta, which she found it on the back of a bag of Golden Pheasant polenta from California. You put olive oil, polenta, salt, and water in a baking dish, and put it in the oven.
What's it like to cook with her?
Well, I've cooked with her, and I've cooked from her books. In person I feel like I learned where to interpret and where to be strict. I came up in restaurants, where chefs say, "This is the way you do it." But she's a little more flexible. She's worked with both chefs and home cooks. So I've learned to trust myself and trust her. I've also learned to layer on flavors. Now, I don't overlook little techniques that can add subtle differences, like grating an onion instead of chopping it.
How have scent and taste memories come up in your experience?
It's been fascinating. We just started, but it's been really neat to see what memories come back. We cooked a dish that she used to teach quite a bit, a Jean-Louis Palladin dish, scallops with orange sauce. Eric was reducing the sauce and kept asking her, Is it ready? Is it ready? And she said, I remember there's a rule, but I can't remember what it is. But finally she said Oh, it's when you just catch a glimpse of the bottom of the pan.
We also cooked the dish that made her want to be a chef: sole dugléré. It was fascinating because it was a lot like a Paula Wolfert recipe: The techniques seem unusual, and they don't make sense on paper, and I kept saying, Does this bring up any memories? But nothing did. The recipe sounds crazy and almost unappetizing, and at every stage she said, I can't remember anything, I can't remember anything. And then we pulled it out of the oven, and she said, That's it. She took a bite and she said, That's the dish. Cooking it and eating it, I got why she wanted to become a chef. It was kind of like the ur-Paula Wolfert recipe.
How many recipes are you planning on including in the book?
We're thinking fifty recipes, about five of from each book.
Like a survey of her greatest hits?
Yes, but we're also trying to refresh them for a modern audience and a modern palate—and we're also looking for recipes that are in line with her new diet, to fight her Alzheimer's. She's really focusing on pastured proteins and fresh vegetables, and she was shocked when she was diagnosed by how many people don't "come out" when they receive the diagnosis. There's no cure, but there are resources out there for you, and there are things that you can try. She's been focusing on her diet and lifestyle and meditation and exercise, and says she feels better than she has in years.
She's also been really funny—she's finally cooking her recipes like one of her readers. The tragedy of her illness of course is that she can't cook them from memory. And she'll say wow, my recipes are hard! So in some cases, we're looking for ways to streamline, and also focus on some of her great simple recipes.
Since her diagnosis, you'd expect her to get down or discouraged. But being able to know what's wrong has given her a surprising confidence, a kind of clarity.
Want more Paula? Here are our favorite of Wolfert's contributions to SAVEUR from over the years: