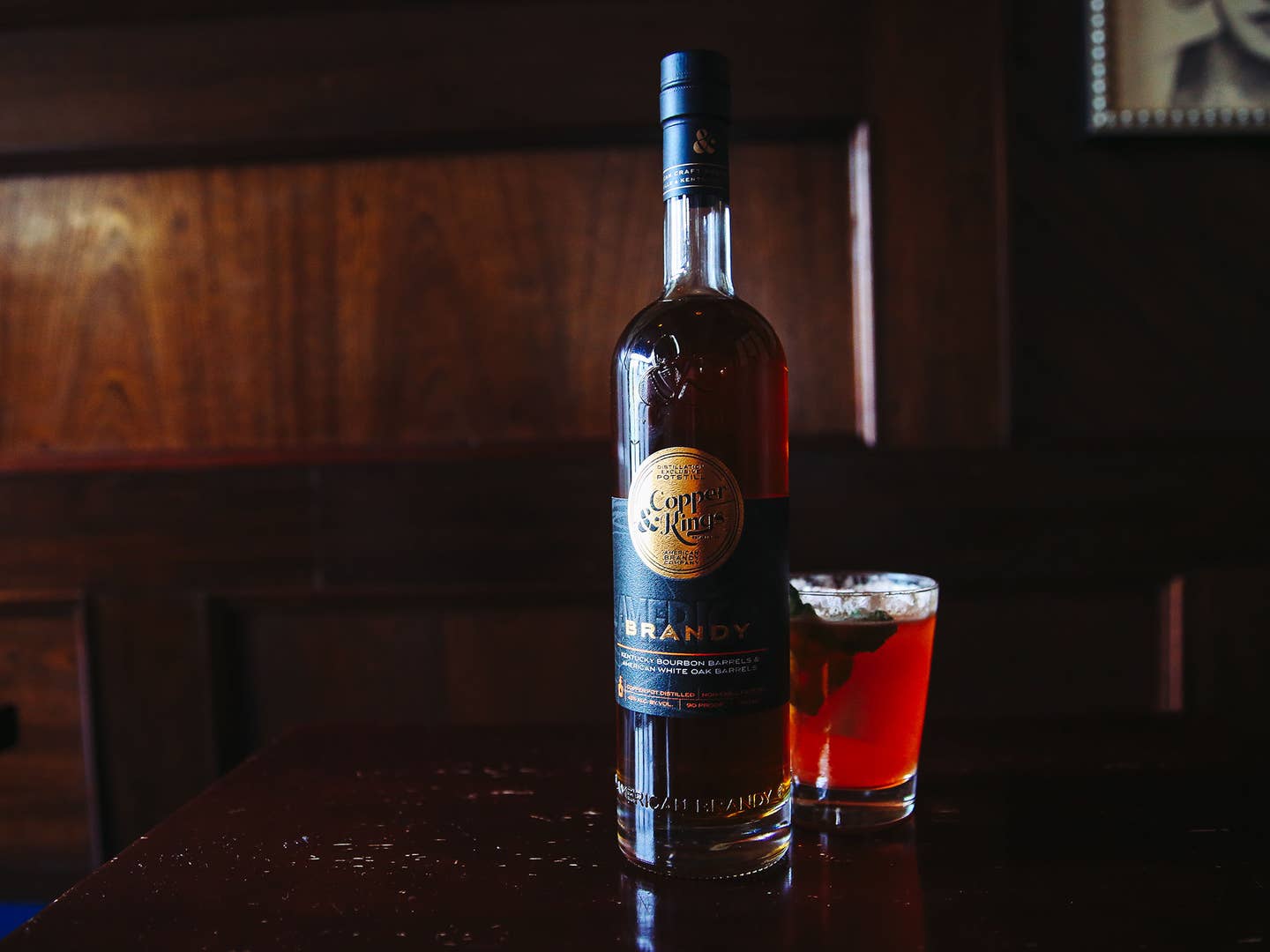 Drinks
This Brandy is One of the Best Spirits From Bourbon Country
Kentucky may be all about Bourbon, but Louisville's Copper & Kings is making a brandy that's driving bartenders everywhere wild
Louisville prides itself as a beacon of grand American traditions: It's home to GE, Ford, and of course, the great Bourbon trail. The city produces a third of all our Bourbon—the dark stuff has become the lifeblood of the city's tourism industry—and has also earned street cred as a craft beer hub. So when Lesley and Joe Heron decided to open the first Brandy distillery in town, they certainly turned some heads.
"I'm from the South, the far South—South Africa," jokes Joe Heron, an affable expat who'd lived in England, Sweden, and Minneapolis before moving to warmer climes to open a distillery. With two successful businesses under their belt—Nutrisoda and Crispin Cider, both of which they've sold—, the Herons saw a space in the market sitting somewhere between ultra-luxe Cognacs and cheap, but low-quality brandies. "There was no $35 Brandy," explains Heron. "More importantly, we wanted to create an American Brandy that defines the American spirit culturally and physically."
Bourbon may be America's native spirit, but Brandy is our oldest. "In 1640, Brandy was being distilled on Staten Island in what was New Netherlands," says Heron. Believing that the craft cocktail movement's renewed interest in historical recipes (and as such, historical spirits) would also lead to a resurgence in Brandy, Heron set about looking to produce the next big thing. Thus, Copper & Kings was born.
Rather than follow the rigid models of Cognac and other European brandies, Heron created his spirit in the image of American Bourbon. "We make Brandy according to the American Bourbon tradition," says Heron. At Copper & Kings, which will celebrate its third anniversary this year, the duo age their stuff in Bourbon barrels, using new American oak. They don't add any caramel color or oak flavorings. "We make straight Brandy, like straight whiskey," he adds, noting that opening in the middle of Bourbon Country allowed them to have access and proximity to the cooperages, barrels, and engineering talent that powers the behemoths of Bourbon production.
The flagship bottling, Copper & Kings' American Craft Brandy, is made with classic muscat chenin blanc grapes grown in the central valley of California. It takes five tons of grapes to make one 53-gallon barrel of American Craft, which is sonically aged using musical vibrations to agitate the spirit and increase interaction with the edges of the oak barrels. Nontraditional methods notwithstanding, the Herons actually bring full-circle Kentucky's long legacy of making Brandy: Joe Heron points out that in the late 1800s, there were 400 Brandy distilleries in Kentucky alone, with an additional 100 that produced both Brandy and whiskey.
Bartenders and consumers alike have jumped on the Copper & Kings bandwagon for the sheer quality of the product alone. "Copper & Kings may be the single best thing that has happened to Brandy in the long time," says rare spirits hunter Nicolas Palazzi, who works as an importer for PM Spirits. "They are making awesome booze that caters directly to whiskey fans, and doing so with a cool, non-stuck-up attitude."
The product also plays nicely into the narrative of craft distilling that consumers, and bartenders, are so accustomed to these days. "Brandy production is inherently small batch; in comes from orchards and the like," says Joe Heron. "Grain grows all the time, but fruit only grows once a year." Sadly, that slow, small-batch process also meant trouble for the Brandy industry. "The cost to maintain orchards and vineyards was too expensive, so they largely disappeared in the early 1900s."
After perfecting their new-school American Brandy, Copper & Kings went experimental. "We're very good at absinthe," says Heron. "We make absinthe in a very old-school way: the original absinthe was Brandy-based. It just became more cost effective with grain-neutral spirits."
Muscat Brandy is double-distilled in copper pot stills, while the traditional botanicals (wormwood, anise, fennel, and hyssop) are macerated in low wine for 12 to 18 hours, then double-distilled. Like the Brandy, the absinthe isn't chill-filtered, yielding an oily, viscous, intense spirit that likewise bucks convention. It's perhaps here that the Herons are most "American": "It's American—you can do whatever the fuck you want," laughs Heron. "One of the strengths of this nation is the lack of dogma. Dogma minimizes that imaginative approach to pioneering new ideas."
To that end, Copper & Kings' portfolio runs of the gamut of experimental distilling: there's a vapor-distilled absinthe, absinthe aged in rye barrels, apple Brandy aged in tequila barrels, and two gins, both double-distilled (one from apple Brandy, one from grape Brandy). One particularly standout offering, called Blue Sky Mining, is a single-varietal seven-year-old muscat aged in Kentucky Hogshead barrels.
For all their experimentation, however, it's not to say there's a careless or unintentional approach to developing products here. Each bottling emphatically emphasizes its raw ingredients, a trait inherent in Brandy production. "Whiskey is a process of extraction and purification," explains Heron. "You punch that spirit to palatability at its highest level. Brandy, on the other hand, is a retention and concentration process." He adds, "Good Brandy makes its worth intentionally on concentrating the natural fruit." Whereas whiskey can be produced en masse thanks to column stills, Copper & Kings uses copper pot distillation for an intense, batch-by-batch process.
Heron, an immigrant, recognizes that the love that Copper & Kings has received is as much about the taste of their spirit as the intrinsically welcoming spirit of Louisville, and even America. "For all of the confidence this nation has, we are inherently self-effacing and welcoming," he says. He hopes that door-open attitude is afforded to all: "What's the difference between a refugee and an immigrant?" he muses. "Timing."
Copper & Kings' distillery sits in the heart of Butchertown, the "Brooklyn of Louisville," as Heron puts it. Established in 1796, it's one of the city's oldest neighborhoods, once known, as the name implies, for its meat production facilities. Like many of today's destination-worthy distilleries, there's a lot happening for visitors to engage, from spirits tastings to distillery tours and events.
Heron's commitment to environmental sustainability manifests right in the solar-powered distillery's entrance: black and orange shipping containers flank the entrance of a 4,300 square-foot butterfly garden, which serves specifically as a waystation for monarchs migrating south to Mexico and as a pollinator habitat for bees and butterflies.
Music is also a draw at the space. Drinkers can catch a glimpse of barrels in the basement cellar, where music pulses at all times from the Copper & Kings Spotify playlist. Upstairs, three pot stills, Magdalena, Sarah, and Isis are named after characters featured in Bob Dylan's Desire album.
A second-floor gallery offers a side of art with your sipping, while a small courtyard hawks grown-up milkshakes, ice cream floats, and handheld meat pies. But it's on the third floor that sets you back in Louisville. "We have the best view of downtown Louisville," says Heron. "The third floor sky deck is by far the best in town." It's here, overlooking Bourbon Country while sipping a glass of American Brandy, that one can best appreciate the spirit of free-wheeling experimentation that is more quintessentially American than any single booze or bottle.