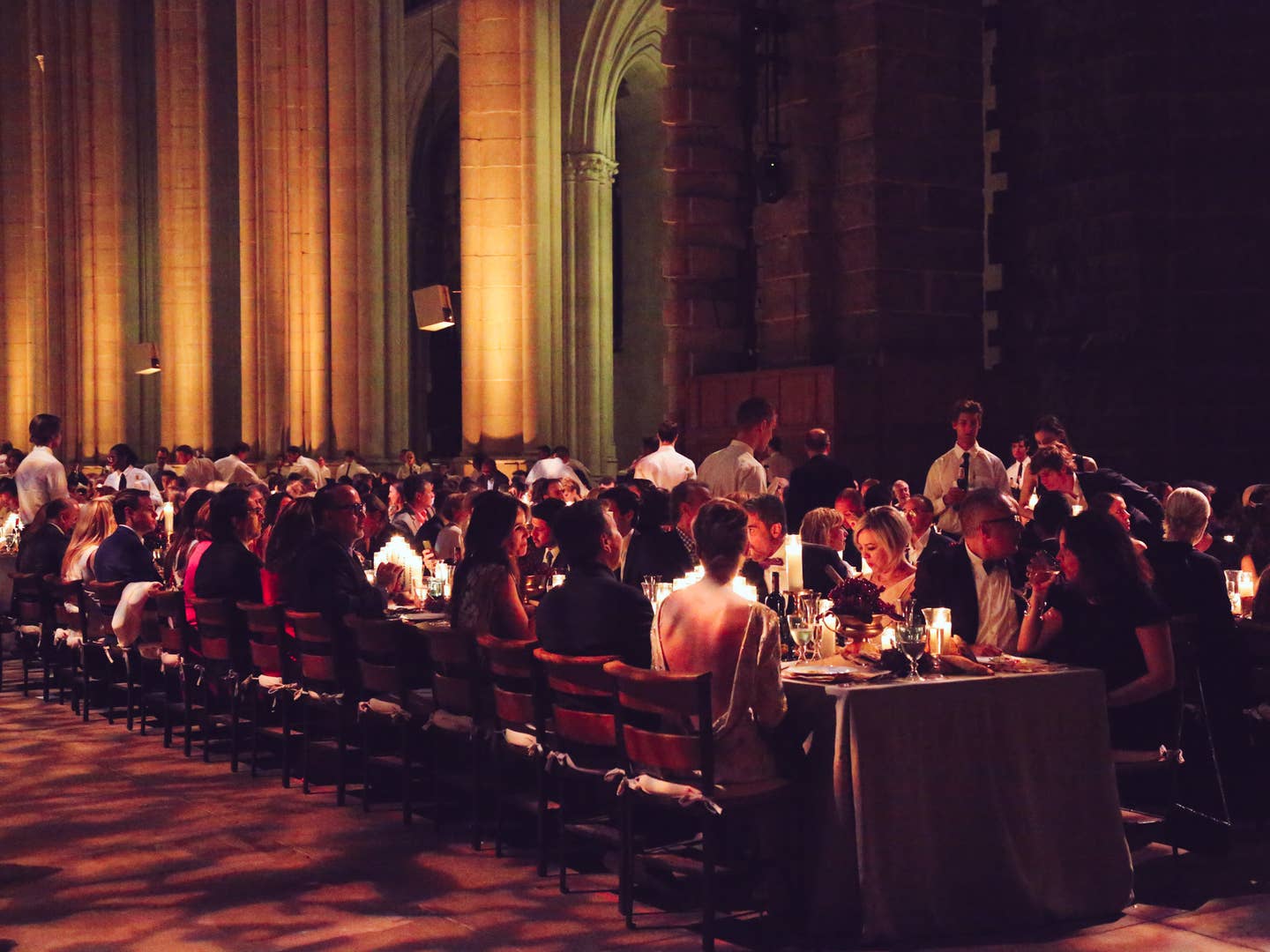 Culture
Drinking in Church: A Feast to Honor Artist Vik Muniz
Daniel Boulud and arts organization Creative Time team up to pay tribute to the Brazilian artist
Last night, NYC's Cathedral of St. John the Divine opened its 18-foot bronze doors to nearly 700 people for Creative Time's annual gala. The non-profit focuses on ambitious public art works (think Kara Walker's massive sugar sphinx in the Domino sugar factory), and honors a different artist each spring. This year's honoree was artist Vik Muniz, most recently the subject of the Academy Award-nominated documentary, Waste Land. Vik, inspired by the scale of one of the city's vastest interior spaces, turned to a close friend to create the menu, the only chef in his mind with the ability to tackle the location: Daniel Boulud.
Just beyond the entrance, CREATIVE TIME is emblazoned in votives, and four white-tabled bars are serving up caipirinhas, an homage to Vik's native Brazil. Serving drinks in a church might seem a little risqué, but the act skirts playfully around the profane, a puckish irreverence often echoed in Vik's artwork. Hundred-foot-long tables piled high with flatbreads and rolls, silver tureens overflowing with red grapes, and bottles of wine corked and ready for action, lead to an ad hoc kitchen: The Chapel of St. James.
"We wanted to work in the theme of the Last Supper," Boulud says, and many recipes come from his own Boulud Sud. "We wanted to go the Mediterranean, to Galilee in Israel, and take everyone back in time." So there is tabbouleh, hummus dusted with sumac, and roasted vegetables, but there's another dish, the main course, that speaks distinctly of somewhere else: a moqueca. "It's my favorite fish stew from Brazil," Daniel adds, knowing that such an elaborately balanced stew will be a feat to serve for a group of this size. "But the biggest pressure is to make sure Vik is happy." The vermillion broth, laden with aromas of fish, coconut milk, and coriander, hits the mark.
Clattering pans and shuffling feet become infinitely more resonant in the chapel. Francisco Costa, a friend of both Daniel and Vik, and creative director for Calvin Klein, remarks that "Seeing the two together is a dream. Like Vik has a palate for paints, Daniel has a palate for food." The two have collaborated previously, from a portrait of Daniel done in chocolate sauce that hangs in his eponymous restaurant, to the categorized photographs of wine-stained napkins that line the walls at Bar Boulud.
Francisco will be introducing Vik from the pulpit, but even he is somewhat intimidated by the size of the congregation. I ask Vik how he's feeling about it all and his response is telling: "I'm drinking in church! It could not be any better than that."