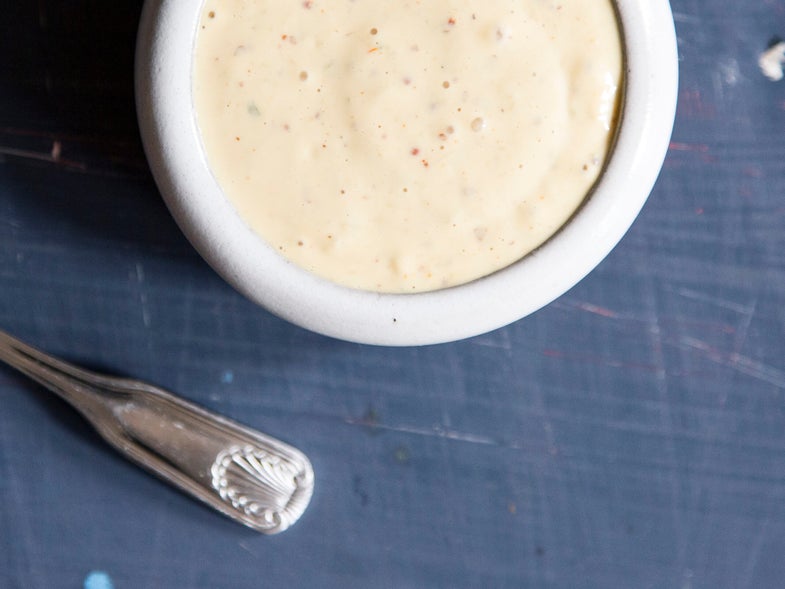 Chef Harold Marmulstein serves this spicy, creamy sauce enhanced with mustard, Tabasco, and Worcestershire alongside boudin Scotch eggs at his Austin restaurant Salty Sow.
Featured in: How to Make Boudin Scotch Eggs
Creole Rémoulade
A flavor-infused mayonnaise, this creamy, piquant condiment is bumped up with stone-ground creole mustard, Worcestershire, and tabasco.
Time: 10 minutes
Ingredients
3 tbsp. creole mustard
3 tbsp. fresh lemon juice
1 1⁄2 tbsp. ketchup
1 1⁄2 tbsp. Tabasco hot sauce
1 1⁄2 tbsp. Worcestershire sauce
1 1⁄2 tsp. prepared yellow mustard
1 tsp. kosher salt
3 scallions, roughly chopped
2 large eggs
2 garlic cloves, minced
Pinch of cayenne
1 cup vegetable oil
Instructions
In a food processor, combine the creole mustard with the lemon juice, ketchup, Tabasco, Worcestershire, yellow mustard, salt, scallions, eggs, garlic, and cayenne, and purée until smooth. With the processor running, slowly drizzle in the oil and mix until emulsified and thick. Scrape the remoulade into a bowl and refrigerate until ready to use.