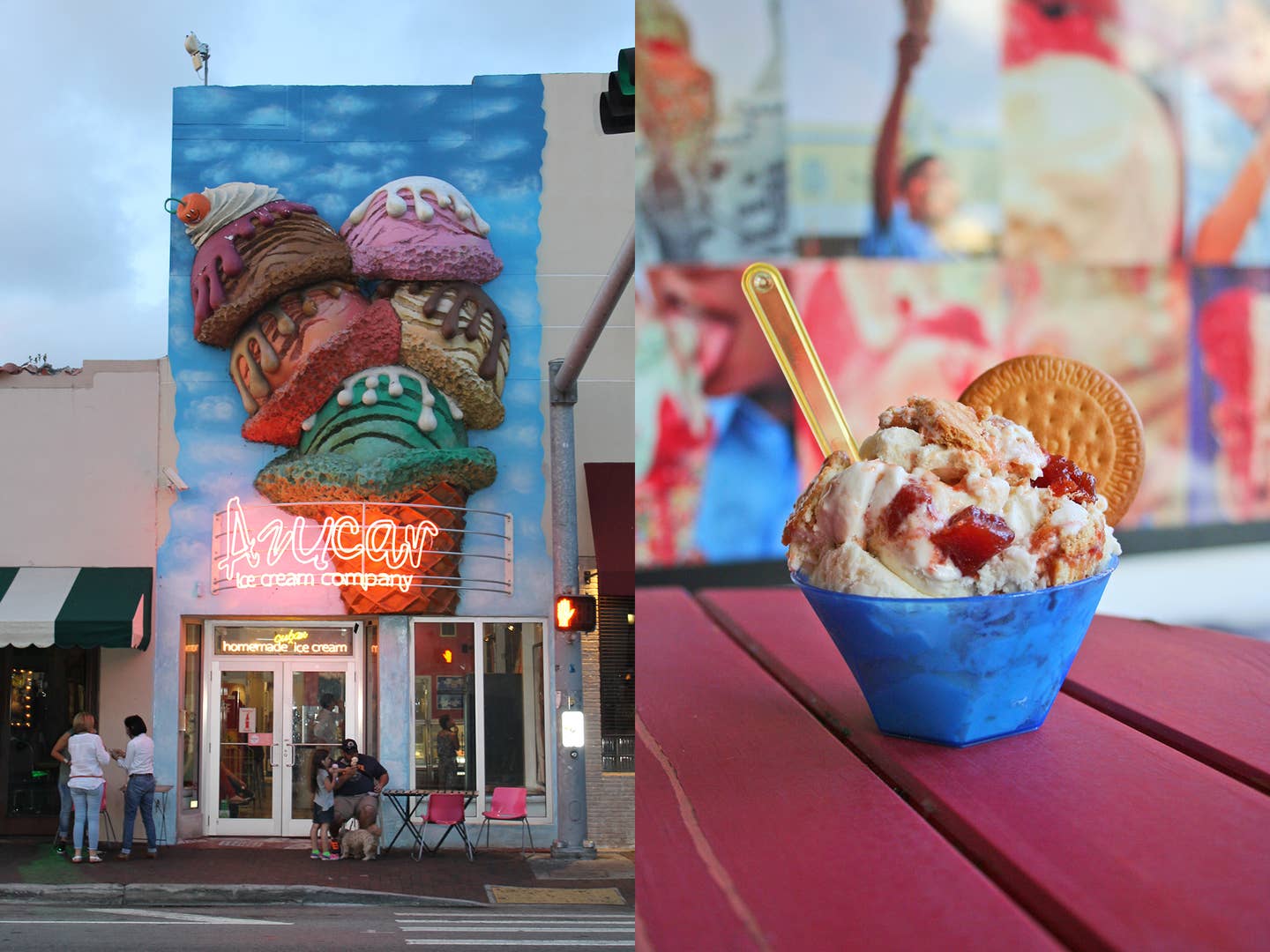 Travel
Who's the Cuban Ice Cream Queen of Miami?
Suzy Batlle of Azucar Ice Cream Company feeds an expat community's obsession for the cold stuff while providing a taste of home
On Miami's Calle Oche, the busy throughway that traverses the heart of Little Havana, nestled between a cigar factory and Latin dance club, there's a pastel blue building dedicated to Cuba's favorite food: ice cream. In Havana, wolfing down 15 scoops of ice cream in about as many minutes is commonplace; that's why ex-banker Suzy Batlle decided to open Azucar Ice Cream Company, Miami's first store dedicated to Cuban spins on the frozen treat.
"The Latin people want their Latin food," Batlle says, "and Cuban people love their ice cream."
Miami has been a home to Cuban exiles since the 1960s, and there are plenty of places around Calle Oche to pick up bechamel- and ham-stuffed croquetas, guzzle a counter-top cafecito, or sit down to a towering frita sandwich. Though if you wanted a cone to keep you cool in the humid Magic City, there weren't many options.
With a chalkboard menu of more than 50 rotating flavors, Azucar scoops all-American classics like mint chocolate chip and rum raisin, but you'd be remiss to step inside the shop and not pick out a distinctly Cuban flavor. More likely than not, that'll come in form of the best-selling Abuela Maria—a vanilla base flecked with guava paste, cream cheese, and tea biscuit-like Maria cookies—that pays homage to a classic Cuban mid-afternoon snack. Or you could opt for a scoop of golden mantecado, the island's version of French vanilla that Batlle put on the menu after men filtered in from Domino Park one afternoon, asking her if she could please supply them their favorite childhood flavor—one she had never heard of. But with her degrees from Penn State's Ice Cream Short Course and St. Louis' Frozen Dessert Institute, she got to work.
The research paid off. Once late afternoon hits in the shop, Batlle prioritizes testing new flavors, even though the shop always has a steady influx of customers. Mantecado—a term that refers to crumbly, buttery cookies but also a vanilla-though-not-quite-plain vanilla ice cream—was the first. The secret lied in the addition of nutmeg and cinnamon, lending a standard vanilla base more fragrance and nuance, which she found digging through old recipes and interviewing the domino players about how the ice cream should taste.
"I think the men really just liked watching me walk back and forth, though, which I did 20 times a day," she jokes. But today, mantecado is among the shop's most popular flavors.
For Batlle, the ritual of eating ice cream started in her early childhood—she remembers eating it every night after dinner. While she'll argue that all Cubans love their ice cream, the penchant for turning high-fat dairy from liquid to solid actually runs in her family. Because her grandfather worked as a sugar mill engineer, he spent a good deal of time in his native Cuba, but also all over South America. As a consequence her grandmother did a lot of traveling as well, discovering local fruits in unknown lands, and because of that dessert-making penchant, she used them to make ice cream. With ripe fruits like ruby-red guava, custardy mamey, and papaya, she didn't even need to add sugar.
Battle is also big on far-flung fruit at her little Havana shop, and she'll continue the practice when she opens two new stores in 2017. She gets avocados, beets, plantains, and the majority of her produce from markets in Homestead, even though it costs her "a fortune"—though she says the trouble to seek out extra-ripe quality fruit makes a difference, as she doesn't need to add sugar to many of her fruit flavors. While some flavors, like her quatro leches (the fourth leche is the ice cream itself) aren't dependent on produce, many of Azucar's daily offerings highlight whatever Batlle found to be extraordinarily ripe at the farmers' market.
"I'll buy 1,000 pounds of mamey at a time," she says. "And if I see beautiful limes, I'll make something with limes."
Which is, perhaps, the best way to answer the core question that might be nagging you: what is Cuban ice cream? If you Google this question, you won't find any recipe formulas; if you ask Batlle, she'll laugh. Unlike the technical differences between custard, Philly ice cream, or gelato, there is no ingredient-plus-ingredient-equals-Cuban-ice-cream standard. Instead, what makes an ice cream Cuban, if you ask Batlle, is a prioritization of Cuban fruits and flavors—mantecado over vanilla, platanos maduros over strawberry.
Or, as she may put more simply: "What makes an ice cream Cuban is that I'm Cuban and I make it."