Culture
Your Pimentón Comes From My Quiet Corner of Spain
If two decades of living in Spanish paprika country have taught me anything, it's that the spice has far more potential than most people think.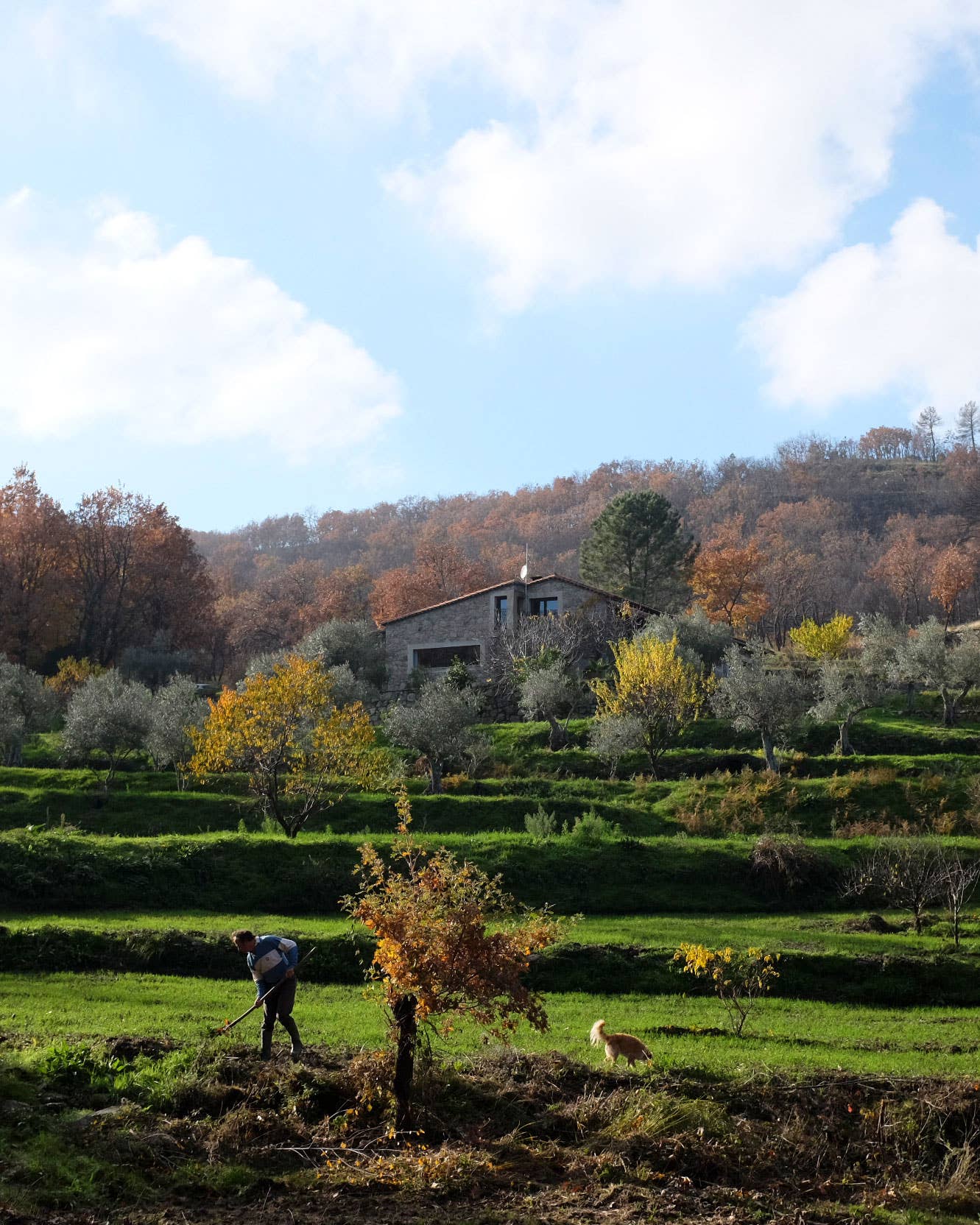 You probably think saffron would be the most important spice in the Spanish kitchen—but you'd be wrong: it's pimentón, smoked Spanish paprika.
Pimentón is close to my heart. For 23 years, I've farmed my own organic homestead in the remote western region of Extremadura, a two-hour drive from La Vera, the area that produces the world's most prized pimentón. Around here—and, indeed, across Spain—the little tins of Pimentón de La Vera come decorated with colorful traditional designs, and are as ubiquitous in local kitchens as their contents are permanently in use.
Maybe you have some in your cupboard right now—Spain's luxurious russet-red paprika. Taste a little on a fingertip: there's a warmth and resonance there, an undertow of savory-sweetness from its origin as a late-summer red pepper, plus a mysterious, haunting hint of smoke.
Yet until a couple decades ago, few outside Spain knew what pimentón was, let alone how best to cook with it. And even now, though major brands like La Chinata and Santo Domingo are increasingly sold at supermarkets (and online at retailers like Despaña and La Tienda), I'd argue the spice remains somewhat misunderstood by non-Spanish cooks.
That's ironic, given that pimentón is essentially a product of the Americas. The pepper Capsicum annum was brought back from the so-called New World by the monks of the Hieronymite order and first grown in the garden at Yuste, Emperor Charles V's monastery-retreat among the verdant hills of La Vera.
Until then, meats had traditionally been cured with little more than salt and black pepper, but pimentón—with its unique flavor and preservative properties—opened new culinary possibilities. From La Vera the taste for this new spice billowed out across Spain, finding a foothold in such preparations as escabeche, a subtly smoky vinegar pickle for game and fish, and polbo á feira, a Galician dish of sliced boiled octopus dressed with olive oil and salt and dusted with smoked Spanish paprika. In the Balearic Islands, pimentón is front and center in sobrassada, the spreadable rust-red pork sausage that calls for two tablespoons of the spice per pound of meat.
Though pimentón's production methods have barely changed for 500 years, today the spice is strictly protected under Spanish law by a special Denominación de Origen (DOP). To qualify as pimentón, the peppers must belong to any of five permitted varieties. These are dried in brick-built sheds where they are piled on racks above a smoldering fire of holm oak logs before being de-stalked and finely milled. You can see all of this on a new, government-funded pimentón trail that offers tastings as well as visits to manufacturers and restaurants.
What complicates matters slightly is that two basic types of Spanish pimentón exist. The version made in Murcia, over on the Mediterranean coast, has a milder flavor and none of the smoky reverberance of its rival, more akin to the sweet Hungarian stuff. Both Spanish paprikas come in three gradations of spiciness: dulce (sweet), agridulce (confusingly, "bittersweet") and picante (hot). Of these, the latter is seldom used, thanks to Spaniards' general mistrust of spicy foods, with the honorable exception of the hot sauce for patatas bravas.
But Pimentón de La Vera is the real McCoy. Without it, Extremadura's honest-to-goodness cuisine would be very much the poorer. In this livestock-farming region, shepherds were known to carry smoked Spanish paprika in their knapsacks to add interest and savor to their open-air cookups when on the move with the herds. Extremadura's signature dish, caldereta (a rich stew of lamb or kid), is unthinkable without it. Most if not all of the region's culinary repertoire requires a touch of pimentón for added pizzazz, from migas (olive oil-fried breadcrumbs with panceta and garlic) and sopa de tomate (eaten in late summer along with grapes or chopped fresh figs) to the extraordinary mojo de naranjas, a salad of oranges, finely chopped onion, and black olives dressed with EVOO and a dusting of pimentón. Another common use is a sprinkle over the melted surface of an oven-baked Torta del Casar, the fabulously gooey sheep's cheese that is the region's most charismatic queso. (I also love it on grilled halloumi and slices of cool fresh goat cheese.)
The annual pig slaughter, or matanza, is no longer practised in most of rural Spain but is still very much a thing around these parts. Towards the end of the year, a special section in local food stores offers the items needed for the big day, among them dried sausage skins in hanks, string for tying, and pimentón de La Vera in shiny red 1kg bags. At matanza time here on my farm we do get through an awful lot of pimentón. It's a fundamental element of the chorizo we make, but also of our patatera and calabacera (cured sausages made with potato and pumpkin, respectively), and stains our hands bright orange as we knead and turn the greasy mixture prior to stuffing. I like to rub a garlic-pimentón paste over whole pork loins and squares of panceta, to be air-dried along with the hams.
And as you might expect, I cook frequently with pimentón—in summer gazpachos, in chutneys and pickles, and even in the marinade for the cured olives plucked from my orchard come November. Decades of experimentation have taught me that rubbing a leg of lamb with pimentón, olive oil, and dried oregano before slow-braising it in the oven gives the meat an almost tandoori-like fragrance and tenderness.
Lately, when I come in ravenous from the fields, nothing satisfies like a smoky fried egg, which gets a lift by whisking a teaspoonful into the leftover oil in the pan and pouring this "sauce" over the egg. One of my favorite summer salads starts with cooked yellow wax beans, chopped boiled egg, and yellow Ananas tomatoes; its finishing touch is an eye-popping blood-red pimentón vinaigrette.
It was my farmer's-wife neighbor Petra who taught me the art of the esparragado—nothing to do with asparagus but rather a mashup of cabbage and potato enlivened with a quick sofrito of minced garlic and pimentón added toward the end of cooking. Though not always used, this blooming technique kickstarts the essential oils locked inside the pepper powder.  
But for me, the blue-ribbon pimentón dish among my down-home farmhouse staples is patatas con costillas, or stewed ribs and potatoes. It's the best example I know of pimentón's transformative power. A generous spoonful or two tossed in with nothing more than the pork, potatoes, onion, and garlic, elevates this humble dish into something much more than the sum of its parts.