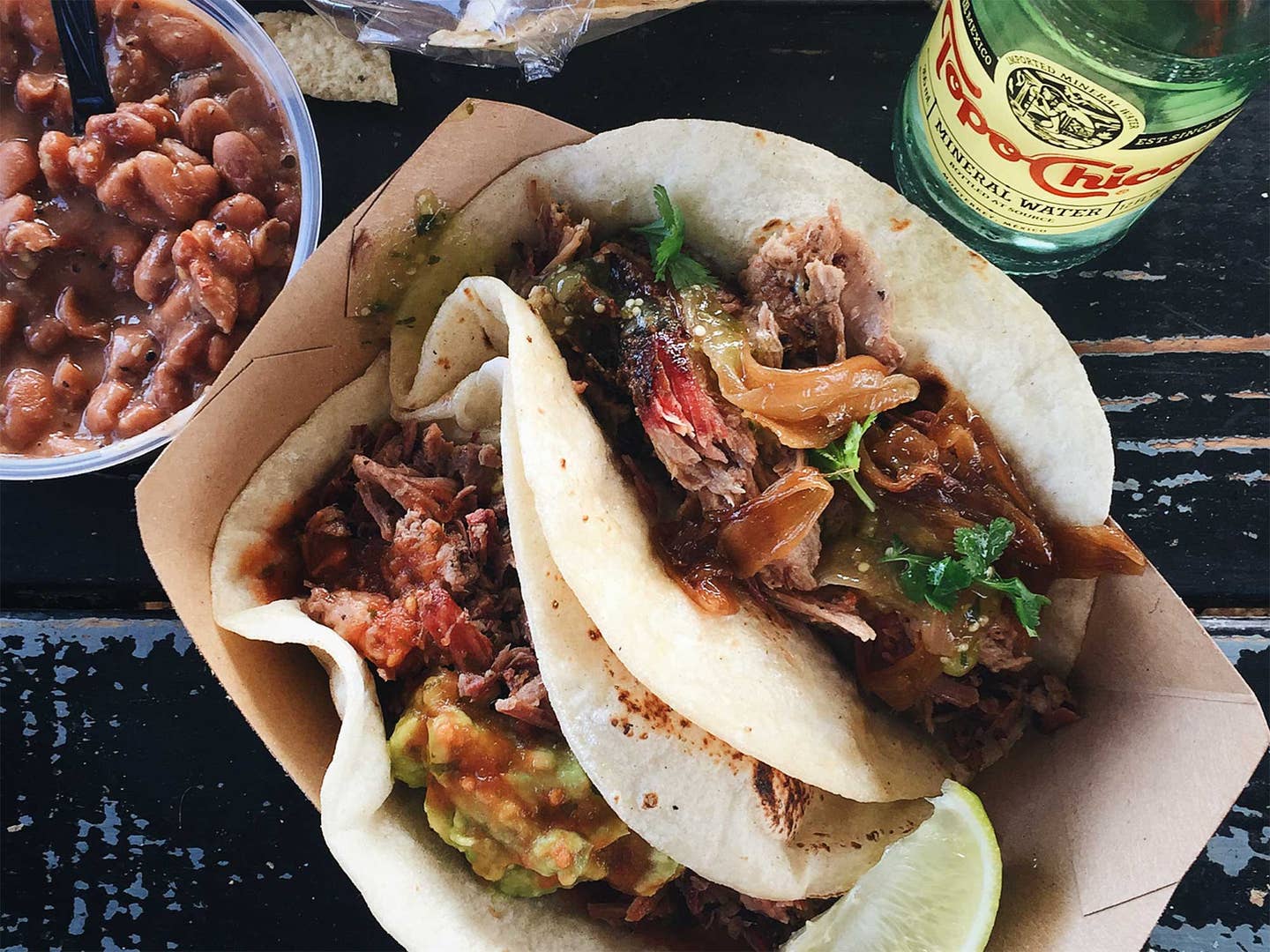 Travel
Where We Traveled in December
From a Tokyo adventure to a New York City staycation, here are all the ways we ate the world last month
At SAVEUR, our obsessive quest to unearth the origins of food and discover hidden culinary traditions sends us from our test kitchen in New York City to all the corners of the globe. From soba in Tokyo to barbecue tacos in Austin, here are all the ways SAVEUR editors ate the world in December.
It's still a sore spot for many of New York's Japanophiles that Honmura-An quit the city in 2007—a sore spot for me especially, as the storied soba restaurant's exit preceded my arrival by a few months. The restaurant reopened a year later...in Tokyo. I found myself there last month, so naturally I went. My friend and I ducked into their Roppongi location for lunch on an afternoon that was cold enough I lost all feeling in my fingers while google-mapping. That's to say I settled with the warm stuff, a bowl topped with three tempura-fried curry oysters that were so satisfying I went back the next day by myself.
The second time, I sat in the back. The great thing about the back is that you have a clear shot not only of one of the cooks, who is rolling out dough in a glass room, but of the other tables when that cook starts chopping so loudly the patrons jump and hushed conversations pause. I enjoyed that view with what was my best meal of the trip (maybe of the year?): a giant bowl of cold soba topped with a pile of uni slices, a dollop of fresh wasabi, and some strips of dried seaweed. Kind of like one bite of perfect sushi that lasts a whole meal. — Andrew Richdale, deputy editor
Last year, my parents moved from their comfortable townhouse in the D.C. suburbs to a remote log cabin in the northern Michigan woods. At least 30 minutes from the nearest town ("town" is used here generously), and a good three and a half hours north of the Detroit airport, my trips home have been far less frequent. So the hopes were high for a Christmas up north, and with my parents having all year to prepare, there was no shortage of rich, buttery, gut-sticking food: Christmas dinner was both lobster and steak pie, and breakfast the day before was a mountain of crisp and buttery buttermilk waffles, drowned in Michigan's finest maple syrup and a dusting of powdered sugar, almost as thick as the snow outside. — Alex Testere, associate editor
You know how sometimes you tell people you love a food so much you could eat it every day for the rest of your life? And how you always kind of laugh when they say that, thinking, "Yeah, ok, that's disgusting"? I feel that way about pasta. Seriously. I ate it every night for 3 months and never once thought, "Yeah, ok, I feel disgusting about this." So when my friend Ilaria told me she was returning to her hometown, Frosinone, outside of Rome in Italy, I right away knew I had to go. I had to get some good pasta. I spent about 4 days with her and her family, testing out my less-than-perfect Italian, downing espressos (and inhaling Pocket Coffee in between actual coffees), and eating everything. We ate a lot. One particularly memorable meal included 15 appetizers followed by two enormous, cheese-covered, pear-stuffed gnocchi and two desserts shared with Ilaria. But probably the best thing I ate was this carbonara, made by Ilaria's mother. It wasn't too creamy, it had just the right amount of pancetta, egg, and cheese, the pasta was cooked to perfection - I could go on and on, but I think you get how much I loved it. I think I know what I want to eat every day for the next month... — Katherine Whittaker, assistant digital editor
You know that feeling that something just isn't right, like you're forgetting something, like you're missing something? And you can't figure it out and then one night you wake up in a panic saying "TACOS!" and you fly to Austin immediately and start a taco tour to calm yourself down. Same. I was in Austin over the holidays and spent a good chunk of my time eating as many tacos as possible. I went to all my old favorites but this trip I got to go to a new, to me, place called Valentina's Tex-Mex BBQ. It's a food truck in a gas station parking lot that serves some of the best tacos I've ever had! I had the smoked brisket taco and smoked carnitas taco and a side of their charro beans and a topo chico and I was in heaven. Valentina's somes all of their meats in-house and word on the street is it's Aaron Franklin's favorite bbq in Austin (other than his). My future Austin taco tours will start and end with a stop at Valentina's. — Matt Taylor-Gross, staff photographer
The day after Christmas (as if the holidays weren't indulgence enough) I always stop by Conte's Pizza in Princeton with my in-laws. There's nothing fancy about this long, high-ceilinged bar hall. Started in the 1930s as the Witherspoon Bar by Italian immigrant Sebastiano Conte, the barebones operation eventually began serving pizza in the 1950s. The delightfully dated décor hasn't changed since; amid carpet-covered pillars, a multi-colored glass brick bar, and burnished gold walls, pies as wide as tires and as greasy as a fry cook's apron are served to loyal Princetonians. And it's in no particular style—just a tons of perfectly browned cheese over a pool of salty tomato sauce all studded with thick pepperoni rounds filled with golden sausage grease. This is not beauty queen pie, but it's deeply satisfying (and wildly calorific) in a messy Italian-American, red-sauce-and-cheese kind of way. — Leslie Pariseau, special projects editor
Where did I go in December? Nowhere! Because one of the best things about being from New York and continuing to live here is not having to leave town during the most hectic travel season of the year. True, it's also the busiest tourist season of the year, but if you know which neighborhoods to avoid (Herald Square, Soho, all of Greater Metastasized Williamsburg), you can get into pretty much any Good But Normally Mobbed Restaurant you want, because all the people who normally eat there are tossing and turning in their childhood twin beds back in their sad hometowns. So I ate a lot of fish at the Russ and Daughters Cafe, at dinner, thank you very much, when it was so peaceful in the dining room you could almost imagine the place in whatever hamlet you're from.
That said, the best best thing about living here isn't the December restaurant availability. It's now, in these early days of January, when the tourists are finally leaving and the locals are still in a New Year's haze. That gentle hum you hear in the air? It's the city getting a particularly noxious infection, with days of good health back on the horizon. — Max Falkowitz, executive digital editor
Although I was born and raised in Houston, I'd never had an opportunity to sit down at one of the city's most famous restaurants, Underbelly. After hearing rave reviews for years, my family finally decided to check it out this past Christmas. The highlight of the menu was definitely these goat dumplings, an Underbelly signature, which nods to both the Southern-style take on dumplings and the spice-forward goat stews of Korea. Laced with a red, gochujang-like sauce and topped with crispy sesame seeds, the dish is masterclass on blending two culinary cultures to create a better dish, rather than a misshapen mashup. — Dan Q. Dao, deputy digital editor
My New Years resolution each year is to wake up the following morning in the furthest place possible from the massive crowds and glamorous parties that fill the city of New York. On the eve of December 31st, I found myself cozied up in a pub in Dingle, Ireland, a picturesque town situated on the most western peninsula of the country. On assignment shooting an upcoming story, this town that praises itself on local cuisine is equally talented in preserving its past. You walk into a pub like Curran's and you're instantly brought back to the 1800's. The smell of the old wood floor beams pairs perfectly with the Guinness being poured, and whiskey shares the shelves with wellies, both waiting to be sold. Live music is played often, and if you show up more than once, you have a good chance they'll be pouring your favorite pint before you even ask. — Michelle Heimerman, photo editor