19 Fresh Dill Recipes to Brighten Your Next Meal
The name is frond. Dill frond.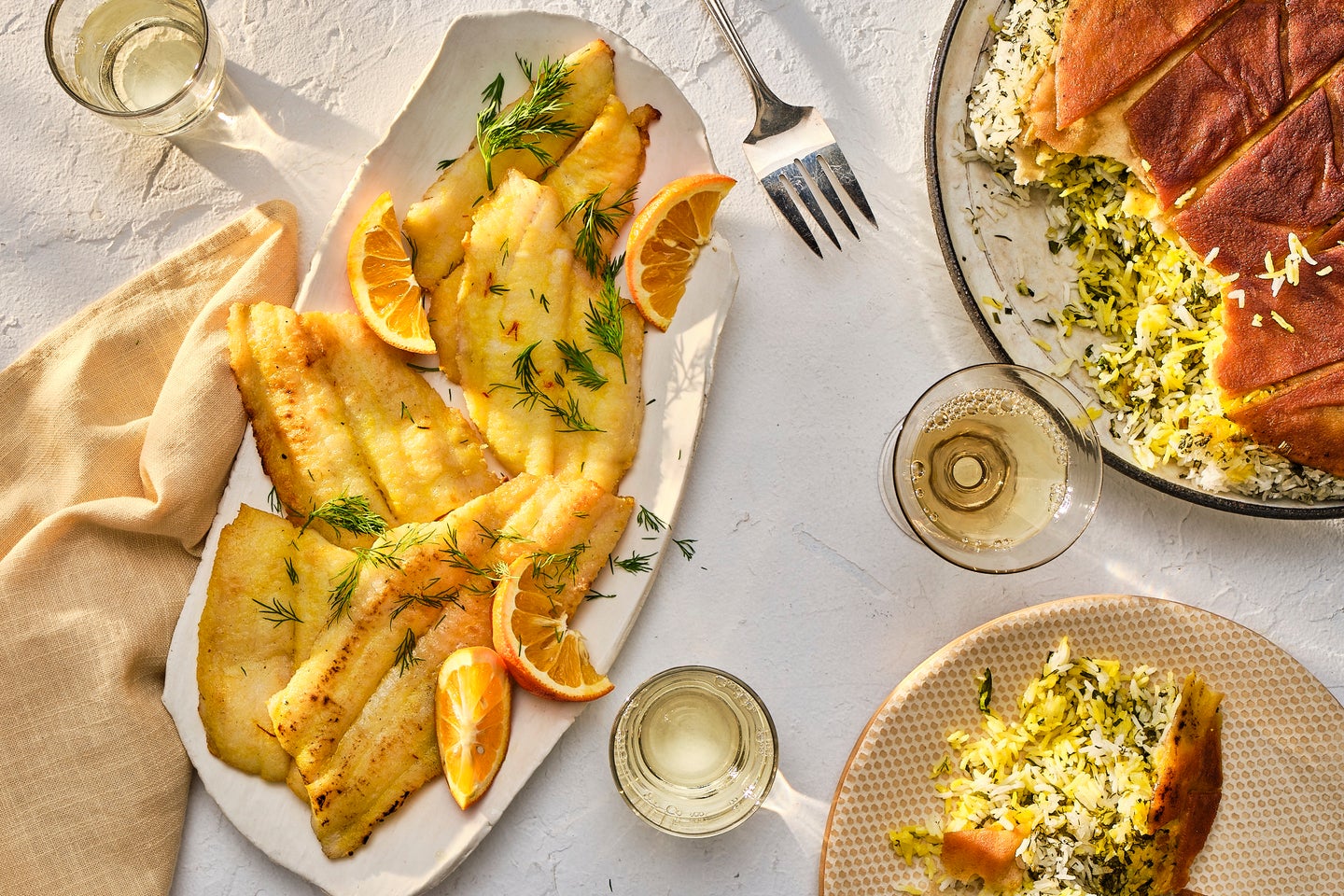 We'd like a word with whoever deemed dill a weed—there's nothing not to like about the fresh, woodsy herb that's beloved from Denmark to India to Palestine. Indeed, dill has been around for millennia: The Romans thought it brought good luck, and it was a popular pain killer in ancient Egypt. 
When shopping for dill, reach for bunches with deep green, feathery fronds, and store it in a resealable bag in the vegetable drawer. As you cook through our favorite dill recipes below, use the herb raw or stir it into hot dishes at the last second (heat dulls its signature punch). And skip dried dill, which pales in comparison to its fragrant fresh counterpart. 
This sky-high Montreal sandwich is a flavor bomb stacked with pickles and vinegary iceberg slaw. The secret to its out-of-this-world breading? Instant mashed potato flakes. Get the recipe >
A trick we learned from chef Michael Solomonov of Philadelphia's Zahav is to rub sweet potatoes with dill seed and salt, then slow-roast them until soft and sweet, and top them with gobs of garlicky labneh. Get the recipe >
Celebrate Nowruz—or any day of the year, really—with this festive and fragrant Iranian meal. Get the recipe >
Pasta salads can be one-note and mayonnaise-laden; not so this peppy soba noodle salad whose dressing packs a surprising umami punch. Get the recipe >
This low-effort, high-reward main tastes like summer with its wonderfully herbaceous marinade and smoky char marks from the grill. Get the recipe >
Asparagus pulls double duty in this French-inspired soup: It's stewed with leeks and potatoes to make a rich, velvety base and then tossed with shrimp, radishes, and dill, which add freshness and crunch. Get the recipe >
Simmering chicken feet in a bright, sweet-and-sour tomato sauce tempers their mild funk while turning their collagen into an irresistibly silky glaze. Get the recipe >
Quick-pickled cucumbers get tossed with a lemon-herb dressing in this palate-cooling starter or side. Get the recipe >
This tangy, dill-scented tzatziki may as well be a soup—at least that's what we tell ourselves as we spoon up leftover sauce long after the lamb chops are eaten. Get the recipe >
A savory crêpe cake layered with dill-infused mayonnaise, this retro starter for a crowd is so garlicky that you "won't be kissing anyone afterwards," according to the Ukranian home cook who sent us the recipe. Get the recipe > 
Forget food trends: A crisp breaded chicken cutlet that oozes dill butter can never go out of style. Get the recipe >
Paris chef Alexia Duchêne brings us this recipe for meringue layered with fresh fruit and yogurt cream and garnished with dill fronds. Get the recipe >
Dill and smoked fish make a wham-bam pairing in this colorful dish topped with bright orange roe. Get the recipe >
Prolific cookbook writer Olia Hercules reinterprets the classic beet soup by adding red pepper, beet greens, cabbage, and a whole duck. Get the recipe >
Looking for an easy, failsafe dill pickle recipe you can use year in, year out? This one's the ticket. Get the recipe > 
Green almonds are a rare spring treat; simmering them in olive oil, orange juice, and aromatics mitigates their slightly bitter exterior and turns them into a cocktail party snack. Get the recipe >