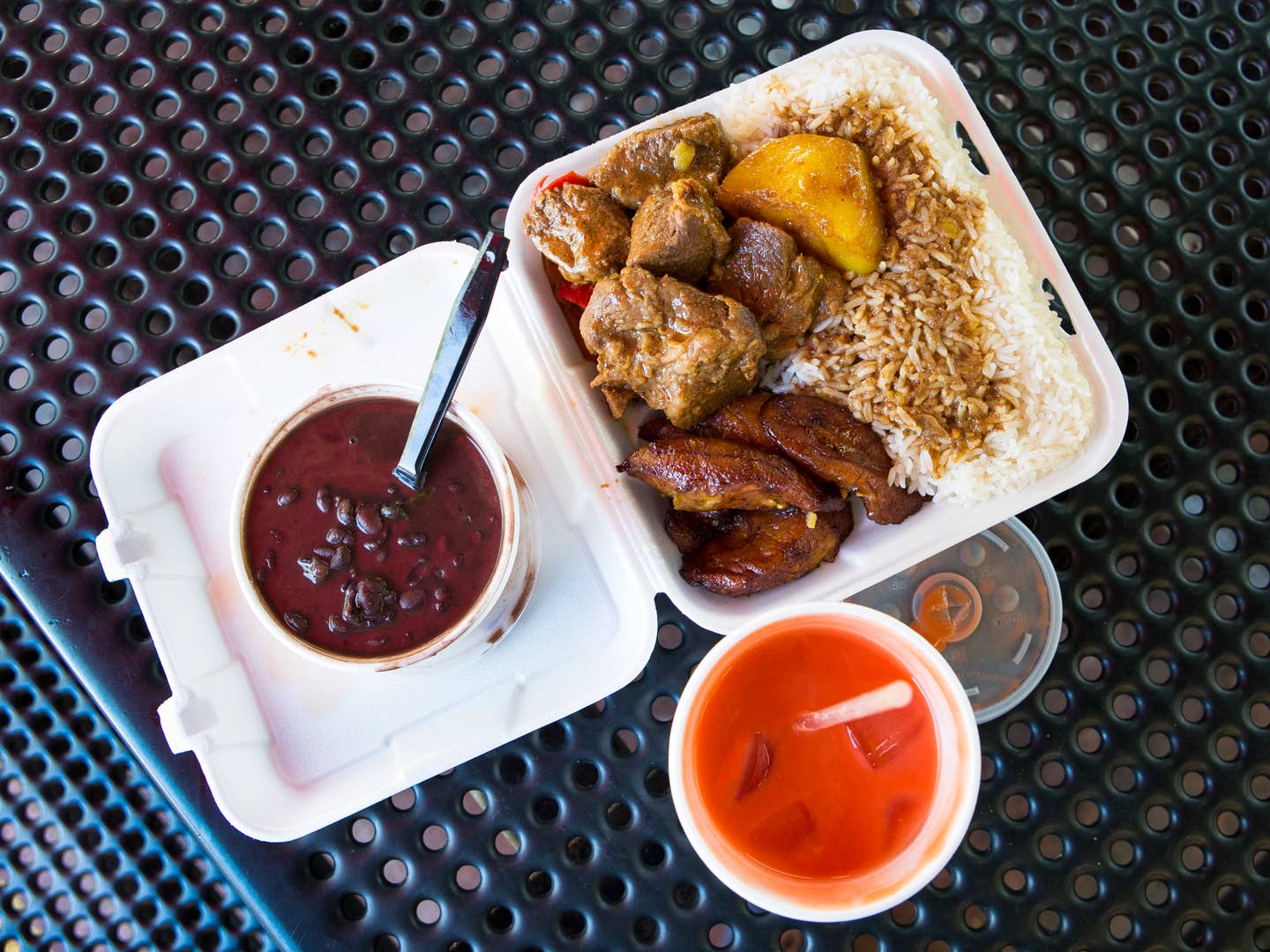 Travel
What to Eat at Miami's Juice and Cuban Food Mecca
At Miami's El Palacio de los Jugos, juice options are endless and Cuban food is piled high
An open-air food market that attracts everyone from Ferran Adrià to Martha Stewart to 22-year-old Midwestern girls like myself, El Palacio de los Jugos translates to "The Palace of Juices" but it's more of a palace of every edible Latin good. Crowds of people squeeze through narrow aisles to get to the various food stands, calling to the cashiers in Spanish and pointing to fatty chicharrones, mounds of pea-flecked arroz amarillo, and stewed ropa vieja. In the middle of the market, a man with a shopping cart full of green coconuts hacks off their tops, seemingly carelessly but always precisely, and inserts a straw into the cavity, passing them off to customers waving dollar bills. It's a spectacle but no one cheers.
Upon arriving, I wandered for half an hour and I still felt like I hadn't seen it all. It's not a big area, but food stands with piles of fruit and stacks of dulce de leche are all packed together; it's overwhelming like a multi-page restaurant menu, but all the dishes are right in front of you, only a few dollars and minutes away. Surrounded by foods I didn't recognize and a language I don't speak, I could do nothing but follow my instincts.
Before deciding on what I wanted to eat, I went up to the central juice stand and went for mamey, the custardy, starchy fruit that produces a red-orange nectar that tastes like a cross between sweet potato and papaya. It was musty, thick, and unlike any juice I'd ever known, but one of the best I'd ever had.
And after spending much time deliberating what food I wanted, at the Pescado y Mariscos stand, I ordered seafood paella and plátanos, and the woman behind the counter piled scoop after scoop into a styrofoam box, which bent under the weight. The total: $8, and enough food to stretch for two or three meals.
As I dug into the paella, my fork hit various concealed bits of seafood: clams, shrimp, half a whole fish, squid. The experience was reminiscent of digging through a sandbox and finding a shovel, except the shovel was a pink filet of salmon.