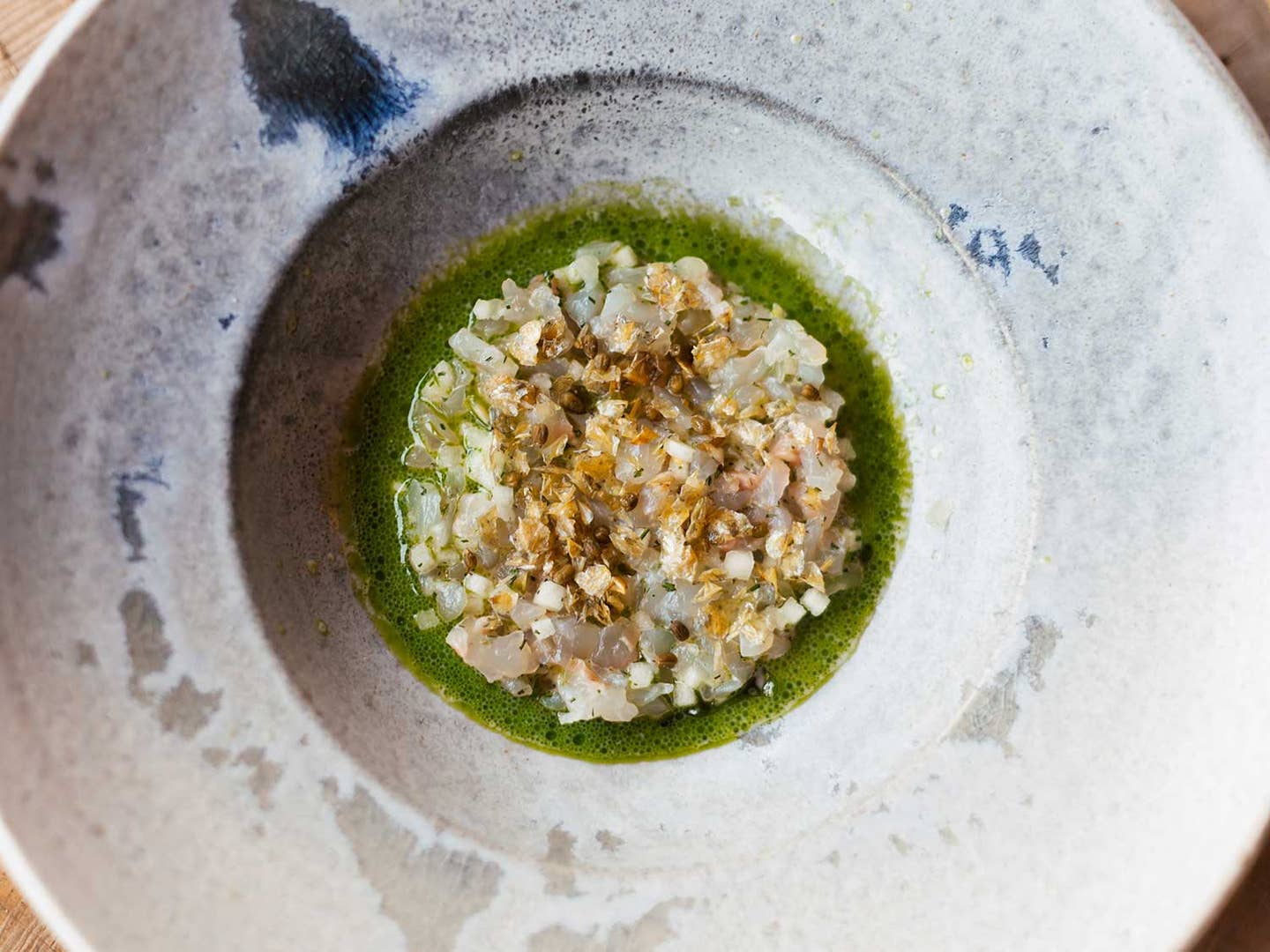 Culture
Cooking the Mountain with Chef Norbert Niederkofler in the Dolomites
Niederkofler's food is inspired by the rough nature in the Dolomites
To reach the mountain village of San Cassiano in northern Italy – where chef Norbert Niederkofler runs his internationally renowned restaurant St. Hubertus – you can either fly to Venice or Milan. But the actual journey only begins there: You will have to rent a car, and you will want to bring along your motion sickness pills. Then, you'll meander for hours on end through winding roads that keep getting higher and higher, each curve offering a different panorama of the area's distinctive sharp and rugged mountain peaks, until you arrive in the small valley of Alta Badia. Here, at just over 5,000 feet above sea level, Niederkofler creates his dishes inspired by the rough nature of the Dolomites.
St. Hubertus opened in 1996, and when Niederkofler decided six years ago to change the menu, guests were not exactly happy. Imported delicacies like foie gras were out, and instead, the restaurant turned to local and seasonal products like trout with wild berries, orzotto (a risotto-like dish made with pearl barley) with buttermilk and fenugreek as well as lamb from the Eisack Valley, a philosophy Niederkofler calls "Cook the mountain."
"It was wonderful for me to grow up in the mountains," he says. Niederkofler grew up in the Ahrntal, a municipality in the northernmost part of Italy. "On the one hand, there is this sense of well-being, of being protected because you have the mountains around you. On the other hand, it also awakens your curiosity: What is on the other side of the mountains?"
His early interest in cooking allowed Niederkofler to travel the world. "I lived in an American-Indian reservation for a while, and also traveled to Central America, where I had spent days at the markets. I just sat there and watched the people. I have maintained this observation to this day. I really learned a lot by watching and asking questions. That's how it all turned out."
The food in South Tyrol might not be exactly what you think of when you imagine Italian cuisine; its Eastern European influences led the food in a less pasta-heavy direction. "South Tyrolean cooking is a fascinating mix. It is based, firstly, on Austrian-Hungarian culture because this used to be Austria-Hungary, but we were always on the southern side of the Alps and always open to the south," he says. "South Tyrol has always been a commercial center. For example, Merano [the second-biggest city in South Tyrol] had a direct train connection to St. Petersburg in 1880. At that time, there were about 200 orangeries in Merano. Due to its location and the Mediterranean climate, Merano is unique, as the area is completely closed to the north and there are only warm air currents from the south. Merano was also the supplier of citrus fruits to the Tsarist Empire.
Since then, South Tyrolean cuisine has taken on a lot more Italian influence. "When we look at our cuisine today, there is still the Austro-Hungarian style, especially in the pâtisserie and, above all, in all the many ways of cooking goulash and pasta. After World War I, of course, that has changed a lot, with the greater influence of Italy. The pasta for egg dishes, based on flour and eggs, has turned more to the pasta as it is made in Italy, with durum wheat semolina and water."
Niederkofler never knows exactly what products he will get from the local farmers, but one of his most famous dishes is whitefish tartare with crispy scales. First, he places the tartare in the middle of a ceramic plate and adds some dill oil. "What we're doing in our kitchen today is trying to get back to basics. For example, there is no olive oil culture in South Tyrol. So we do not use olive oil. It's now available here, but not before, just because of climate change, as it has become warmer. However, it is not our culture. That's why we started to set such restrictions — no olive oil and no oranges or lemons in winter." Finally, he carefully fills the plate with a green sauce, his take on the local specialty of Terlan wine soup. "The interesting thing is, the more you try to leave out, the more you go back to your culture, to your roots, where you came from."