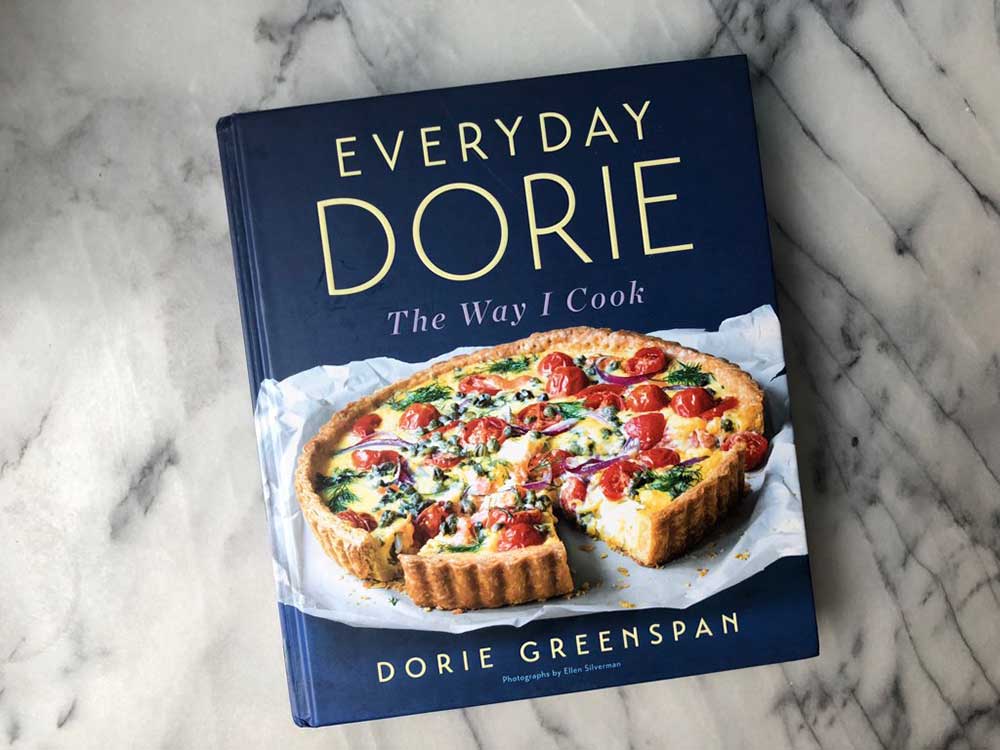 Culture
Dorie Greenspan Wants You to Be Your Own Cook
How the acclaimed author is empowering home chefs to find themselves in their everyday cooking
Cookbooks can be intimidating. We often buy them out of an inherent need to imagine bringing something different to the table, dishes we can make that will expand our world and our palates, and our offerings to those we love to feed. But if we aren't careful, some cookbooks can do the opposite, making us feel small with inadequacy by requiring daunting new techniques, long grocery lists of things we don't have on hand, or demands of "this is the only way."
And then there is Dorie Greenspan. She's the beloved author of 13 cookbooks, columnist for the New York Times Magazine, multiple James Beard award-winner, and the one who helped us (with Dorie's Cookies) stand proudly and proclaim that you're never too old to say "I love cookies." She stands among the greats, from Julia to Jacques, helping us bridge the gap between the familiar and the new. And in her latest, Everyday Dorie, she invites us into her kitchens for weeknight meals and impromptu get-togethers.
"In my head, I'm standing in the kitchen, next to them [the readers], helping them get through a recipe," says Greenspan. She will often even find herself pantomiming movements when she's working on writing the directions. "My husband will walk through and see me at the computer making hand movements, and ask, 'What are you doing?'" she says with a chuckle. "It's just part of how I work. I am always trying to find the best and clearest way to explain how to do something, from folding a crust to how something is supposed to look."
Maybe she gets us as readers because she mainly learned how to cook from books herself. After she burned down her family kitchen at the age of 12 (yes, really), her mother banned her from cooking, and so it wasn't until she was married that Greenspan once again picked up a hand mixer or a box grater. She turned to the bookshelf to teach herself, and she discovered a deep passion for the art of combining ingredients into something altogether new. And then she was fired from her first professional baking job.
"I'd never worked in a restaurant, and I got fired from my first job as a baker for playing around," Greenspan says. "I came to the realization truly only recently, that that's my personality. I got fired for being me."
And "being you" is just what she asks cooks to do in Everyday Dorie. When she wrote her first book in 1991, she penned recipes that allowed the cook a little breathing room, a little place to play around, and every book since has been an invitation to add your own spin to a dish. Here in her latest, she takes it even further. "So many things can be varied, and this book is a mix of concepts and compositions, so once you understand that, the flavor can go in any direction."
For example, in her So-Good Miso Corn, she writes "I add za'atar to the corn. If you don't have it, you can use a mix of dried thyme, oregano, marjoram and, if you'd like, a few sesame seeds. Or, if you want to stay in Japan, sprinkle the corn with some furitake (a dried spice mixture often used to season rice) and swap togarashi (another Japanese blend) for the cayenne. If you want to turn this into a main course, see page 217 …"
And here is the magic of Greenspan's writing. She is empowering the cook to create herself, to use the recipe as a jumping off point. Her reason is simple: because that's what cooks do. "I might write a recipe, but then that recipe stays in your head, you think of other ways to do it," she explains. The act of cooking everyday is about moving pieces of a puzzle to make a new design, from leftovers to ingredients—"for instance, mustard is a big flavor booster"—to a technique for shrimp that might also apply to chicken. "I've always been this way," she says. "This playing around is natural."
And that's probably why she still loves cooking after doing it daily for more than 30 years. She naturally has an element of play, of whimsy, and she invites the same into our kitchens through her work. And through that play, the invitation to experiment and not take things so seriously, she teaches us about seeing connections in our kitchen between flavors, ingredients, and techniques. And in doing so gently empowers us to go and cook something delicious—tonight, with no shopping list required.
Stephanie Burt is the host of The Southern Fork podcast, a contributor to Saveur, and an enthusiastic cookbook collector.