[DO NOT PUBLISH] This Cold Soba Salad is Just the Thing for Unbearably Hot Days
Let cooking legend Elizabeth Andoh school you in the art of Japanese pasta salad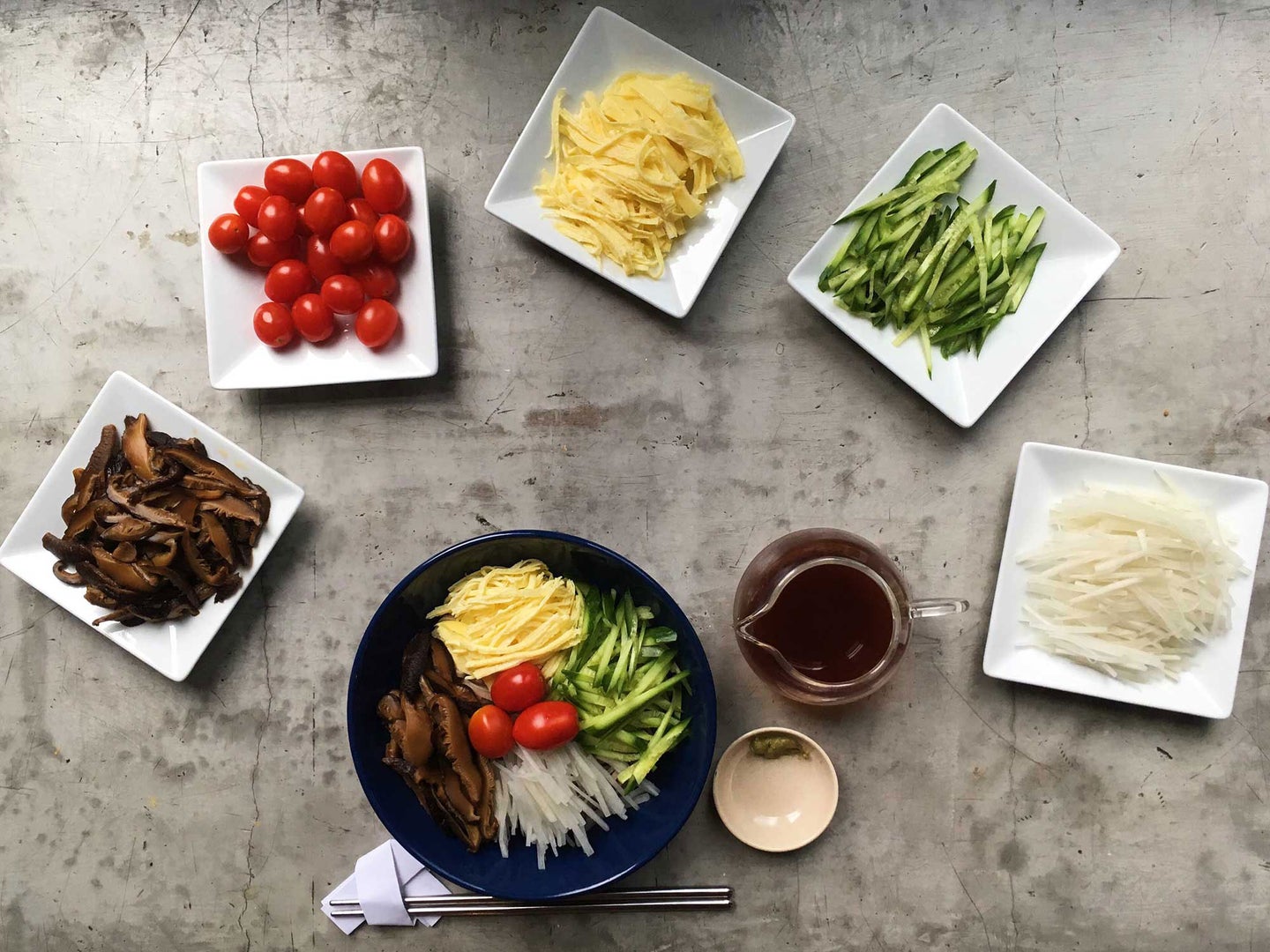 Though she was born in and raised in the U.S., few people have devoted themselves to the art and culture of Japanese cuisine like Elizabeth Andoh. The cookbook author, educator, and professionally trained cook has spent the last 50 years in Japan, and has written many of the most influential texts on Japanese cooking in English. So when Andoh says a recipe is the Japanese dish of summertime, we listen.
Summer is hot and muggy in parts of Japan, so hearty home-cooking like omurice doesn't really fit the bill. Instead, Andoh recommends a soba dish for the dog days that falls between a salad and a chilled soup: Delicate buckwheat noodles adorned with colorful toppings of green cucumbers, white daikon radish, ribbons of yellow omelet, red cherry tomatoes, and glazed black shiitake mushrooms. It's substantial enough to keep you full but takes full advantage of bright summer produce, all while keeping close to the Japanese culinary aesthetic of five tastes: elements of bitter, sour, salty, sweet, and umami in every bite.
The noodles and toppings are served with a chilled, wasabi-spiked dashi, either as a dipping sauce, or poured over top like a dressing. While preparing this dish takes a bit of advance planning and mindfulness, it's economical, requires no special equipment, and creates very little waste—even the mushroom stems you snap off get put to use in the broth. And the stovetop work is quick and minimal—all the better to keep your kitchen cool.
Dried packaged soba noodles are perfectly acceptable for this dish. Most are known as hachi wari soba and are made from a mixture 80% buckwheat (soba) flour and 20% wheat flour, though ju wari soba (100% soba) types are also available. Since soba noodles contain very little to no gluten, they have an extremely delicate texture and require careful cooking. And keep in mind these tips from Andoh to use your noodle to its fullest.
Use plenty of water: Dried soba usually comes separated into single-serving bundles of about 3.5 ounces. For each bundle, use about 1 pint of unsalted water in a pot with plenty of headroom. The noodles will be seasoned after cooking by the broth and toppings.
Bring the water the a full, rapid boil over high heat before scattering the noodles into the pot. Poke at the noodles gently to keep them from sticking together until the water returns to a boil.
Begin timing the noodles from the moment the water returns to a boil. Adjust your heat source to maintain a steady, medium boil. Cooking times vary enormously between brands, so follow the guidelines printed on the package. Test a noodle by pulling it from the pot, plunging it in cold water and tasting: ideally it should be cooked through, but still firm, like perfectly al dente pasta. If it is too hard, cook for another 30 seconds, then test again. Repeat, as needed, at 30-second intervals.
When the noodles are cooked, drain and rinse well under cold running water to remove any surface starch. This step is essential, even if you plan to serve the noodles hot later, otherwise they will stick together in a giant blob. Drain well, and twirl your chopsticks around the bundle to form an artful nest as you plate.
How you top your soba is up to you, but Andoh insists on adhering to the colorful ingredients in her bowl, which aren't just pretty, but give you the balance of tastes and colors that Japanese cuisine strives for: a mix of white, black, green, red, and yellow to appear in every meal.
Once you nail your noodle basics, go forth and dig deeper into the art of soba and play around with a pasta salad you'll want to eat all year.