Culture
Bun Bo Hue and Rosé at our SAVEUR Supper with Elizabeth Street Café
Chef-owners Tom Moorman and Larry McGuire brought us French-inspired Vietnamese cooking from the heart of Austin, Texas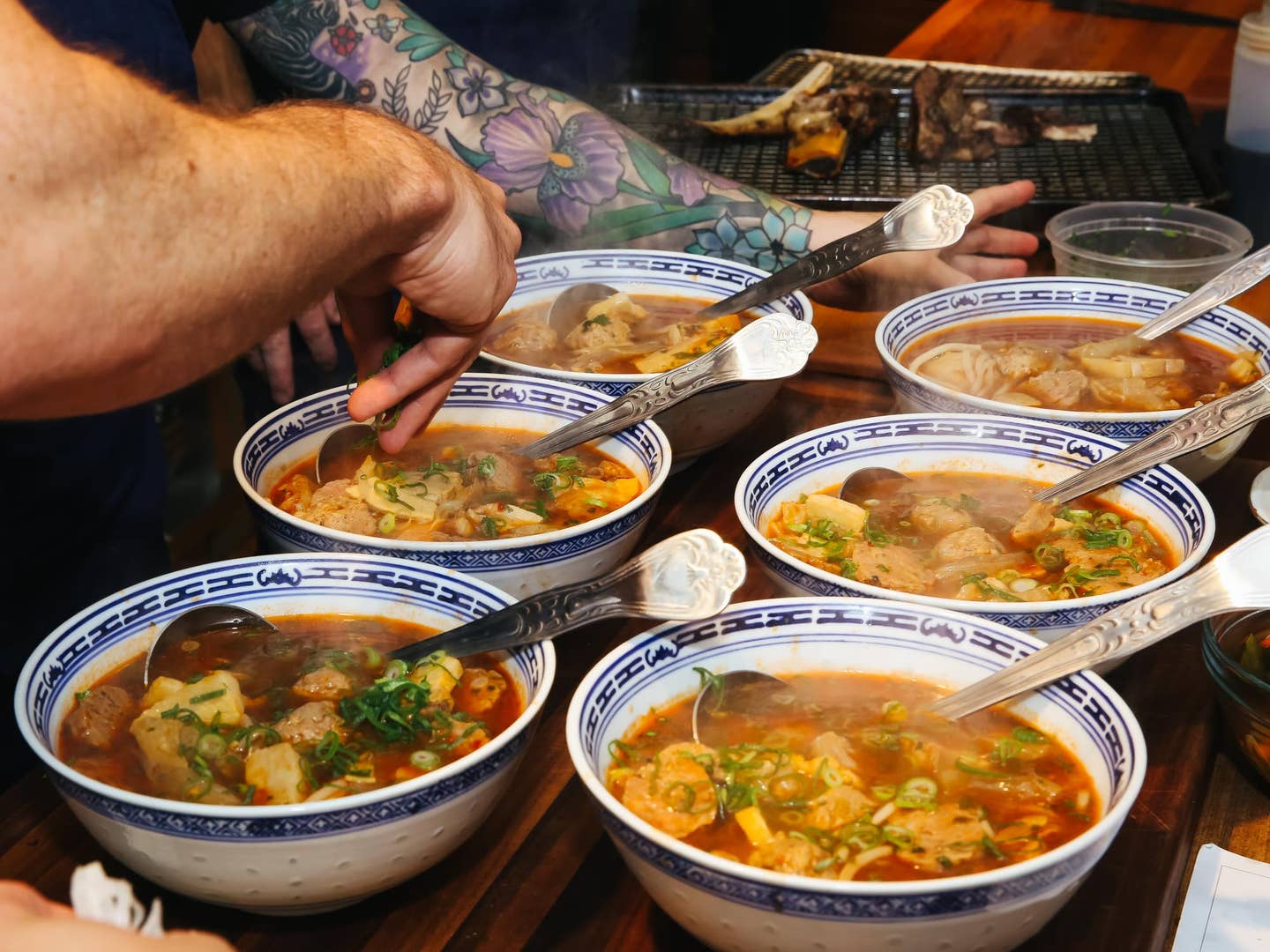 "Cooking is about using the ingredients around you and making food that's right for the climate," explains Elizabeth Street Café chef-owner Tom Moorman at last night's SAVEUR Supper.
It makes sense then that Moorman and his co-owner Larry McGuire chose to expand their Austin, Texas-based McGuire Moorman Hospitality (MMH) empire with a French-influenced Vietnamese restaurant. After all, the famous Austin Mexican food the two grew up on shares loads of ingredients—cilantro, jalapeños, lime—with Vietnamese food, which, as Moorman noted, is also popular throughout Texas.
Beyond flavors, there's also a similar method of eating between the two cultures that make them ideal for warm-weather feasting. Hot, savory, rich dishes are offset with garnishes of fresh herb that allow every bite to juxtapose textures and temperatures. Take for example Moorman and McGuire's first course of soft, steamed rice rolls nestling Gulf shrimp but topped with crunchy puffed rice and fresh herbs; or the crispy beef rib given acidity and brightness from a chili-garlic nuoc mam and crunch from basil and other Vietnamese herbs.
A highlight of the meal—executed by Moorman, McGuire, and the group's executive chef Jedd Adair—was the bun bo Hue, a central Vietnamese noodle soup that is markedly different from the more familiar pho. Thick and spicy, it's typically made with beef bones, lemongrass, and chile pastes. Non-traditionally, the ESC chefs use a tomato paste to help replicate the soup's brick-red hue. (Find their recipe for bun bo Hue and other dishes in the soon-to-be-released Elizabeth Street Café cookbook).
We washed down the food with rosé, specifically the super crush-able June's Rosé Brut Traisental from Austria, created by the group's master sommelier June Rodil (one of MMH's most critically-acclaimed venues is June's All Day, named, fittingly, after Rodil). For our supper, she also shook up original cocktails including a gin and beet-infused sake number made with Bombay Sapphire and a margarita variation fusing blanco tequila with Pierre Ferrand curaçao, lime, and sambal.
Capping off dinner was pastry chef Jennifer Tucker's Vietnamese coffee pot de creme with a chocolate chip macaron and, in traditional Vietnamese fashion, a Vietnamese coffee with roast provided by Stumptown.
The Elizabeth Street Café cookbook comes out October 23rd. Buy it here and shop for other MMH merch here.