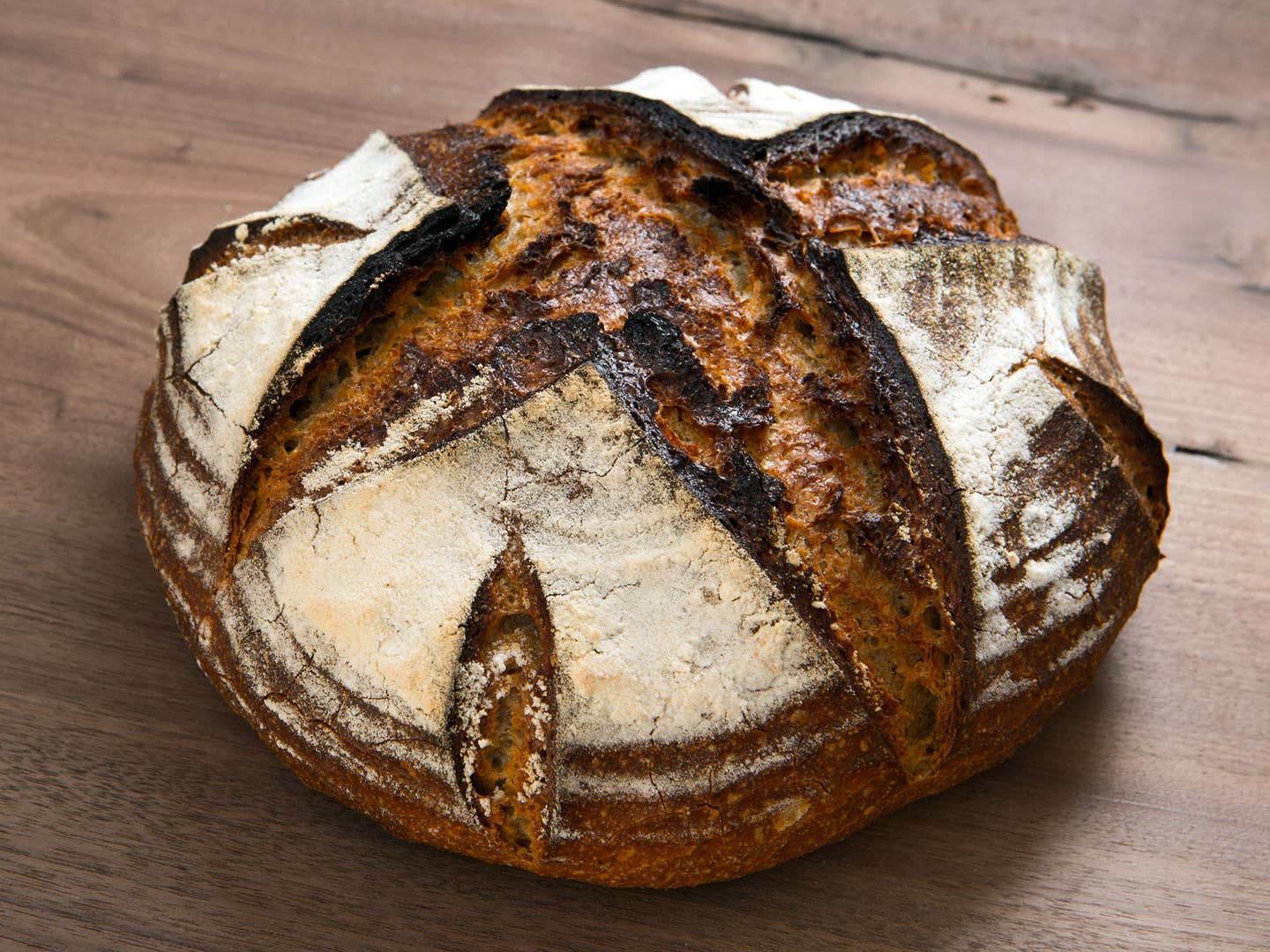 Culture
A Midwestern Baker is Reviving a Bread That the Heartlands Haven't Made in 100 Years
This fall, Ellen King will try her hand at a loaf of bread made from Midwestern wheat that hasn't been grown in its home since the early twentieth century
Born and raised in the Midwest, Ellen King was excited to show locals just how delicious bread baked from organic Midwestern wheat could be when she opened Hewn Bakery in Evanston, Illinois—until she couldn't find any wheat. Right in the middle of the Heartlands, that undefined part of middle America where the prevalence of the agricultural sector is clearly visible through endless acres of industrial soybean and corn fields, King was having her organic wheat shipped to her all the way from Utah.
"There's not a lot that's awesome in the Midwest," King jokes, listing the lakes that dot the region as one of its most appealing draws. "What has happened so that we don't have our own wheat? It should be our birthright."
So, she decided, she would change that. Just last year, she planted a rare breed of wheat that hadn't been grown in the Midwest since the early twentieth century, and this fall, once she's grown enough to mill just 20 pounds of flour, she'll bake a grain-to-oven Midwestern loaf of bread that the Midwest hasn't tasted in nearly 100 years. While other bakers around the continent have experimented with this ancient strain of wheat, like Beck's in Arcata, California and A Bread Affair in Vancouver, Canada, Page is the first to revive the loaf in the Heartlands. As she has no idea what it'll taste like, she's calling this project exactly what it is: her Midwestern Bread Experiment.
Made without preservatives or additives, all of Hewn's breads are naturally fermented, hand-mixed, and baked in an old German oven with a stone hearth and steam injector. King wants to make hearty, flavorful bread the way it was made hundreds of years ago, so she's using spent beer grains from local Evanston breweries and loaves that boast a featured wheat variety and where it was grown. King's favorite loaf is Hewn's Country: an unadorned, naturally leavened loaf that gets a handful of whole wheat flour tossed in. But the other day, after discovering her go-to had sold out, she cut herself a slice of the polenta, pumpkin seed, and rosemary loaf, and had one of those shit, that's good moments.
And when King started baking these breads when the bakery opened three years ago, she also started the experiment. While the source of her fascination stems from her graduate degree in history and interest in how farming and grains shaped the Chicago area, she didn't start actively pursuing her local grain goals until she went to Chicago's Good Food Festival in March 2013. It was there that met Andy Hazzard, a farmer who King calls "one of the most amazing women that [she's ever] met who has amazing grains"—purple barley, farro, and all different kinds of cornmeals, among others. She then soon met Stephen Jones, a wheat expert and geneticist, who lead her to University of Wisconsin-Madison's massive collection of agricultural journals, where she researched Midwestern wheat varieties from the early 1920s.
"I need to help create this market," King says. "So many people have been so removed from what it takes to grow grains and make it into a flour, so it is our big mission to make people aware that buying good flour can be expensive, but unlike cheap flour, it benefits for your local community and health."
And, after many back-and-forths with the nonprofit Seed Savers Exchange, Hazzard and King found a farmer with what would become their wheat: the Marquis variety, a cross between Hard Red Calcutta and Red Fife wheats that was grown in Canada, Minnesota, and throughout the Midwest in the early 1900s.
"Great, let's grow it," King told Hazzard, and they went out to Hazzard Free Farm in April of 2015 to plant 2,000 acres of it.
When it came time to harvest last September, King came face-to-face with the harsh reality of farming: It's hard. "So many people have been so removed from what it takes to grow grains and make it into a flour," she says, which she realized when she, Hazzard, and 10 of Hewn's employees spent four and a half hours cutting down the wheat with scissors, not even removing the actual berries. Out of that harvest, she got 25 pounds of seed that Hazzard replanted this year; this fall, she hopes to produce a mere 20 pounds of flour, with which she'll be able to bake a few loaves. But in the meantime, she's having fun playing with other heirloom varieties grown in Wisconsin to see how they react with her starter and ultimately taste.
"You read about how breads and flours are supposed to taste, but that tells you nothing," she says. "When you start making bread with nonconventional wheats, you discover that flours can have really distinct flavors. It's like eating [different varieties of] tomatoes." She describes Orleans wheat, her favorite variety, as silky; it absorbs water very well and tastes like a well-made whole wheat. Turkey Red wheat isn't far behind, though—she particularly likes it for its nuttiness. And both these varieties beat out Varia, a wheat that she finds to produce an unpleasantly dense loaf, by a landslide. She can only hope that her Marquis wheat doesn't suffer Varia's same fate.
"From what I've read, Marquis is a great bread flour, but that doesn't really mean much," she says. The experiment goes on: "I honestly have no clue how it'll taste."
This story, originally titled A Midwestern Baker is Reviving a Bread That No One's Made in 100 Years, has been updated with more information about where bakers outside the Midwest are also experimenting with Marquis wheat.