Espresso Waffles with Mocha Drizzle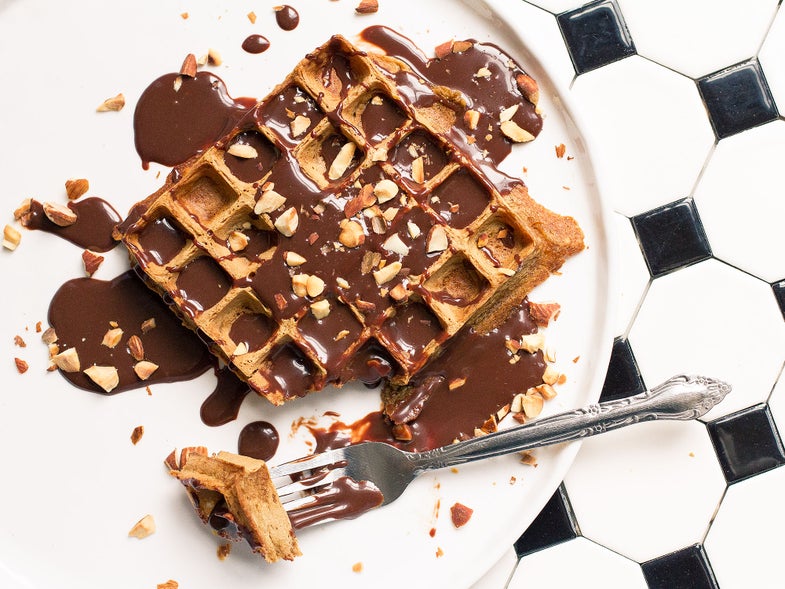 Almond flour and espresso powder give bittersweet edge to these waffles, which are glossed with a sauce of condensed milk, coffee, and dark chocolate.
Featured in: Unexpected Ways to Cook with Coffee
Yield: makes 8 waffles
Time: 1 hours
Ingredients
1 cup sweetened condensed milk
1⁄4 cup strongly-brewed coffee
4 oz. dark chocolate, finely chopped
3⁄4 cup all-purpose flour
1⁄4 cup almond flour
1 tbsp. instant espresso powder
1 tbsp. sugar
1 tsp. baking powder
1 tsp. baking soda
1⁄2 tsp. kosher salt
1 cup whole milk
2 tbsp. unsalted butter, melted and cooled, plus more for greasing
3 large eggs, separated
Chopped toasted almonds, to garnish
Instructions
In a small saucepan, bring the sweetened condensed milk and coffee to a boil, stirring constantly. Remove from the heat, add the chocolate, and let stand for 2 minutes. Whisk the mocha sauce until smooth and keep warm.
In a large bowl, whisk both flours with the espresso powder, sugar, baking powder, baking soda, and salt. In another bowl, whisk the milk with the butter and egg yolks until smooth. Pour over the dry ingredients and stir until just combined. In a medium bowl, whisk the egg whites until stiff peaks form. Scrape the egg whites into the batter and fold until evenly combined.
Heat a waffle iron. Using a pastry brush, lightly grease the waffle iron and then spread 1⁄3 cup of the batter over three-quarters of the surface of the iron. Close the iron and cook until the waffle is brown and crisp, 4 to 5 minutes. Transfer the waffle to a plate and repeat cooking the remaining waffles, brushing the iron with butter between each batch.
Drizzle each waffle with some of the mocha sauce and garnish with almonds before serving.