Crab, Pit Beef, and Berger Cookies: The Essential Snacks of Baltimore
What to eat in Charm City beyond the crab cake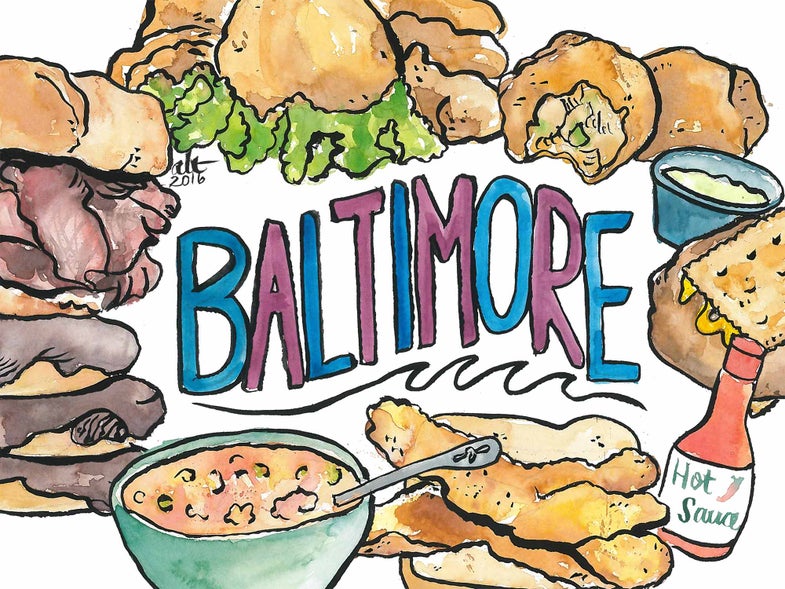 Let's get this out of the way: Baltimore's nickname may be Charm City, but when it comes to food, the world pretty much thinks of it as Crab City. And when visitors to Baltimore say crab, they're usually thinking of one of two things: whole steamed crabs and big crab cakes.
There's certainly nothing wrong with either of these. If you're visiting Baltimore, you really should feast on at least one big platter of steamed blue crabs (Bo Brooks down by the water is a reliable bet, while C. J.'s way out in suburban Owings Mills is a little-known sleeper). Crab cakes of wildly varying quality can be found in just about every restaurant in town, but the version served at the Faidley's stand in Lexington Market is the city's standard-bearer. Don't skimp: get the top-of-the-line all lump cake, not the cheaper backfin or regular version. It's a massive sphere the size of a baseball composed of big nuggets of blue crab meat bound by just a touch of mayo and mustard and a sprinkling of crushed Saltines—and that's all a crab cake needs.
But if you want to do Baltimore right, there are plenty of other ways enjoy the local crab, for Baltimoreans are prone to put crab meat inside of or on top of just about anything. Crab pretzels are a relatively recent innovation, but they're now omnipresent on local pub grub menus. For a representative take, visit the Silver Spring Mining Company in Cockeysville, which claims to have invented the thing. It's a soft, chewy pretzel layered with crab dip and cheese then tossed in the oven till everything is hot and melted into a thick, gooey mass.
If you prefer your crab in soup form, the city offers two signature versions. The one known simply as crab soup is a tomato-based broth loaded with chunks of vegetables—potatoes, onions, corn, beans—and plenty of blue crab meat. There's also cream of crab—a thick, rich white soup studded with blue crab meat and a dose of Old Bay. If you can't decide between the two, just order a "half and half." When combined in a single bowl, the two soups merge into a pale orange bisque-like blend that's downright delicious. You can try the combination out at Seaside Restaurant south of Baltimore, an easy detour when you're heading to or coming from BWI Airport. Downtown near the water in Fells Point, a cup of half and half at Kooper's is a great prelude to one of the tavern's hefty burger.
The crab fluff is virtually unheard of outside of Maryland and somewhat controversial within it (some locals love it, others don't see the appeal). It's a crab cake that's been battered and given a dunk in the deep fryer, resulting in a crisp golden sphere with gooey crab inside. The "hard fry" or "fried hard crab" carries things a step further. Cooks take a whole blue crab (sometimes steamed, sometimes uncooked), stuff a crab cake into the cleaned body cavity, then dredge the whole thing in a thick seasoned batter and deep fry it. Greasy, spicy, crunchy, and decidedly space alien in appearance, it's definitely a form of novelty food. But you won't find anything like it in Charleston or Boston. Something of an old-school indulgence, hard-fried crabs are getting increasingly rare, but they're still battering up both crab fluffs and hard fries at Bo Brooks Restaurant and out at Ocean Pride in Lutherville.
Baltimore's cuisine may start at crabs, but it by no means ends there. Just stop by Attman's Deli, which is located on a stretch of Lombard Street that bears the nickname "Corned Beef Row," once the heart of Baltimore's Jewish immigrant community. Attman's one of the last of the old guard delis still standing, and while its fare is decidedly New York in style, amid the corned beef and knishes you can find an authentic Baltimore treats known as the coddie.
These are flattened potato patties flavored with salt cod, shaped by hand and deep fried till golden brown. Typically served with saltine crackers and yellow mustard, coddies were once a popular afternoon snack in the city's soda fountains, where they sold for a nickel apiece. They'll run you $1.69 each at Attman's today, but for a quick, filling snack that's still quite a deal.
Even older are Berger Cookies, which have been local favorites for more than a century. Henry Berger immigrated from Germany to the in 1835 and opened a bakery in East Baltimore. Sometime in the 19th century the firm began selling what quickly became its signature cookie: a thin, oblong disk of shortbread, one half of which is hand-dipped in a thick layer chocolate fudge. Berger's distinctive red boxes can be found in groceries and convenience stores all over the Baltimore area, and you can pick them up at the Berger's Bakery stall in the Lexington Market, too.
For me, though, Baltimore's premier local treasure is pit beef. The beef in question is a roast—usually top or bottom round—grilled directly over a hot charcoal fire, the pit man turning each hunk repeatedly so the outside gets a crisp char but the beef remains rare in the middle. It's shaved to order on a big slicer, the tender folds of beef piled high on a roll. Some locals dress theirs with mayonnaise or barbecue sauce, but the traditional toppings are sliced raw onions and "tiger sauce," a punchy blend of horseradish and mayo.
Most pit beef joints are small, somewhat casual operations—many just cash-only takeout stands. They first sprang up in the industrial district on the east side of Baltimore, but in recent years they have migrated westward around the I-695 Beltway. Chaps Pit Beef, the city's best known purveyor, remains the lone holdout along Pulaski Highway, which once was dotted with stands.
These days, the epicenter of Pit Beef is the junction of I-70 and I-695. At Pioneer Pit Beef, a tiny yellow building with a steep-sloping green roof location, customers enter through one door, place their order at the counter, and exit with their foil-wrapped prize: tender, juicy beef loaded up on a Kaiser roll. Just two exits south on I-695, Kirkwood Pitbeef piles its beef—and its pit ham, pit turkey, and barbecue pork, too—on a smooth-topped roll. Both stands serve their iconic sandwiches with splendid boardwalk-style hand-cut fries.
Equally distinctive, though now seemingly in decline, is the curiously-named lake trout. Insiders note that it's neither trout nor from a lake (it's actually ocean-caught whiting, which itself is the local market name for silver hake). The bone-in fish are rolled in a cracker or cornmeal batter, deep fried, and served with white bread and hot sauce. Generally it's a take out food, wrapped in foil or in a styrofoam box, and most versions are spicy and quite bone-laden, requiring a practiced maneuver to slip the meat off the spine without winding up with a mouthful of bones.
The Roost on Reisterstown Road was once the city's best-known lake trout outlet, but after a several years of slipping it's now gone for good. Your best bet for finding lake trout is to keep an eye out for a sign in a storefront window, for it's sold in fried chicken and seafood spots all over town. The many fishmonger stands in the Lexington Market are good options, too. Be sure to wash it down with a half and half. Not to be confused with the soup, it's what people elsewhere else call an Arnold Palmer—a blend of lemonade and iced tea.
The closing of former icons like the Roost suggest are just one of many warning signs that Baltimore's distinctive local foodways are at risk of fading away. In just the past few years, many of the old stalwarts of the local seafood scene have closed their doors, too, like Gunnings Seafood in Hanover and Sterling's in the Lexington Market. The last Polock Johnny's, once a small local chain featuring polish sausage dogs, closed its doors around in 2013, though the company's wholesale operation still supplies sausages to local restaurants and bars.
Caught between competing culinary forces, Baltimore's dining scene seems at a turning point. A steady influx of tourist-oriented chain restaurants has brought a relentless drive toward standardization and accessibility. At the same time, there's the natural tendency for those who grew up eating local fare to turn their eyes and culinary ambitions elsewhere—toward the fine-dining scenes of DC and Philly, toward the exotic promise of far-flung cuisines from around the globe, toward the latest sensations on Twitter and Instagram.
But we often don't see the value of what we have until someone tries to take it away. There's good reason to hope that, as local Baltimore cuisine fades, the city will embrace it even more strongly—and so will visitors from everywhere else. And with so many delicious options before us, why not be on the safe side and go explore them right now?
Bo Brooks
2780 Lighthouse Point
Baltimore, MD 21224
410-558-0202
C. J.'s
10117 Reisterstown Road
Owings Mills, MD 21117
410-363-6694
Faidley's
203 North Paca Street
Baltimore, MD 21201
410-727-4898
Lexington Market
400 W Lexington Street
Baltimore, MD 21201
410-685-6169
Silver Spring Mining Company
11100 York Road
Cockeysville, Maryland 21030
410-527-0500
Seaside Restaurant
224 Crain Highway North
Glen Burnie, MD 21061
410-760-2200
Kooper's
1702 Thames Street
Baltimore, MD 2123
410-563-5423
Ocean Pride
1534 York Road
Lutherville, MD 21093
410-321-7744
Attman's Deli
1019 E. Lombard Street
Baltimore, Maryland 21202
410-563-2666
Berger Cookies
2900 Waterview Avenue
Baltimore, MD, 21230
1-800-398-2236
Chaps Pit Beef
5801 Pulaski Highway
Baltimore, MD 21205
410-483-2379
Pioneer Pit Beef
1600 North Rolling Road
Catonsville, MD 21244
410-455-0015
Kirkwood Pitbeef
6220 Baltimore National Pike # 3
Catonsville, MD 21228
410-744-0387