12 Essential South Indian Savory Snacks
From bondas to bhaji, a guide to South India's crispy, fried, all-occasion snacks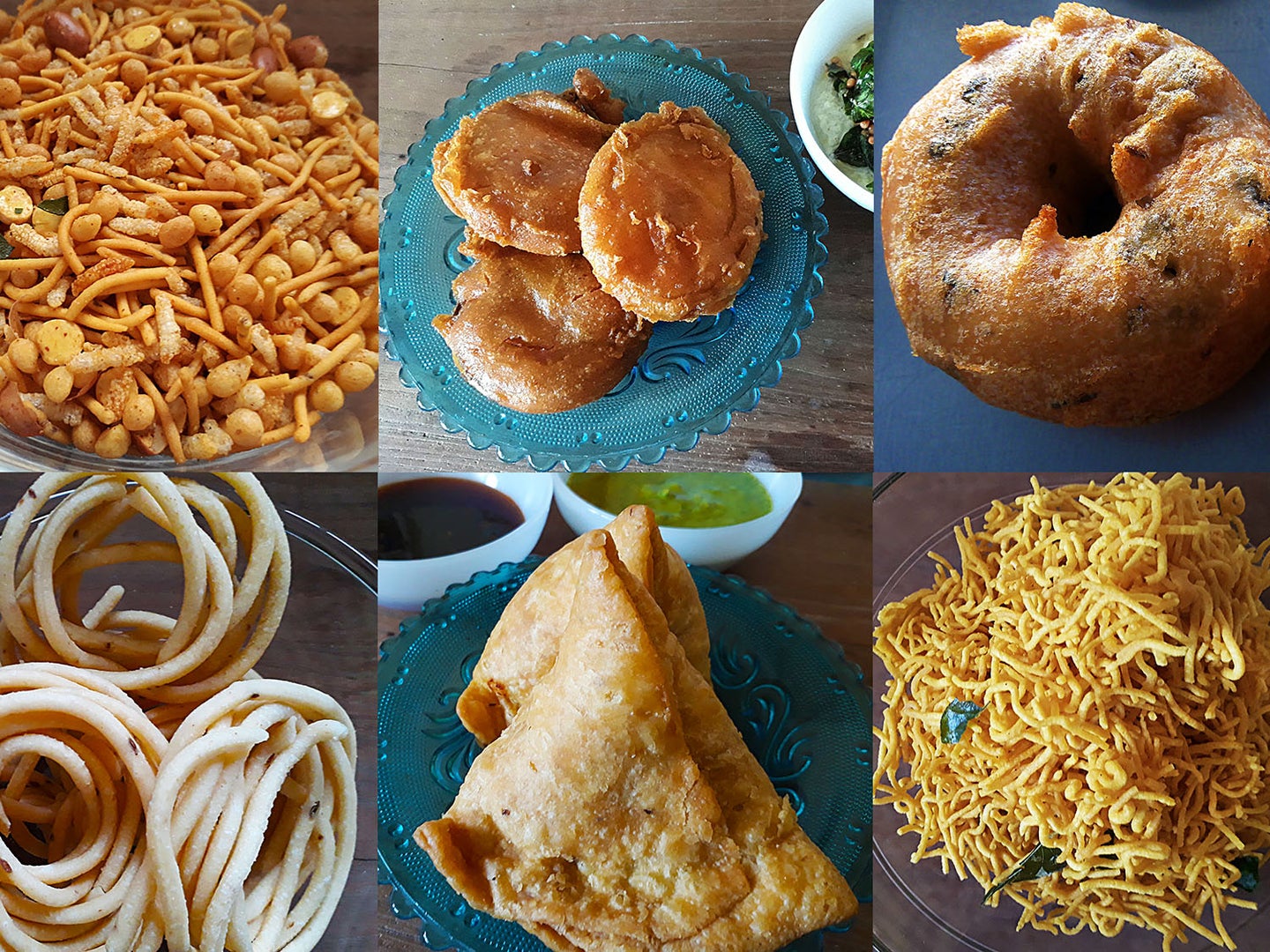 Outside of India, Indian sweets tend to eclipse the country's more savory offerings. Immensely popular the world over, these ghee-laden, sugar-filled morsels are a must-have at weddings and festivals, and for those sweet-tooth moments that could occur at any time. But there's a whole world of crispy, fried savory snacks that most non-Indians are missing out on, and it goes well beyond the ever-popular samosa.
From flat, hand-patted thattai and intricate twists of murukku, to spiced, potato-filled bondas and piping-hot onion bhajis, India's savory snacks, especially where I'm from in the south, are integral to our everyday eating. In fact, many of these snacks find a mention in food historian K. T. Achaya's seminal book The Story of Our Food. In a chapter about the cooking of our early ancestors, Achaya notes that "murukku and boondi are carried on long journeys because rice and chappathi would be inedible in a day or two." It's a fascinating glimpse into the history of frying, and how the snacks we are now so used to making and eating came to be.
Indians love their savory treats, and almost every household has their own specialties that they prepare for festivals or special occasions. I love making cashew-studded pakoras—they have to be eaten as soon as they're done, indecently hot with steam rising as you break them into bite-sized pieces. I also love my mother's golden paniyarams, served with fresh coconut chutney or hot sambar for dunking. But for those who would rather eat than cook, sweet shops and restaurants all across South India consistently serve a variety of savory options. While some are hole-in-the-wall eateries that only locals frequent (along with the lucky tourist who has chanced to stumble across it), others are glitzy, well-known shops that lure people in with the promise of sweets and snacks to please even the fussiest palate. Either way, here are a few of the best Indian savory snacks to keep an eye out for.
Kara sev is a crunchy teatime snack made from besan (chickpea flour), rice flour, and spices such as red chile powder or cumin (my recipe includes black pepper for heat). Water is added to create a thick dough, and the sev is passed through the holes of a large ladle into hot oil, where it fries until puffed and crispy. There are many variations of sev across the breadth of India.
Murukkus are a highly popular snack in South India; the name is derived from the Tamil word for "twisted," which refers to their spiral shape. They are typically made from rice flour and urad dal flour. The flours are mixed with salt, chile powder, asafoetida, and sesame seeds. Water is added to form a stiff dough, which is then shaped into spiral shapes by hand, or extruded using a murukku mold. Finally, the seasoned spirals are fried in hot oil.
Typically made for festivals like Krishna Jayanthi (Lord Krishna's birthday) or Diwali (festival of lights), thattais can be either sweet or savory. The savory ones are my favorite, and I remember helping my grandmother make them for Diwali when I was a little girl. Thattais call for rice flour (my grandmother used to wash, drain, and dry rice to mill her own, but these days rice flour is available at any Indian market), roasted peanuts, red chile powder, asafoetida, salt, and water. The dough is patted out into flat disks on a clean dry cloth with greased fingers, then deep fried in hot oil.
Like thattais, boondi can also be sweet or savory. For the savory version, a mixture of gram flour and rice flour is combined with spices, such as red chile powder and crushed curry leaves, and water to make a thick batter. It's then ladled onto a slotted spoon through which drops of batter fall into hot oil and cook until crisp (similar to the process for sev). Boondi are enjoyed as is or used as the base for Madras or Bombay mixture; they're also a popular addition to raita.
Ompodi is a member of the sev family. While the ingredients are similar—the dough consists of gram flour, rice flour, butter, ajwain, and salt—a dash of turmeric sets it apart. Water is added until the dough becomes soft and sticky, then it's passed through the ompodi press into hot oil.
If you've never eaten hot, fresh-off-the-stove pakvada on a cold rainy day along with some masala chai to wash it all down, you're missing out. Pakvada, also known as pakora or pakoda, is a fritter of sorts that's typically made with onions, although there are seemingly infinite versions in India, including potato (aloo), spinach (palak), and paneer pakora. A batter is made from besan flour, turmeric, red chile powder, masala powder, salt, and chopped curry leaves, then a finely sliced onion is added, along with enough water to thicken the mixture. In my family, we add cashews, too. The whole thing is deep fried in oil and served hot, broken into bite-size pieces.
Samosas are delicious little morsels of pastry wrapped around assorted fillings such as spiced potatoes, minced meat, onions, peas, or lentils. A soft, pliable dough is made from all-purpose flour, salt, ghee, and a little water, then rolled out into small circles before being stuffed and shaped by hand into the familiar triangles. After a quick turn in hot oil, the parcels are served hot with mint chutney.
Perfectly crispy on the outside and fluffy on the inside, bondas are a deep-fried snack that can go sweet or savory. Although they originated in South India (Mysore, allegedly), they can now be found all over the country. The savory kind is typically stuffed with potatoes, onions, mixed vegetables, or even whole hard-boiled eggs. A thick dropping batter is made from all-purpose flour, salt, baking soda, yogurt, water, and rice flour, then shaped with two spoons before being dropped into hot oil. Bondas can be enjoyed plain or with a variety of sauces and chutneys.
Known as vadais, these savory doughnut-like creations are a popular South Indian breakfast item, but they also find pride of place at the snack table. For me personally, vadais are an anytime treat. They're made by grinding pre-soaked urad dal with salt and asafoetida, then adding finely chopped green chiles, ginger, cilantro, cumin, and chopped onions. The resulting batter is quickly shaped into rings and fried in hot oil, then served with green chutney or sambar.
Bhajis are spicy, fritter-like snacks that are best enjoyed with a cup of hot tea. Various vegetables, whole peppers, and even bread are dipped in a thick batter—made from besan flour, baking soda, salt, turmeric, red chile powder, and water—until thickly coated, then deep fried.
Madras mixture is a tasty hodgepodge of various delectable treats. Known colloquially as micchar, Madras mixture often contains kara sev, boondi, ompodi, roasted peanuts, flattened rice flakes, and roasted chana dal, almonds, and cashews. Although it is primarily made during Diwali, it is also enjoyed as a snack year-round, typically alongside a cup of tea. It can be quite the endeavor to gather all the components to make your own, so I tend to buy my mixture pre-made from my favorite sweet shop.
Paniyarams are also called kuzhi paniyarams (which refers to the special pan that is used to make them). Black lentils are teamed with rice for the batter, which is very similar to the one for idlis and dosas, then left to ferment. When the batter is ready, it's ladled into the various indentations in the paniyaram pan and cooked until golden brown. Paniyarams are typically served with coconut chutney or sambar.