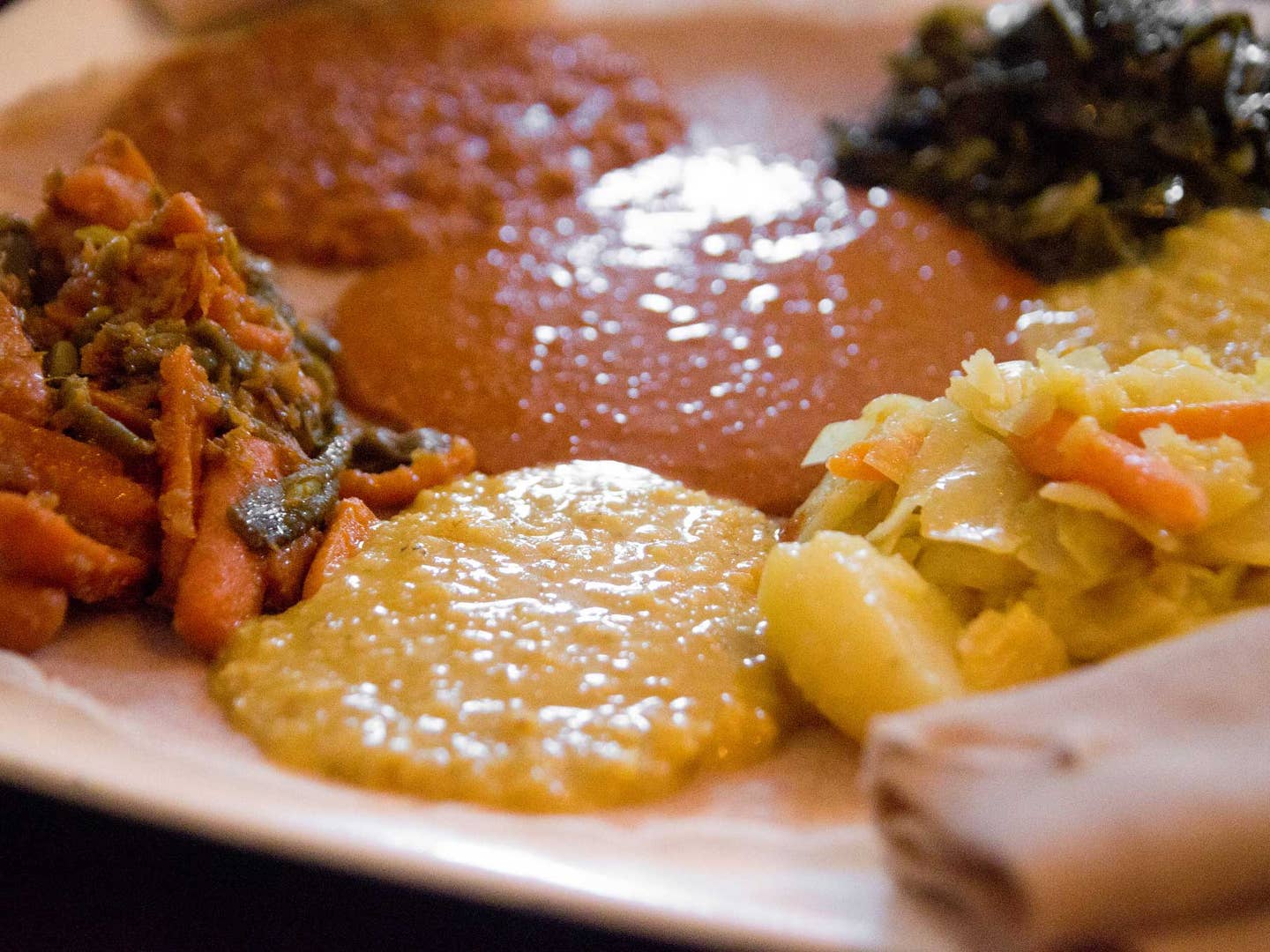 Techniques
Watch How to Make Ethiopia's Essential Flatbread
At Kibrom's, an Ethiopian restaurant in Boise, Idaho, Nik Sharma gets a lesson in injera and cultural adaptation
Video: Delicious Contents
Though the name "Idaho" might be synonymous with potatoes, the state's name should also evoke teff: a staple grain of Ethiopian cooking. Idaho is one of the largest producers of Eragrostis tef, the grass whose grain is used to make the Ethiopian flatbread injera.
But the capital city of Boise only has one Ethiopian restaurant—Kibrom's. While researching flavors for my upcoming cookbook, I paid a visit to learn more about this nutty-tasting grain and the fermented bread that's made with it.
Kibrom's is unaffected yet full of charm, decorated with artwork and woven baskets resplendent with the characteristic colorful geometric patterns that Ethiopian artists are famous for. After lunch with the eponymous owner, we headed into the kitchen.
"There is an art to making injera," Kibrom tells me. It requires practice and patience. Teff is mixed with water and allowed to sit for a week while it becomes inoculated with natural yeast as with sourdough bread. That goo will eventually find its way to a batter that will hit the surface of a hot pan to form the famous bread of Ethiopian cuisine which will be ripped to grab bites of the chicken stew, dorot wat.   While we cooked our way through a few iterations of injera that involved a lot of trial and error (at my end), I learned that Kibrom came to the United States as a refugee, after escaping from his war-torn country of Eritrea. Opening a restaurant and sharing his food was a way for him to stay connected with his past yet keep the doors open for people with whom he could share his culture and story.
It wasn't easy at first, but over time and with his wife's help, Kibrom perfected his recipes to reflect the flavors and ingredients that reminded him of his mother's cooking back home. Today his restaurant is well-loved by the local community, as evidenced by the financial support it received a few years ago when the original location suffered a catastrophic fire.
As immigrants, Kibrom and I share similar stories in the journeys we traveled. We both came to the United States from different countries and wanted to share our cultures and experiences through the food we grew up eating. Food is perhaps one of the most powerful tools to bring people together from different walks of life and as immigrants it is a way for us to tell a story, our story of assimilation and adaptation.