How to Make the Fastest, Easiest Kimchi Ever
Nothing is off-limits for this versatile spicy pickle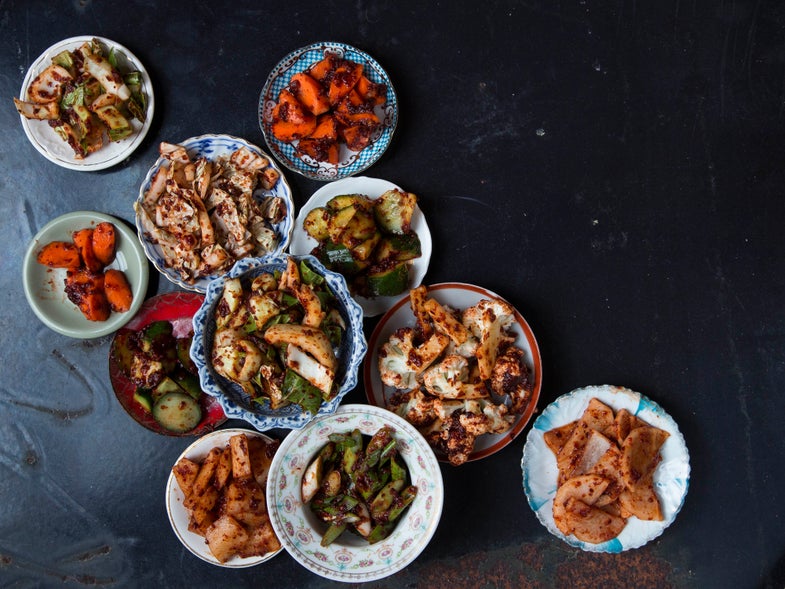 Sometimes you want—need—your kimchi in a hurry. But if you can't find it in stores, you're usually out of luck.
Traditionally fermented kimchi—the kind you'll find in banchan spreads on Korean tables—can take days or weeks. That's where contributor and Koreatown cookbook author Matt Rodbard's super-quick kimchi comes in. Using a blended sauce of Korean chiles, Asian pears, ginger, garlic, sugar, and fish sauce for a hit of funk, you get a seriously potent sauce to coat any kind of fresh vegetable: carrot, cabbage, cucumber—whatever looks good at the market. Make the sauce in batches and leave it in the fridge for your summer produce haul in the weeks ahead. Serve the pickle right away or let the flavors meld for an hour; it only gets better with time. The flavor is fresher and brighter than truly fermented kimchi, perfect for warm weather.
If you want to buff up on your kimchi facts, we've got a long list of kimchi varieties you can study. And when we say it goes on everything, we're not kidding. Try it on popcorn and potstickers, or just use it to perk up your fresh vegetables.