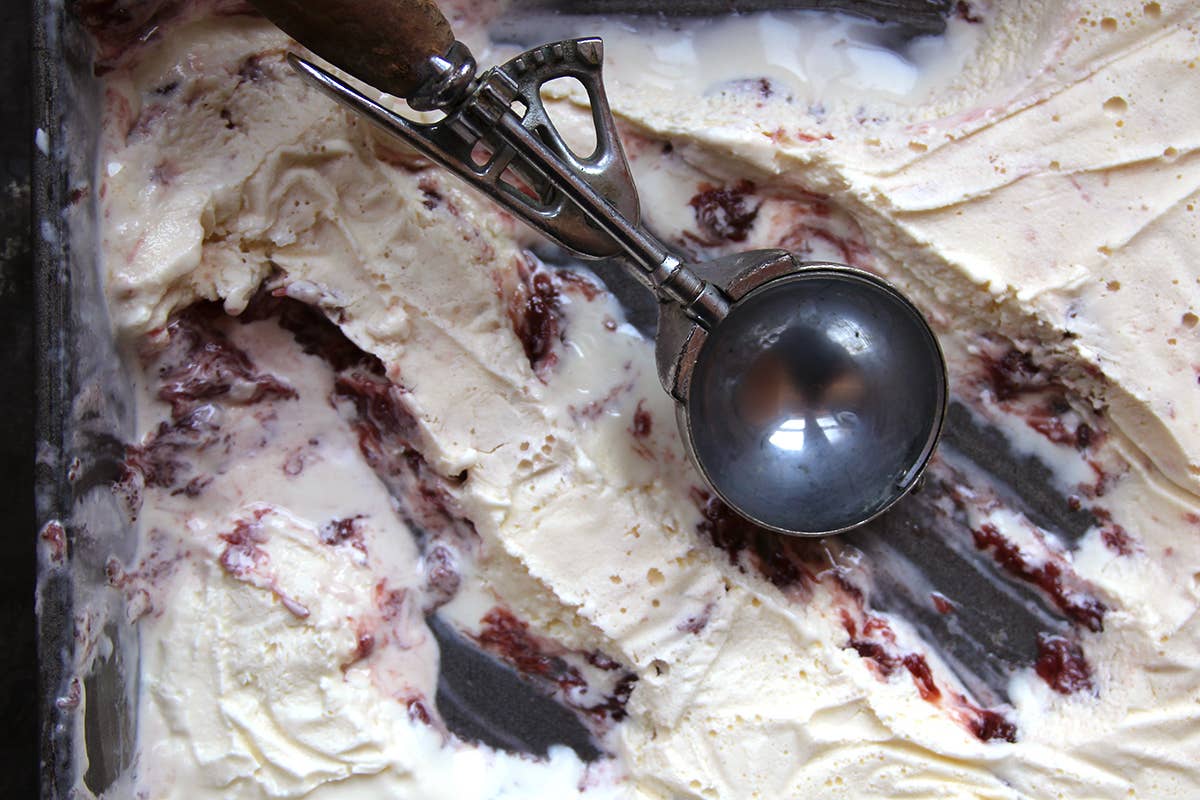 Culture
Our Editors' All-Time Favorite Ice Cream Flavors
A brand-by-brand breakdown of our staff's freezer defaults
Ice cream season is hotly anticipated in the SAVEUR offices. Right around March, the first waves of seasonal flavors begin to arrive, pints of new and strange flavors nestled into piles of dry ice. We enthusiastically sample them all. Often though, as we stand around a new delivery, spoons in hand, considering the latest iteration of cookies 'n' cream or violet-infused vanilla, we end up discussing the classics or the platonic ideal of the classics—the truest version of strawberry or the perfect variation of chocolate.
And very often, these are flavors whose significance, we find, is intertwined with childhood nostalgia or some comforting memory of sweat pants and Saturday nights. And we'll defend them to the hilt, no matter how basic or low-brow. Here, our editors break down their all-time favorites from Hershey's drizzled Breyer's French Vanilla to cherry-dipped soft serve had on hot summer nights.
I love chocolate ice cream. But I sometimes find that cocoa manifests as a flat, bitter, cardboard-y flavor in certain chocolate ice creams, which is usually compensated with more sweetness. There are a few other ways to overcome this, though, like swirls of salted caramel or peanut butter—both of which contribute to overall sweetness—but my favorite approach forgoes it.
Chocolate and mint are quintessential collaborators, mint lending its cooling, herbal notes which simultaneously manages to uplift and subdue the rich intensity of the cocoa. Blue Marble's Midnight Mint Cookie is an organic, peppermint-extract-spiked chocolate ice cream base studded with crunchy mint chocolate cookies. It is simple and straightforward and perfectly executed, from the first frosty bites to the bottom of the pint. —Alex Testere, Associate Editor
As a former employee of a Dairy Queen franchise in Northwest Ohio, I feel very qualified to weigh in on the topic of ice cream. Especially because DQ soft serve is decidedly not ice cream. I have seen behind the soft serve curtain, people, and it's creepy. Delivered to your local DQ in giant, udder-like bags filled with creamy "modified milk products," soft serve base is purely chemical. And I don't give a damn.
Once pumped through a humming soft serve machine, plumped with air, swirled together in a perfect ratio of sorta-chocolate-to-faux-vanilla bliss, and plopped into a styrofoamy cone, this bulbous, curl-topped beauty is the stuff of processed American dreams. But DQs are scarce in New York City, so when it comes to real ice cream, Ben & Jerry's Peanut Butter Cup dominates my freezer. —Leslie Pariseau, Special Projects Editor
When I was nine, my mom took me to get an eye exam in Austin. My eyes were dilated, making them (and me) all kinds of wonky. My doctor must have been good, or maybe I just looked real freaked out by the experience, because he handed me a coupon for a free scoop at Amy's Ice Creams, just across the street. I got mint chocolate chip, and it was life changing.
I can still see that brilliant green scoop with giant dark chocolate shards, a spoon sticking out of the top, in a little plastic cup. The mint was refreshingly cool, and the chocolate added just the right amount of sweet. I think it was the first time I knew I needed to savor and enjoy each bite of something. (Also my vision was—and still is—perfect.) —Matt Taylor-Gross, Staff Photographer
Food tastes better when you're hungry. When you're lying around in sweatpants and all you want is ice cream, ice cream tastes amazing. And Häagen-Dazs Dulce de Leche is the best ice cream that's available from every New York corner deli in the moments I want it most. —Chris Cohen, Senior Editor
As a child of the '80s, I have few qualms about claiming a classic Ben & Jerry's flavor as my all-time favorite ice cream. The brand might have lost a bit of its boutiquey, hippy mystique over the course of selling out to Unilever, infiltrating every drug store freezer section in the country, and partnering with late-night hosts, but Chunky Monkey will always occupy a special place in my heart.
When my folks were still working their way through school, a pint of the dense banana custard, loaded with hefty chocolatey chunks and walnut halves, was an indulgence we delighted in together. At the time, Ben & Jerry's was pretty much the only premium ice cream producer around. My mom brought in the deluxe frozen treat to fix everything from sore throats and fender benders to high school heartbreak, and the flavor is still my gold standard for eating-my-feelings self-care. —Kat Craddock, Test Kitchen Assistant
When thinking of my favorite ice cream, I'm immediately brought back to a simple, specific flavor from my childhood: A crisp, cold, perfectly sculpted cherry-dipped soft serve chocolate ice cream cone from the family-run stand a couple miles down the road from my house in Syracuse, New York. It's about 9 P.M., the summer sun has just set, you can hear the crickets in the distance, and the cars are steadily pulling into the parking lot at an all-American suburban intersection, people lining up to fulfill their daily ice cream craving. I can't think of the last time I purchased a quart of ice cream from the store because that cherry-dipped chocolate cone I ate as a 10-year-old is just too good to try to replace. —Michelle Heimerman, Photo Editor
When I was little, my family and I spent summers at my grandma's house in West Virginia. There were three things we ate there every time we went: spaghetti and meatballs, fried eggs, and chocolate milkshakes. The milkshakes were especially exciting, because we never had them at home. It became my golden standard for all ice cream beverages, because she had somehow come up with the perfect balance of chocolate, vanilla, and milk. Even now, my preferred way to eat ice cream is to give a few scoops of vanilla (my grandma used Breyer's, but I usually use Turkey Hill) a little drizzle of Hershey's chocolate syrup, then mush it all into a semi-liquid state. —Katherine Whittaker, Assistant Digital Editor
I've had a long-time love affair with the salted caramel from Molly Moon's, a Seattle-based ice cream shop. Yeah, yeah, I've had salted caramel, you might say, but you haven't had one quite this criminally rich and pleasantly bitter, almost like coffee. While it's not the kind of thing I'd want to dig into every day of the year, whenever I'm in Seattle I seek it out every day of my trip. . —Andrew Richdale, Deputy Editor
I'm a chocolate, vanilla, and strawberry traditionalist who grew up thinking pecan praline was taking a walk on the wild side. My favorite ice cream flavor of all time, if for nothing more than the memories it evokes, is Blue Bell Homemade Vanilla, which was a weekend-only treat I'd enjoy, in a cone, while being pulled around the neighborhood on my little red wagon. I also enjoy vanilla as a blank canvas for crunchy mix-ins like Oreos or chocolate chip cookies. These days, a pint of the stuff still goes for under two bucks, and that's a pretty reasonable price to pay for a trip down memory lane. —Dan Q. Dao, Deputy Digital Editor