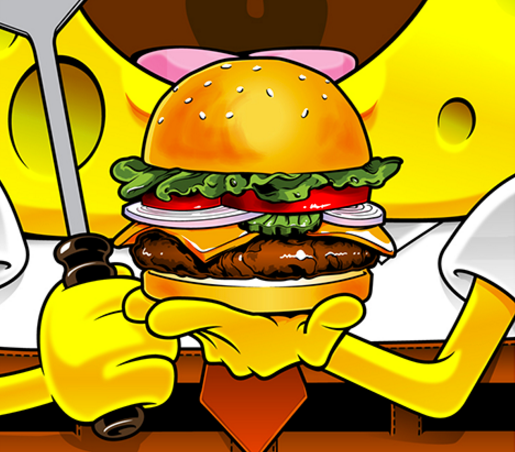 Culture
Geek Out Over This Art Exhibit Showcasing Foods From Your Favorite Shows and Movies
Joshua Budich's "Fictional Foods" brings new life to the most edible items on screen
Rest easy: this isn't another report on fake food. It's an artistic celebration of fictional foods from our favorite television shows and movies, as portrayed through the mouthwatering work of Baltimore-based artist Joshua Budich. Produced in partnership with Gallery1988 in Los Angeles, the Fictional Foods 2 exhibit is a reprisal of Budich's first collaboration with the studio back in 2015.
A full-time graphic designer and illustrator who began creating pop art as a hobby ten years ago, Budich tells SAVEUR that creating artwork around the theme of food came about naturally. "For us, cooking is a whole family affair, and a big part of our day-to-day life," the father of two says. "We get our kids involved in cooking, we make sure everything is made from scratch with local ingredients, and we just want to pass on a love for all-things culinary to them."
While Budich's cooking may be wholesome, those meals depicted in his food-as-pop-art series aren't always so—think Chum Buckets from Spongebob Squarepants, golden-ticket chocolate from Willy Wonka and the Chocolate Factory, and Eggo Waffles from Netflix's Stranger Things.
The 26-piece collection features six originals ($250), hand-drawn with ink and Copic marker, as well as eight limited-edition 18"x24" screenprints ($40) and 12 new 6"x6" screenprints ($10)—all printed on 100-pound French Madero Beach stock. The pieces are sure to evoke fond memories—originals include Bart Simpson slurping the Simpsons-world Squishee and a cheerful Remy from Disney's Ratatouille clutching a wilted strawberry.
There's something for food and pop culture fans of all ages, from Big Kahuna burgers of Pulp Fiction to massive feasts of Spirited Away and Wario's garlic from Nintendo's video game series. It's an impressive compendium of pop culture references spanning a wide range of media over the last few decades—making the perfect kitchen gift for pop culture-loving food nerds like us.
"Fictional Food 2" runs through this Saturday, February 11, at Gallery 1988 in Los Angeles. Originals and screenprints can be purchased here.