Recipes
Fig, Plum, and Prosciutto Salad with Kaltbach Le Crémeux Cheese
Serves

serves 4

Cook

15 minutes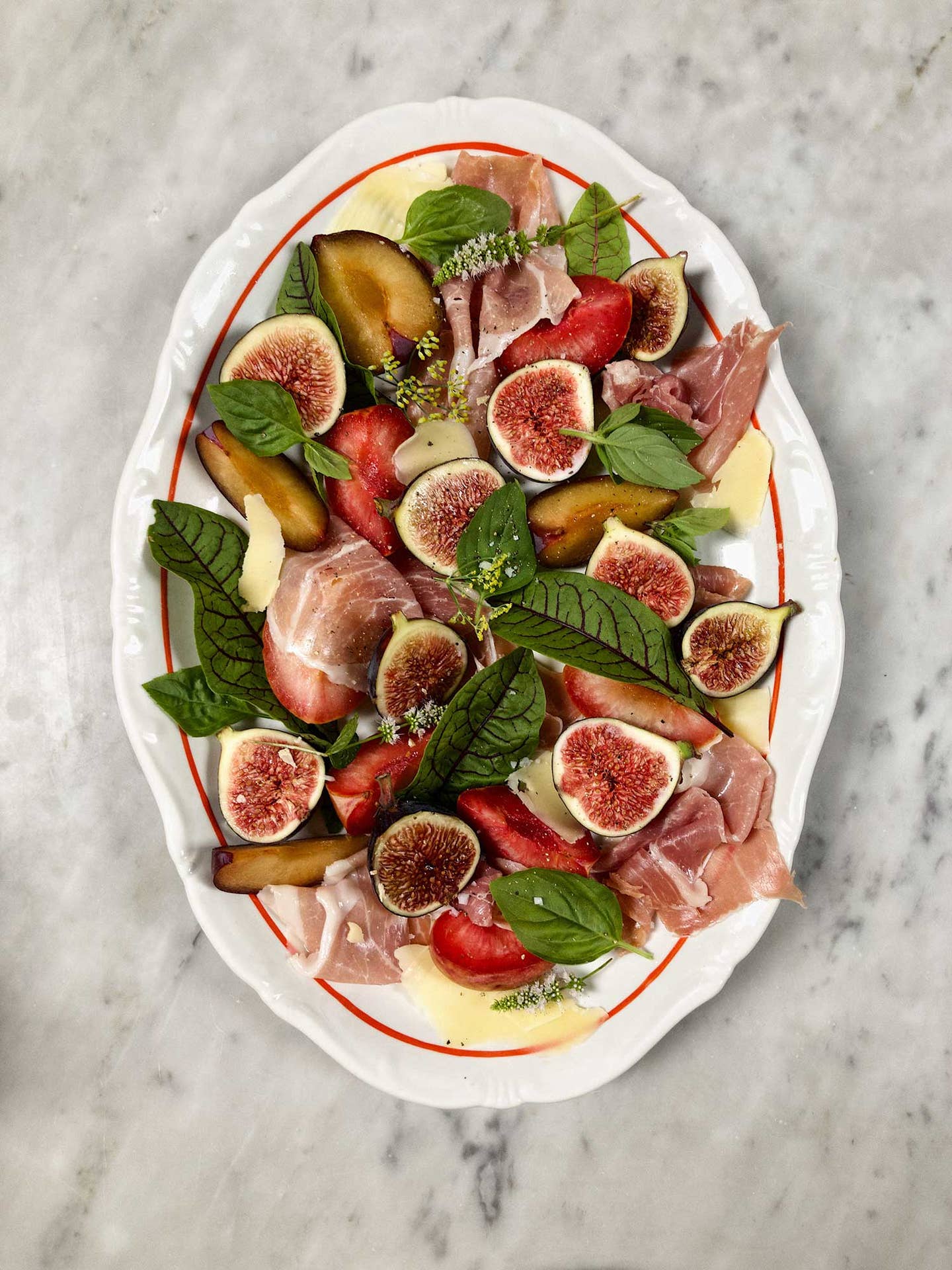 In the past month, I've traveled from L.A. to the Catskills to Rome to, finally Hungary, where we welcomed the first taste of fall in the lush countryside. The flavors of my travels mingle effortlessly, but if there's been one constant, it's the grazing of melons, stone fruits, and figs—sun-ripened and dripping with juices—with the deep umami satisfaction of cured meat and cheese.
In Los Angeles, we ate peaches and burrata on pizza, laced with brick-red 'nduja. In Rome, there were achingly sweet melons, piled with prosciutto, ribboned and unctuous. And in Hungary, where we make peace with summer's passing, we layer figs and plums in heaps on a platter with sonka (Hungarian ham) or prosciutto, and our favorite of all creamy cheeses—Emmi Kaltbach Le Crémeux.
There are no wrong turns in this choose-your-own adventure. The meat could be any cured ham (prosciutto, Black Forest ham, jamón). The fruits need to only be ripe and fresh, tender-fleshed and sweet. For the greens, young basil and sorrel leaves are right at home, but a sprinkling of radicchio or watercress is welcome here, too. Drizzle the whole thing with extra-virgin olive oil—your best—plus Maldon salt and freshly cracked pepper. For il tocco finale, as the Italians would say, shave over creamy, cave-aged Emmi Kaltbach Le Crémeux cheese.
I love Kaltbach Le Crémeux's just-salty-enough finish, but it's the tender meltability that draws me to it here. It's the kind of texture that will soften into the fruit in the warm autumn sun as you wait for friends to gather. Be generous, but keep your shavings melt-in-the-mouth thin.
Ingredients
6 medium or 8 small plums (any variety), pitted and quartered
4 to 6 ripe figs (any variety), halved
1 cup pungent greens, such as red-veined sorrel, radicchio, or watercress
⅓ cup basil leaves (any variety)
4 oz. thinly sliced cured ham, such as prosciutto, jàmon, or sonka (Hungarian ham)
¼ cup extra-virgin olive oil
Flaky salt, such as Maldon salt or fleur de sel
Freshly cracked black pepper
4 oz. Emmi Kaltbach Le Crémeux cheese, shaved thin with a vegetable peeler
Instructions
Step 1
Toss together the plums, figs, greens, and basil leaves and arrange on a large platter, leaving the cut side of the plums and figs up to collect pools of oil. Drape or arrange the prosciutto over the fruit. Drizzle with oil and sprinkle generously with salt and pepper. Shave the cheese over the top with a vegetable peeler and serve at room temperature.