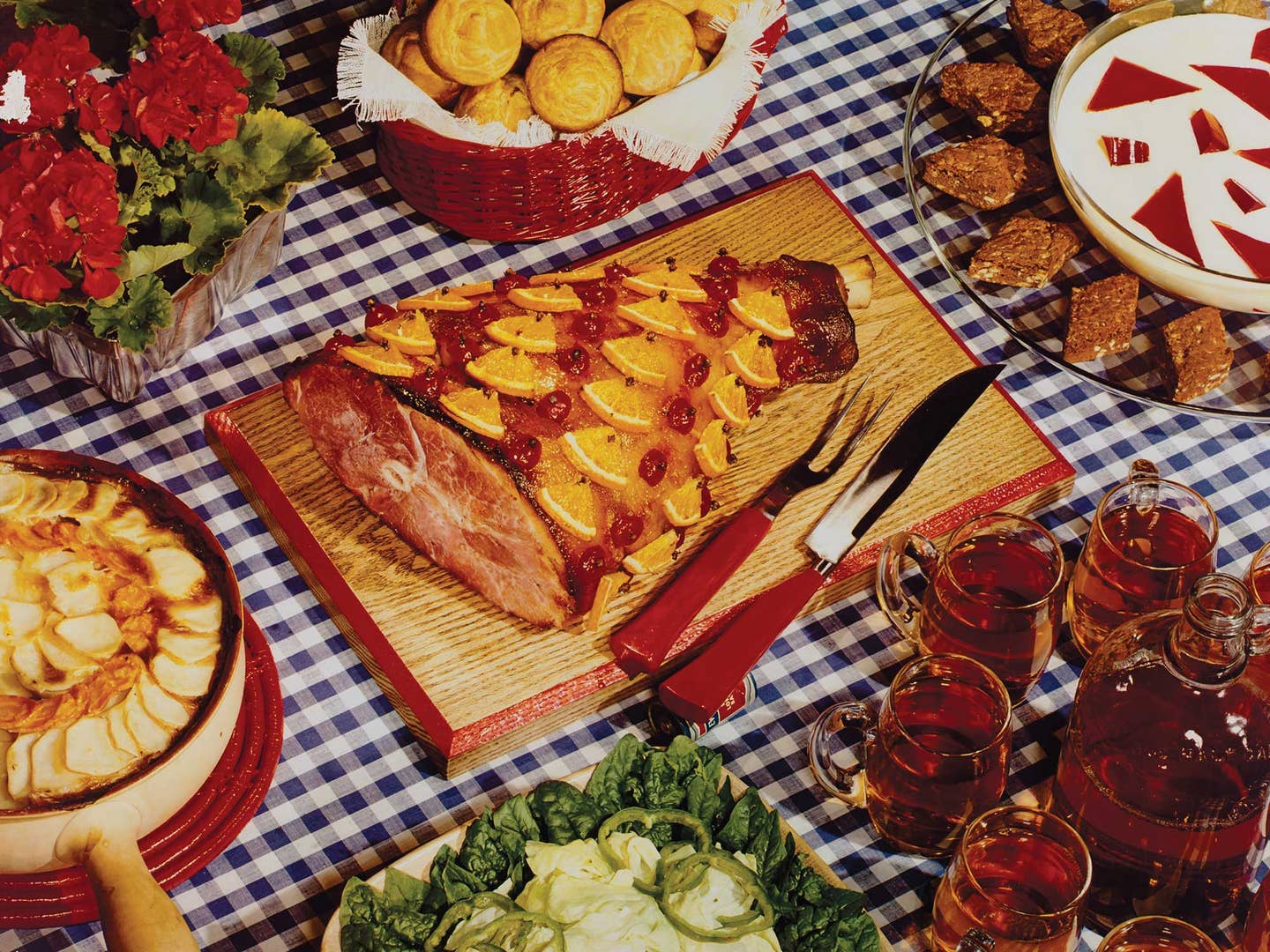 Culture
3 Food Photographers Who Changed How We Eat
The author of Feast for the Eyes tells the story of food through photography
Editor's note: In Feast for the Eyes: The Story of Food in Photography, writer and curator Susan Bright takes a historical look at the changing aesthetics of food photography and how those images have impacted what winds up on our plates. In this excerpt, she hones in on three photographers every food lover should know.
In the mid 19th century, the still-life genre had begun to shift from painting to photography. Props became less symbolic, more literal. In Carey's Still Life with Waterfowl, which pictures meticulously hung birds, a saucepan suggests that the waterfowl will become food. Gone are the more magnificent piles of animals present in paintings, which both represented status and served as vanitas (symbols hinting at death, decay, or ephemerality).
This is a particularly elegant example of using food in its raw form as still life; other examples from this period often lacked the grace of the paintings they were emulating, and could seem cluttered and grotesque. His work is reflective of the time, but in a way, very ahead. Perhaps Carey was purposely trying to forge a different identity for the art of photography—moving away from the symbolism of food in painting, while simultaneously pulling on its legacy.
At the time Nickolas Muray was working, America was coming out of World War II and the New Deal. Food was not available in abundance and it was surrounded with propaganda. Muray, a Hungarian émigré who had been mixing in avant-garde circles in Europe, brought with him a vision to represent the fantasy of American life, as well as technical skill he learned from publishing houses in Germany.
When he was hired by McCall's magazine to produce food spreads for its homemaking and cooking pages, he printed with a three-color process that we now recognize as Technicolor. His images were bright, fresh, and luminous, and they represented a land of plenty—a bountiful and idealized America, freed from food restrictions and hardships.
His tables are epic and laden. Glasses of iced tea jostle for room with an orange-and-glacé-cherry-topped ham; a basket of bread sits among flowers, salad, dessert, and condiments. This is not food to eat, but food to be looked at and dreamed about.
Published in the UK at the very beginning of the 1990s, White Heat came out in the era of lad culture and Cool Britannia. In a book that is part memoir, part cookbook, and part documentary, photographer Bob Carlos Clarke, who was known for his sexy black-and-white photos of girls and cars, captured the masculine, loud, meaty, and hedonistic kitchen of Marco Pierre White when he worked at Harvey's in London.
High French cooking had never been photographed like this before—it was revered and fussy, and all of the sudden you have movement and steam and machismo and lusty culture. Cooking is a sport and White is hydrating like an athlete. The images were full-bleed, more like a magazine than a cookery book, and they shook established modes of photographing beautifully plated haute cuisine. In retrospect, White Heat changed how we look at chefs and restaurants. It predicted the rise of the chef memoir and the era of the celebrity chef.