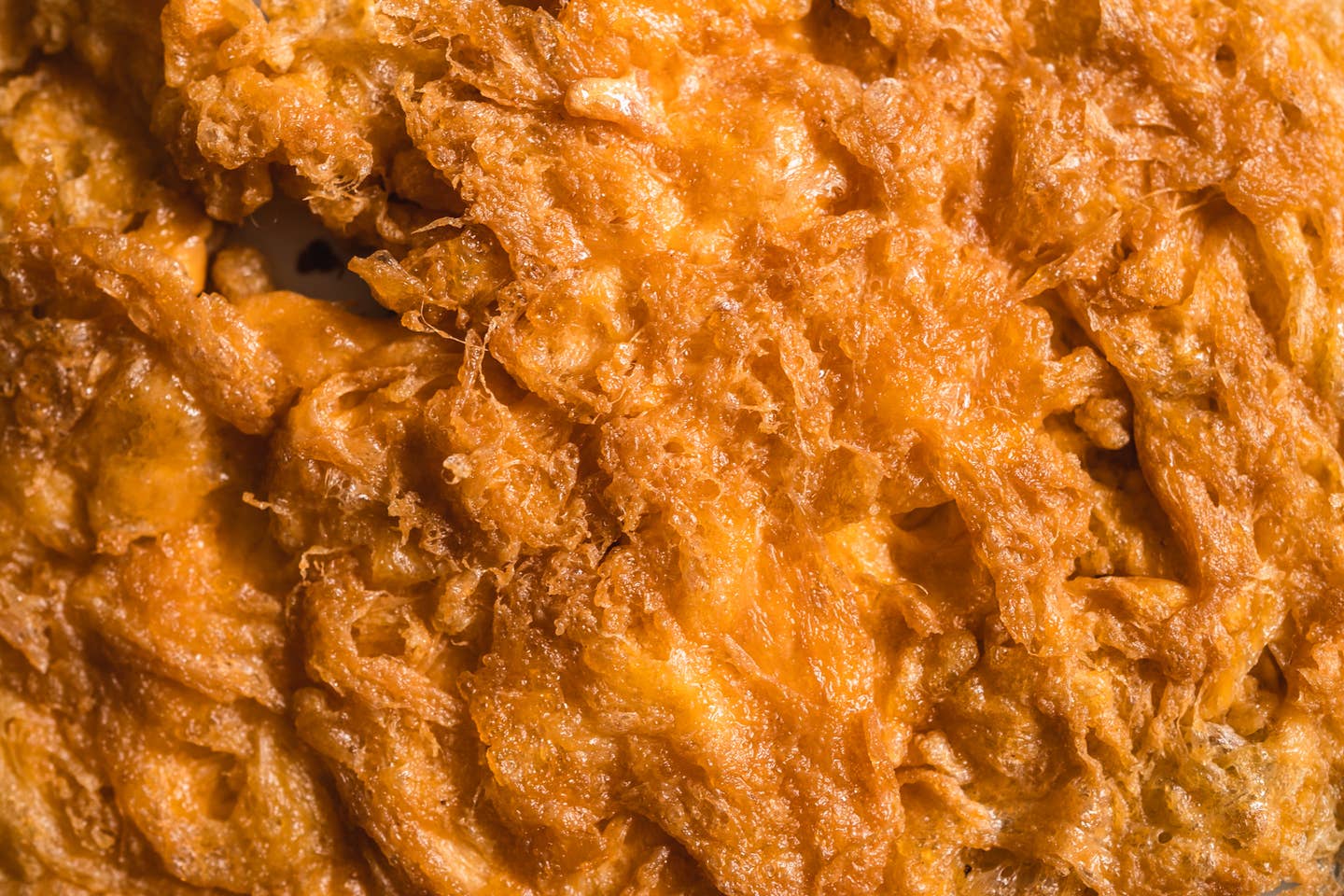 Techniques
Fluffy Fried Eggs, by Way of Bangkok
Give your next omelette a Thai-style "skirt of crispy wisps."
Thai cooks have mastered the art of deep-frying eggs with a dish called kai jeow (ไข่เจียว), a fluffy, crackly street food distinguished by air pockets throughout and a skirt of crispy wisps. Some refer to the dish as a "Thai omelette," but that's an oversimplification. Where the French might enrich their omelets with a glug of milk or cream, Thais give their kai jeow a savory punch of fish sauce. Where the French would patiently wait for their eggs to coalesce in the pan before caressing an omelette into a neat pouch, Thais throw caution to the wind, pouring a stream of beaten eggs into a screaming-hot wok, letting the blazing oil do all the work. In under two minutes and with minimal effort (just one quick flip), dinner—or breakfast, or lunch—is served.
Trying to figure out who invented kai jeow is like asking who fried the first egg—it's been a staple in Thailand for as long as anyone can remember. Nowadays, the dish is as common in Thai restaurants as eggs Benedict are in LA brunch spots, and like most egg dishes, kai jeow takes a multitude of forms. Scallions and red onions are classic add-ins, while some versions are bulked up with minced pork or prawns. Supinya Junsuta, chef of Bangkok's hugely popular Michelin-starred Raan Jay Fai, adds crab meat to her luxurious kai jeow, which is more bulging, crackly-crisp egg-pouch than flat and eggy pancake. But a stripped-down kai jeow—one made with egg alone—is a sublime source of culinary comfort. Thai food writer and cookbook author Leela Punyaratabandhu calls the dish "a metaphor for how the best and most satisfying things in life are often plain, unadorned, and unembellished."
I'm inclined to agree. My own love affair with the dish began on a solo trip to Bangkok in 2016, where I repeatedly demolished greasy kai jeows after long days touring temples and exploring the city. The following year, while working as a cook at a restaurant in Petaling Jaya, Malaysia, I met a chef from Myanmar named Mogs. Nobody could make kai jeow like Mogs. He had perfected his version of the dish while working at a Thai restaurant and, to my delight, made dozens of them a week for our staff family meals. I liked to peer over his shoulder as he ladled sunflower oil into a cast-iron pan, blasted the flame until the slightest shimmer of smoke appeared, then fearlessly tipped in a bowl of beaten egg. A minute later I'd be holding the still-sizzling specimen—invariably piping-hot and deliriously crisp and fluffy, with a bouncy center and just the right amount of fish sauce funk.
From Mogs, I learned to really love kai jeow, and it's still the first thing I look for on Thai restaurant menus. But when even the fastest food delivery apps couldn't shepherd a kai jeow to me quickly enough that its crispy texture hadn't turned soggy, I took matters into my own hands.
"You need more oil than you think, and it must be very, very hot," Mogs had told me, adding that a screaming-hot pan counterintuitively minimizes oil splatters and cleanup. I also solicited advice from Punyaratabandhu, who likes to whisk cornstarch or potato starch into her kai jeows. "Street vendors don't do this," she explained, "but for home cooks like you and me who don't make 200 omelets a day, the addition helps make it easier to create the crispness that we want."
I grabbed a wok and got to frying. I cracked two eggs into a bowl and beat them with a capful of fish sauce and a dash of cornstarch. Next, I poured the mixture straight into the smoking oil, holding my breath and half-closing my eyes for fear the whole mess would explode. But the technique worked like a charm: The eggs bubbled and fizzed instantly, wailing at the extreme heat and sizzling at the edges—but stayed put. I nearly forgot to flip it as I watched, mesmerized, as fractal-like egg strands formed along the sides. My finished kai jeow was pillowy and plump, with lots of crispy, wispy bits: Just like Mogs used to make.
With the speed of a line cook in the weeds, I scooped some rice onto a plate, plopped the eggs on top, and smeared the whole thing with sweet Thai chile sauce. Like the good old days, I scalded my lips on the first bite, then smiled, basking in my kai jeow's crisp and steaming comfort.