Turn Everything in Your Fridge Into Magical Georgian Cheese Bread
Khachapuri: it's a verb now. Here are our favorite variations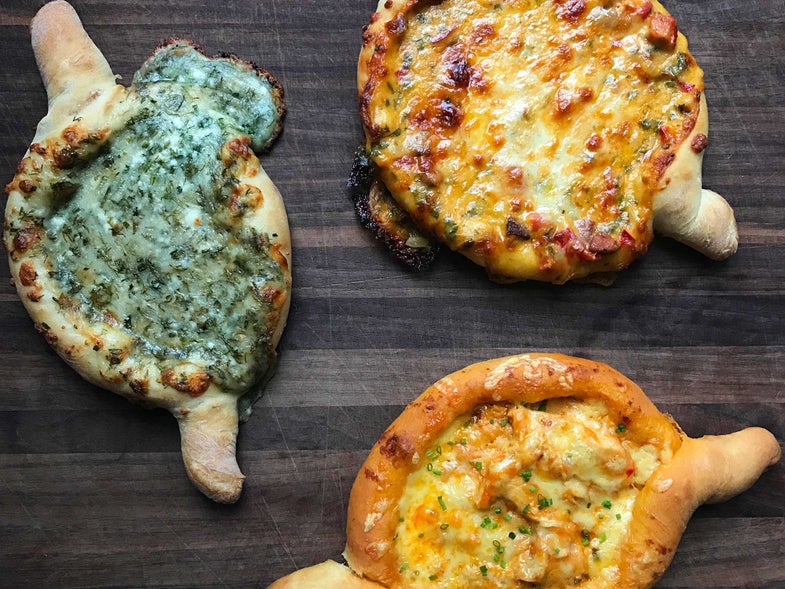 We're in love with khachapuri, the cheese-loaded, bread-wrapped national dish of Georgia, that comes in nearly a dozen micro-regional variations and yet is surprisingly easy to make at home.
It's also surprisingly easy to customize. Our two template recipes—for the grand, boat-shaped Adjaruli khachapuri and the more common stuffed-disk Imeruli khachapuri are made with pretty much identical ingredients but differ significantly in execution. Once you master the two recipes, their techniques easily can be adapted to prepare a range of traditional and original Georgian stuffed breads.
The Traditional
Among the many traditional Georgian variations, two of the most popular include Megruli khachapuri from coastal Samegrelo (a flat, stuffed version much like Imeruli, with an extra heaping of cheese baked on top) and Khachapuri tarkhunit (either an Adjaruli boat or an Imeruli flatbread stuffed with cheese and fresh herbs).
Beyond the technical boundaries of khachapuri, which must contain some sort of cheese, several other stuffed flatbreads make their way into traditional Georgian feasts. Lobiani is a flatbread stuffed with beans and sautéed onions, which is eaten at the feast of St. Barbara. Kubdari, from the Svaneti region and occasionally referred to as Svanetian khachapuri, also contains no cheese and is stuffed rather with spiced beef, goat, pork or lamb.
The Unapologetically American
Once we locked down some of the classic Georgian variations, we did like New York City food nerds do and swapped in a couple nontraditional cheesy fillings. Here's where you can let your creativity run wild, so long as your filling isn't terribly watery. Low-moisture mozzarella with plum tomato and basil makes the pizza connection more clear; gruyere, garlic, and kirsch bring it into Swiss fondue territory; cheddar, mashed potatoes, crisp bacon bits, chives, and dollops of sour cream make the stuffed-stuffed potato skins of our dreams.
In keeping with our new motto, "Buffalo Everything," we developed a recipe for fiery Buffalo chicken dip khachapuri made with lots of pepper jack (blue cheese dressing optional). We also whipped up a Tex-Mex-inspired queso con chorizo khachapuri in honor of our editor Katherine Whittaker and staff photographer, Matt Taylor Gross' recent adventures eating along the Rio Grande.
We'll leave the rest up to you. Give some of our variations a go, and once you've got the shaping techniques down, make up some of your own. It is tough to go wrong with any combo of cheese and carbs, so double or triple up on the doughs, grab a few bottles of Georgian wine, invite some friends over, and get ready to treat khachapuri like a verb. That is, khachapuri everything.