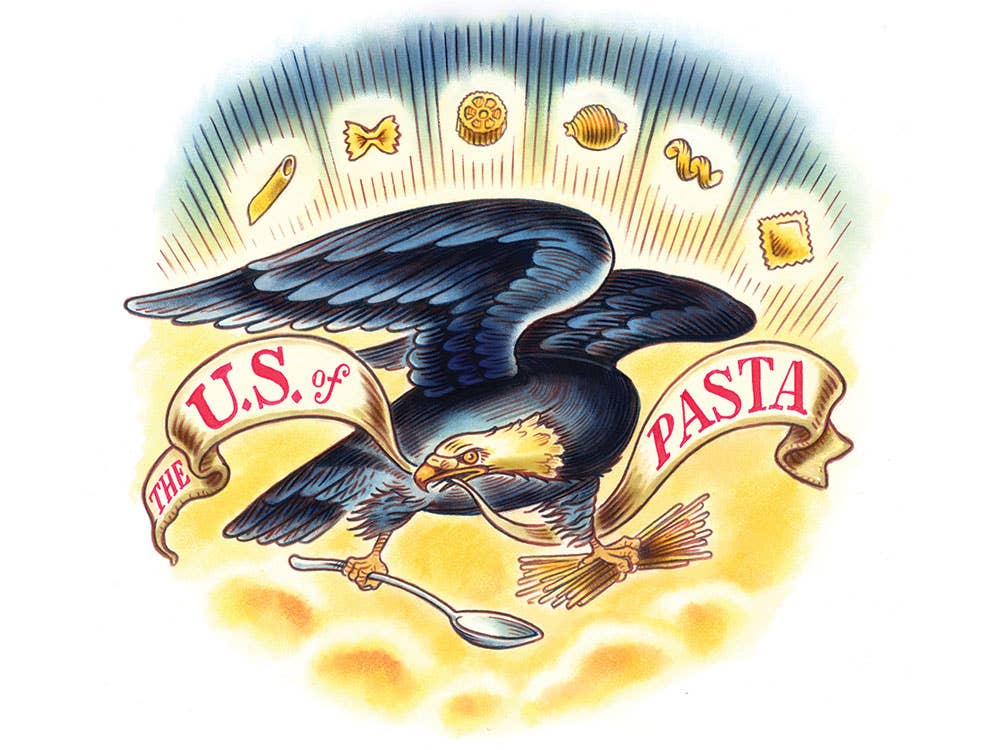 Culture
We're Living in the Golden Age of American Pasta
Peter Meehan on the world's second greatest pasta empire
America did not become the world's second greatest pasta culture—a place where al dente is de facto, when agnolotti and casunziei are spoken on our menus—by chance or by some lucky miracle of groupthink gone right. It was a steady march of progress led by advocates and enthusiasts who turned pasta from a vilified immigrant food into a suburban weeknight staple, and then finally into something one with the nation itself: a prism of its bounty, a canvas for crea­tivity, an authentically American food.
It would be heretical not to salute the first waves of Italian moms who came here, looked at the United States' larder, and found it wanting. They and their children were able to create a facsimile of their ancestral cuisine at a time when simply importing from the old world was impossible. "Macaroni" trickled into American food culture and was adopted and adapted by increasingly conglomerized food companies. That cans of dog-food-soft ravioli bearing the likeness of Ettore Boiardi were many Americans' entry point to pasta eating is not the evil that farmers'-market-tote-bag folks like me sometimes playact it to be: Pasta was on the table. We couldn't have gotten to where we are today without this dumbing down and spreading out of deracialized pasta dishes.
Once we all ate it (in whatever atrocious form we did), new authorities stepped in to show us how it was done. Marcella Hazan's authoritative writing has helped generations of Americans understand an Italian approach to pasta and cooking. She was the greatest, but Giuliano Bugialli's writing on pasta was important, and American authors had their hand in it too. Corby Kummer of The Atlantic told me that Fred Plotkin's Authentic Pasta Book has never been "surpassed in concision and accuracy," nor in influence on writers of his generation.
On the West Coast, there was Evan Kleiman. "Her Cucina Fresca was stolen from more than any Italian cookbook in the '80s, especially by caterers and expensive Hamptons-y delis," according to L.A. food godhead Jonathan Gold.
In New York, the task fell to Tony May, whose celebrated San Domenico taught successive generations of New Yorkers (including Paul Bartolotta, Theo Schoenegger, Craig Stoll, Andrew Carmellini, and more) what authentic Italian food really was. This dovetailed with the dawning embracing of seasonality and a waking interest in domestic regionality: that Vermont cheeses and Oregon mushrooms and the like were special, and most special eaten in the place they were from.
Then the era of food television was upon us, the great glowing portal through which so many Americans filter their reality. Before the advent of round-the-clock food programming, Lidia Bastianich schooled those of us glued to PBS on Sunday afternoons, where she became our Italian Julia Child. Then "Molto Mario" Batali appeared, and we were hypnotized by his orange ponytail and ability to spin fact-filled discursions on every aspect of Italian cuisine as he harangued us to save our pasta water and insisted that it mattered which region of Italy the particular pasta we were attempting hailed from.
We left the glow hungrier than ever for dishes that told those stories and found them in the restaurants of chefs like Anna Klinger and Barbara Lynch and Marc Vetri and Mark Ladner, chefs who re-created Italian cuisine with monastic seriousness and then slowly made it their own. And so we have arrived at a point when centuries of Italian tradition have merged with the excellence of our native bounty and the rule-breaking creativity of our national spirit. The tomatoes may be fresh from the farmers' market or canned from Campania, the composition Abruzzese or the cook's invention, but the results are undeniable: Pasta has arrived in America.
Welcome to the United States of Pasta
The health-conscious chef of Hearth in New York is milling his own flour for superior nutrition—and flavor