Recipes
Green Tomato and Watermelon Rind Achaar
Serves

makes 1 quart

Cook

1 day 4 hours 30 minutes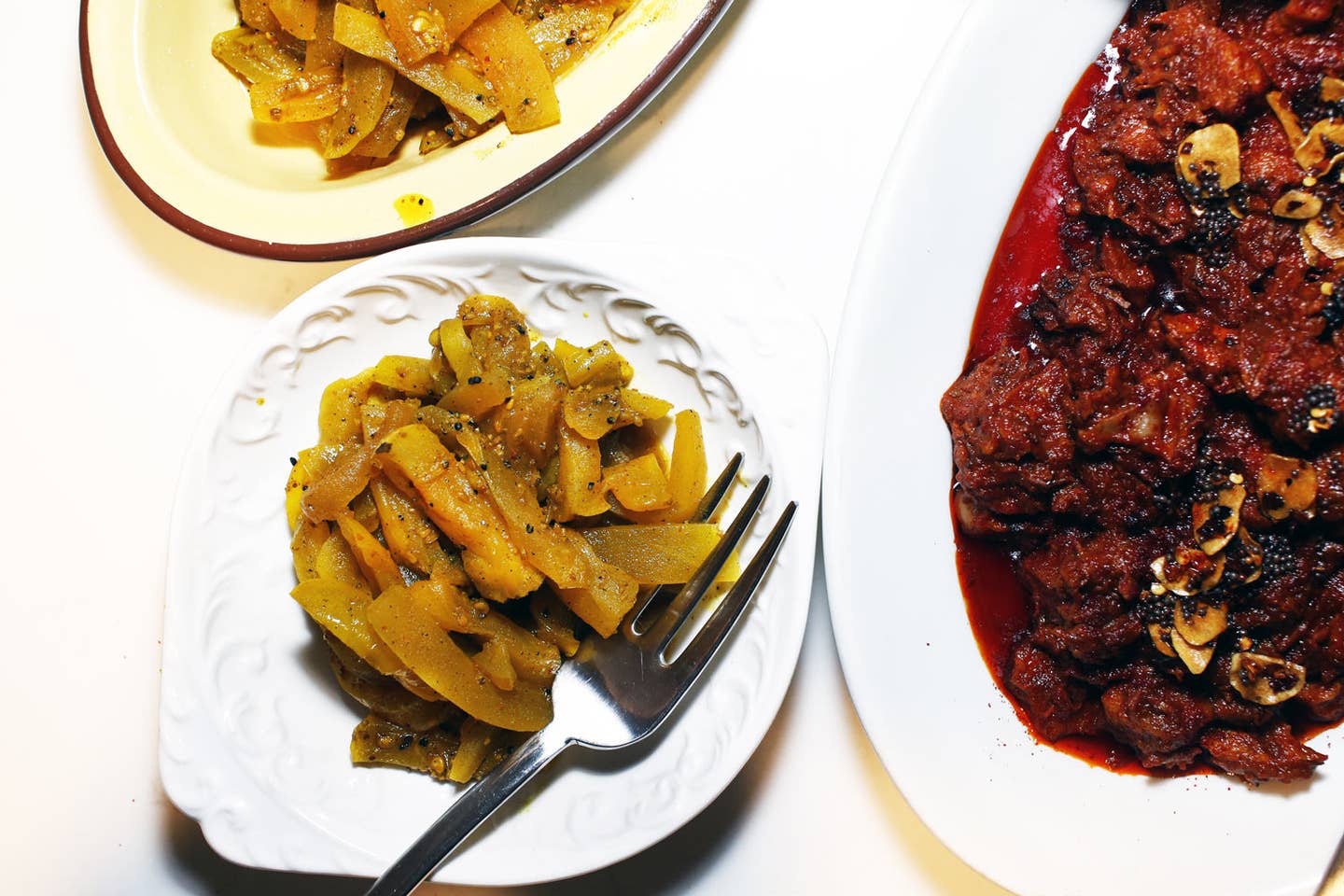 Mango pickle is ubiquitous on the Indian table, with styles ranging from sweet and fragrant to hot and fiery. In this achaar (Hindi for pickle) from chef Cheetie Kumar of Garland in Raleigh, North Carolina, the tropical fruit is swapped out for green tomatoes and watermelon rinds because of their abundance in the South.
While the pickle is easy to make, it does require some advance planning: for best results, prepare two days before eating. You can find mustard oil at Indian markets; it cannot be substituted and should not be omitted.
Ingredients
For the tomatoes and watermelon rinds:
3-4 lb. firm green tomatoes
5 oz. watermelon rinds, green skin removed and ripe flesh cut away from the white rind (1½ cups)
1⁄4 cup plus 2 Tbsp. kosher salt
1⁄2 cup white distilled vinegar
1⁄2 cup apple cider vinegar
1⁄2 cup sugar
For the achaar:
1⁄4 cup canola or grapeseed oil
1 tbsp. mustard oil
1⁄2 tsp. ground fenugreek seeds
2 tsp. ground nigella (kalonji) seeds
1 tbsp. ground fennel seeds
2 tsp. ground turmeric powder
1⁄4 tsp. Indian chile powder, or substitute cayenne
5 oz. jaggery, or substitute 2 oz. granulated sugar and 1 oz. light brown sugar
2 tbsp. kosher salt
1⁄4 cup distilled white vinegar
Instructions
Step 1
Prepare the tomatoes and watermelon rinds: Cut the tomatoes and rinds into batons; keep separate. Toss the tomatoes with ¼ cup salt, then place in a colander for 3–4 hours or refrigerate overnight. Toss the rinds with the remaining 2 tablespoons salt and cover with cold water; refrigerate overnight. Drain and rinse, then boil in fresh water for 5 minutes. Drain and rinse once more. Combine the vinegars and sugar; bring to a boil, then reduce the heat to medium-low. Add the rinds and cook until clear. Remove from the heat and drain, discarding brine. Drain any juices from the tomatoes.
Step 2
Make the achaar: In a wok or deep, nonreactive skillet, add both oils and heat until very hot but not smoking. Working quickly, add the fenugreek, immediately followed by the nigella and fennel. As soon as they are sizzling, add the turmeric, chile powder, jaggery, and salt. Stir well until dissolved and fragrant. Add the rinds and cook for 2–3 minutes. Add the tomatoes and continue cooking for 1–2 minutes more. Add the vinegar and bring to a boil over high heat. Transfer to a clean, dry heatproof bowl and let cool to room temperature. (The pickle will taste very salty at this point; it will balance out in 24–36 hours.) For best results, place the pickle in a resealable plastic bag with all the air pushed out, lay flat in a container, and refrigerate for up to 2 weeks.