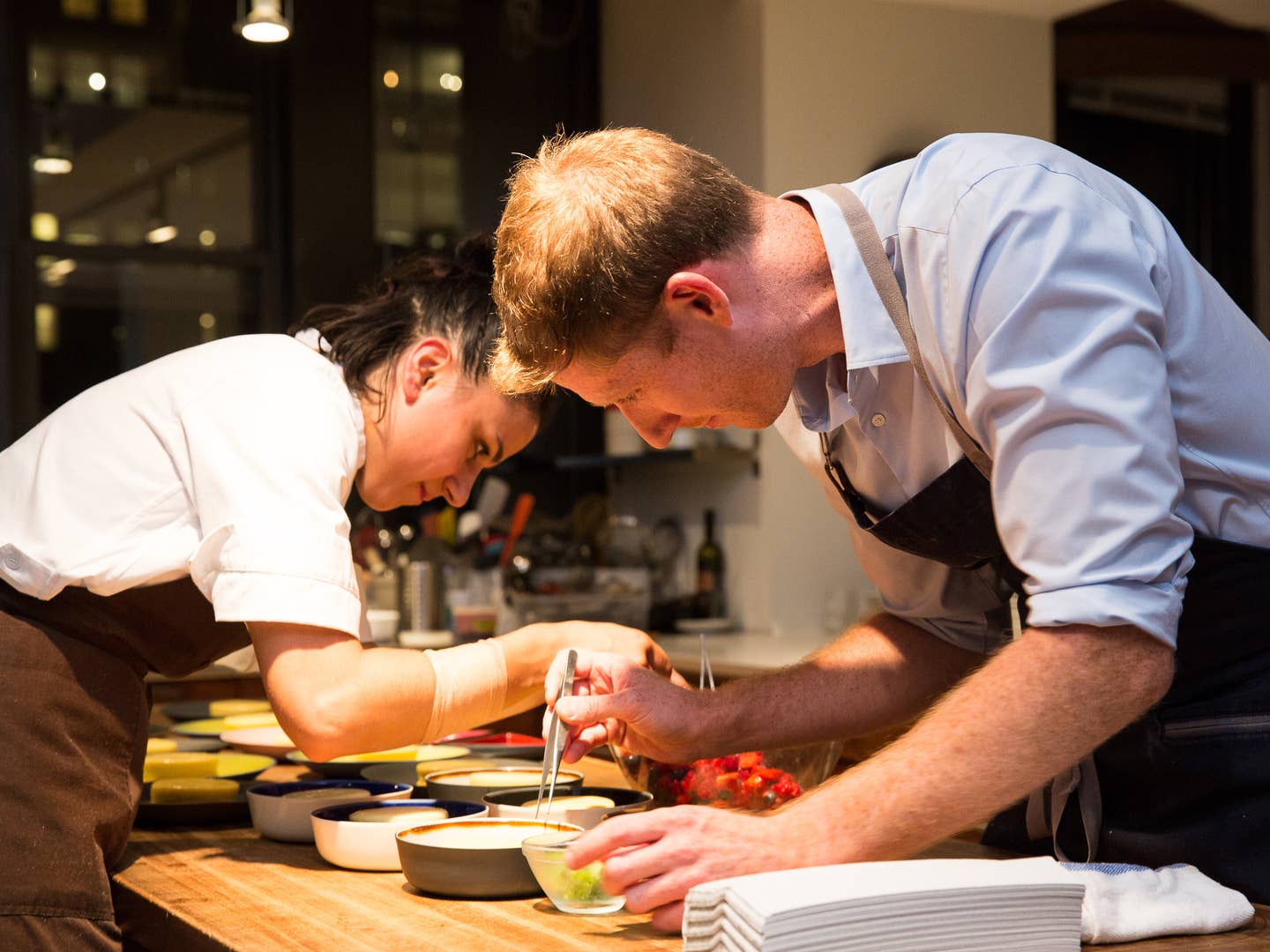 Culture
Scenes From Our SAVEUR Supper with Greg Baxtrom
From the Olmsted garden with love
What's a chef to do with a little extra land? For Greg Baxtrom, acquiring the plot adjacent to his year-old Brooklyn, New York restaurant Olmsted was an opportunity to bring farm-to-table right next door. Last night, the SAVEUR test kitchen played host to Baxtrom and his team, who served up a feast showcasing the produce grown right there in the new Olmsted garden.
While Baxtrom boasts an extensive resume in fine dining (Per Se, Alinea), the chef said during the dinner that his ideas about cooking, and being a chef, were influenced strongly by his stint as Chef de Cuisine of Blue Hill at Stone Barns under the tutelage of farm-to-table pioneer Dan Barber. Now, at his first restaurant, and as a first-time business owner, he's carried that ethos over, planting the seeds for herbs, peppers, berries, and more—both for his ever-changing menu and for a program that allows customers to take some home (for a fee of $10). Baxtrom waters the garden daily himself.
An evening of the restaurant's latest globe-trotting hits started with crawfish-lobster crackers, fried up like Asian shrimp crackers using puffy tapioca flour, and a first course of the restaurant's crispy crab rangoons nestling kale grown in Baxtrom's garden and served in Chinese takeout boxes. For the second course, smoke wafted through the candlelit dining room as a bluefish salad was finished with a smoking gun and served with a cool pannacotta of nasturtium. A BLT bowl swapped regular bacon for thicker pork belly, tossed with garden romaine and cherry tomatoes.
The final savory course paired dry-rubbed scallops with a pudding of grilled corn, chanterelles, and blueberries, followed by thinly sliced sheets of pastrami—yes, he cures it in-house—served with slaw, cornbread, and a potato salad that one diner said "reminds [her] of home in Texas." To cap off the meal: a cake pudding cake with fresh berries.
Each dish and presentation spoke to to Baxtrom's resourcefulness and willingness to experiment, and guests walked away eager to see what he would create with a different crop of produce. Baxtrom echoed that sentiment, noting that Olmsted's playlist hasn't changed once in over a year since it opened, saying, "The only thing I ever want to have to change is the menu!"