Grilled-Cabbage Caesar Salad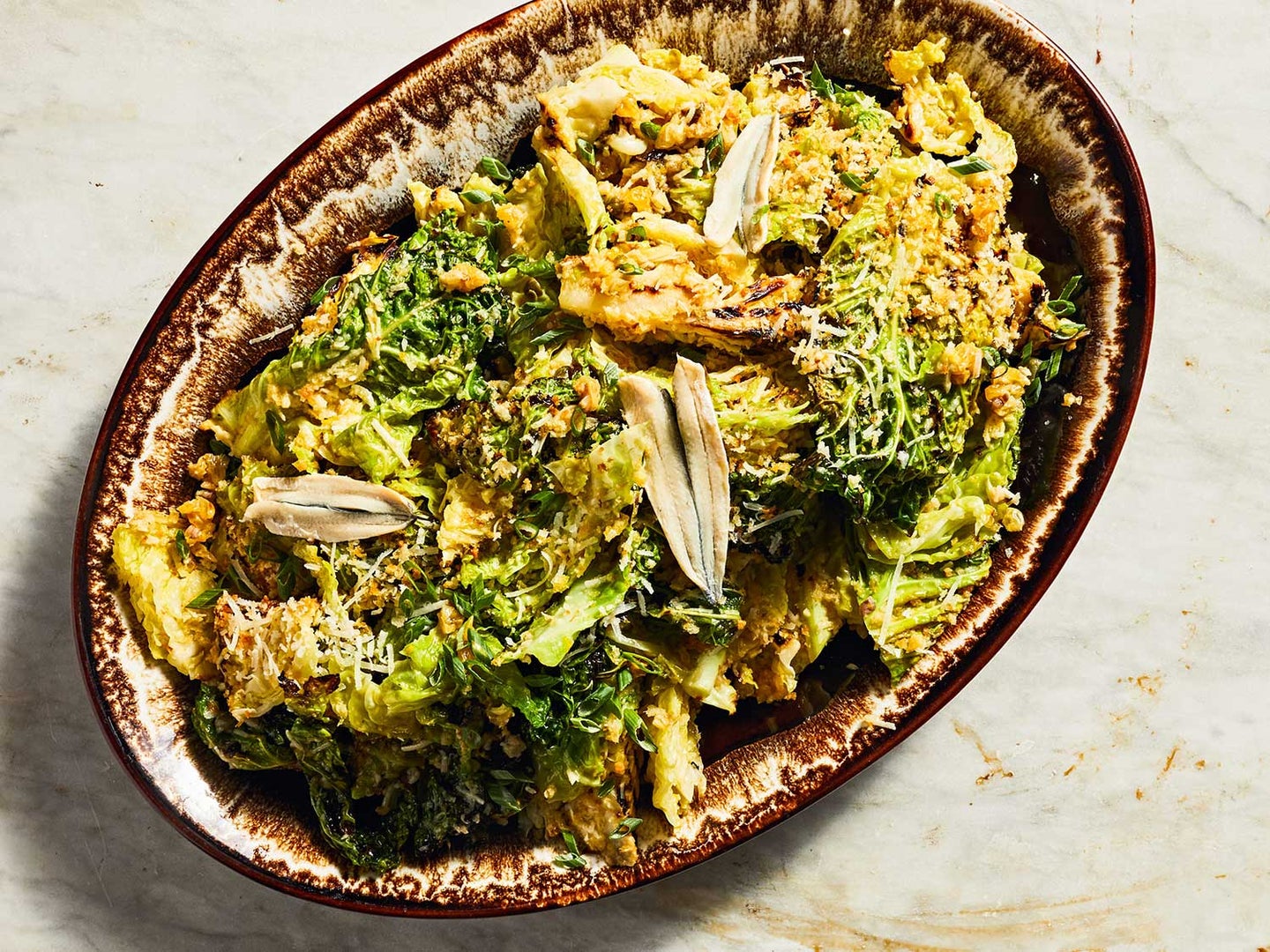 Fire-roasted savoy cabbage is tossed with garlicky bread crumbs and a caper-anchovy vinaigrette in this summery, modern take on a Caesar salad. This recipe is adapted from the warm cabbage salad served at chef Andrew Carmellini's southern Italian-inspired restaurant Leuca in Brooklyn, New York.
Featured in: Caesar-Style Grilled Cabbage Is the Perfect Late-Summer Salad
Equipment
Grilled-Cabbage Caesar Salad
In this summery, modern take on a Caesar salad, flame-kissed savoy cabbage replaces the usual romaine. It's the perfect foil for garlicky bread crumbs, aged pecorino, boquerones, and a citrusy anchovy vinaigrette.
Time: 1 hour, 40 minutes
For the cabbage:
2 small heads savoy cabbage (2 lb.)
1 Tbsp. kosher salt
Freshly ground black pepper
1 cup extra-virgin olive oil
For the salad:
10 large garlic cloves, finely minced (¼ cup), divided
1 Tbsp. finely grated orange zest, plus ½ cup fresh orange juice
1 Tbsp. finely grated lemon zest, plus ⅓ cup fresh lemon juice
6 oil-cured anchovy fillets, finely minced (1 Tbsp.), or substitute anchovy paste
1 Tbsp. capers, finely minced
1 Tbsp. golden raisins, finely minced
½ cup plus 2 Tbsp. extra-virgin olive oil, divided
Kosher salt
Freshly ground black pepper
1 cup panko bread crumbs
2½ oz. aged pecorino cheese, finely grated (1 cup), plus more for topping
3 boquerones (marinated white anchovies), optional
Instructions
Prepare the cabbage: Split each head of cabbage lengthwise into quarters, leaving the core in place in order to hold the leaves together during cooking. Place the quarters on a large rimmed baking sheet, cut-side up. Sprinkle with the salt, season with pepper to taste, and drizzle with oil; rub all over the cabbage, focusing on the cut sides so that the oil and seasonings seep in between the leaves. Set aside, uncovered, to marinate for 30–40 minutes.
Meanwhile, make the vinaigrette: In a medium bowl, add 1 tablespoon of the garlic, the orange and lemon zests and juices, anchovies, capers, and raisins; stir to combine. Slowly whisk in ½ cup of the oil; season with salt and pepper to taste. Set the vinaigrette aside.
In a large skillet over medium heat, add the remaining 2 tablespoons oil and 3 tablespoons garlic. Cook, stirring frequently, until the garlic just begins to turn golden, 1–1½ minutes. Add the panko and gently stir to combine. Turn the heat down to medium-low and continue cooking and stirring until the panko is evenly toasted and crispy, 5–7 minutes more. Season with salt and pepper to taste, then transfer the panko to a large heatproof bowl or baking sheet and set aside to cool to room temperature.
Cook the cabbage: Preheat a cast-iron grill pan or skillet over very high heat. Once the pan is hot, add the cabbage, cut-side down. Cook, turning occasionally, until the cabbage is charred all over, 10–12 minutes. Using tongs, transfer to a large heatproof bowl or container and cover tightly with plastic wrap or a lid. Set the cabbage aside to steam until the centers are tender when poked with a paring knife,15–20 minutes.
Once the cabbage is tender and cool enough to handle but still warm, cut the quarters crosswise into 2-inch-wide chunks, then return to the bowl. Add the pecorino, vinaigrette, and half of the panko. Toss well to coat, then transfer the salad to a large platter or wide, shallow bowl. Top with the remaining panko, more pepper and pecorino, and the boquerones (if using). Serve warm or at room temperature.