Recipes
Grilled Cabbage Caesar Salad
Chef Andrew Carmellini's hearty spin on the classic elevates it to main course status.
Serves

serves 4 to 6

Cook

1 hour 40 minutes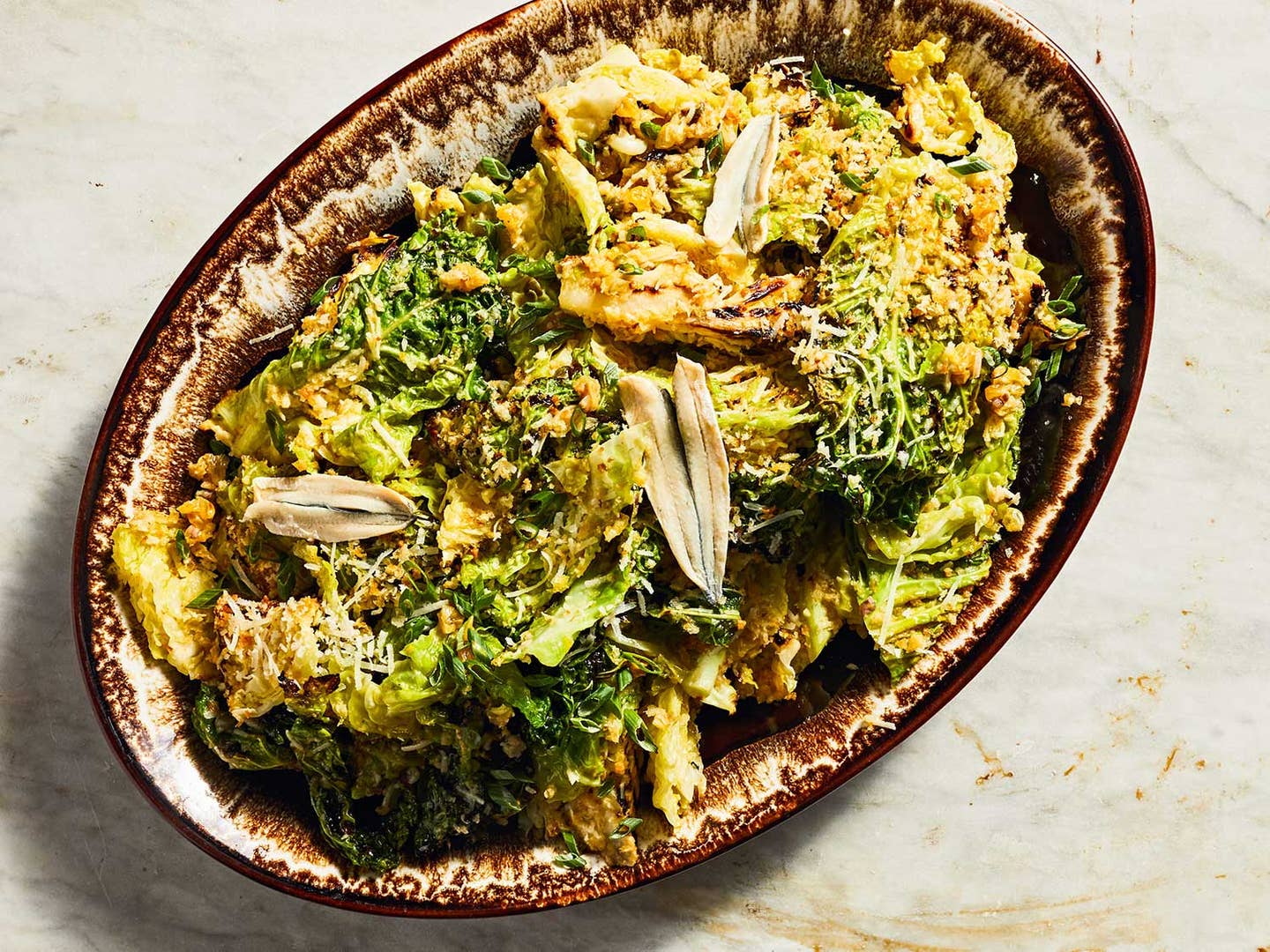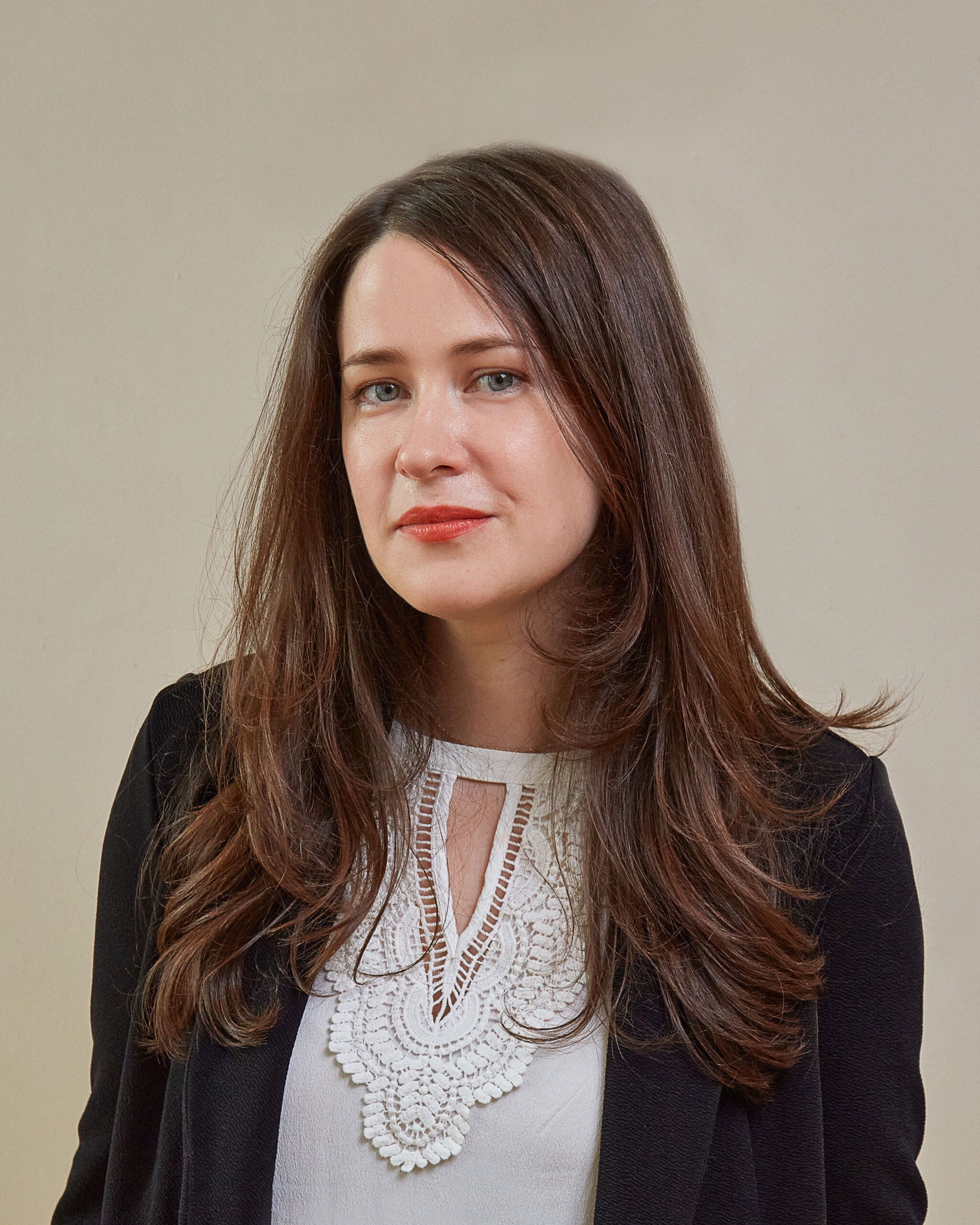 ---
Fire-roasted Savoy cabbage is tossed with garlic-infused bread crumbs and a caper-anchovy vinaigrette in this take on a Caesar salad. The recipe is adapted from a dish served at chef Andrew Carmellini's Southern Italian-inspired restaurant Leuca in Brooklyn.
Ingredients
For the cabbage:
2 small heads Savoy cabbage (about 2 lb.), quartered, cores left attached
1 tbsp. kosher salt
Freshly ground black pepper
1 cup extra-virgin olive oil
For the salad:
¼ cups finely chopped garlic (from about 10 cloves), divided
⅓ cups fresh lemon juice
½ cups fresh orange juice
1 tbsp. finely grated lemon zest
1 tbsp. finely grated orange zest
6 oil-cured anchovy fillets, mashed into a paste with a fork
1 tbsp. capers, finely chopped
1 tbsp. golden raisins, finely chopped
½ cups plus 2 Tbsp. extra-virgin olive oil, divided
Kosher salt and freshly ground black pepper
1 cup panko bread crumbs
1 cup finely grated pecorino romano (2½ oz.), plus more for garnish
3 marinated white anchovies, aka boquerones en vinagre (optional)
Instructions
Step 1
Make the cabbage: On a rimmed baking sheet, place the cabbage cut side up and sprinkle with salt and black pepper to taste. Drizzle with the oil and rub each wedge to coat on all sides. Let sit uncovered for the salt to penetrate the leaves, about 35 minutes.
Step 2
Meanwhile, make the vinaigrette: In a medium bowl, stir together 1 tablespoon of the garlic, the lemon juice and zest, orange juice and zest, oil-cured anchovies, capers, and raisins. Very slowly whisk in ½ cup of the oil until the dressing is sheeny and thickened slightly. Season with salt and black pepper to taste and set aside.
Step 3
To a large skillet set over medium heat, add the remaining oil and 3 tablespoons of the garlic and cook, stirring frequently, until pale golden, 1–1½ minutes. Stir in the panko, season with salt and black pepper to taste, and turn the heat to medium-low. Cook, stirring frequently, until pale golden and crisp, 5–7 minutes. Remove from the heat and set aside. (If the pan is very hot, transfer the crumbs to a baking sheet to prevent burning.)
Step 4
Cook the cabbage: Set a grill pan or heavy-bottomed skillet over high heat. When the pan is smoking, add the cabbage cut side down. Cook, turning occasionally, until charred all over, 10–12 minutes. Using tongs, transfer to a large heatproof bowl and cover tightly with plastic wrap. Let steam until the cores are tender when pierced with a paring knife, 15–20 minutes. When cool enough to handle, cut each wedge crosswise into 2-inch chunks and return to the bowl. Add the pecorino, reserved vinaigrette, and half of the reserved panko mixture and toss to coat.
Step 5
To serve, transfer the salad to a platter and sprinkle with the remaining panko mixture, black pepper to taste, and additional pecorino. Drape with white anchovies if desired. Serve warm or at room temperature.