Recipes
Grilled Rack of Lamb with Garlic and Herbs
Up your game with a garlicky, herb-flecked mustard marinade.
Serves

serves 4

Cook

3 hours 55 minutes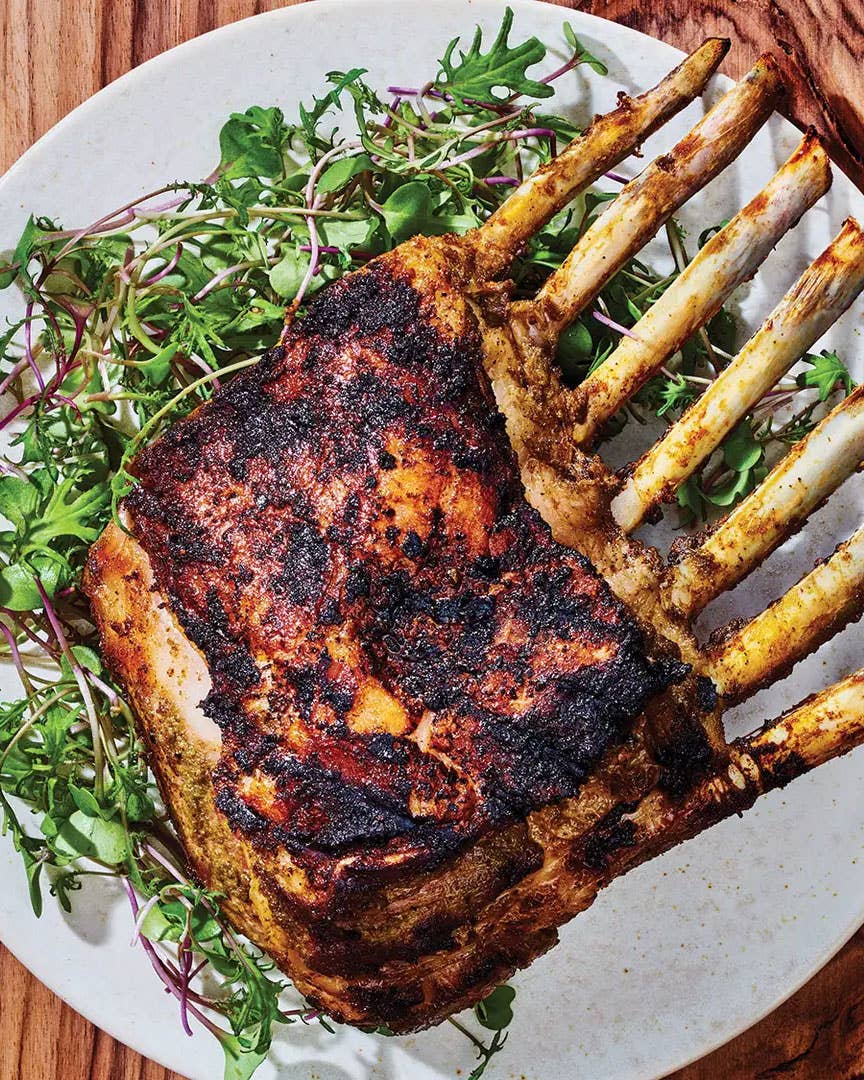 This recipe is adapted from the "lamb lollipops" at Presidents Pub in Washington, Pennsylvania, where the chefs roast local racks of lamb to a tender medium-rare. We find it makes a fabulous holiday feast. On the grill, the ribs pick up a smoky, charred exterior—a perfect contrast to its juicy pink center.
Ingredients
One 2¼-lb. rack of lamb, trimmed and frenched
Kosher salt and freshly ground black pepper
⅓ cups plus 2 Tbsp. extra-virgin olive oil, divided
3 tbsp. coarsely chopped parsley leaves
8 tbsp. garlic cloves, coarsely chopped (¼ cup)
2 tbsp. rosemary leaves
1 tbsp. Dijon mustard
1 tbsp. finely grated lemon zest
1 tbsp. thyme leaves
8 garlic cloves
2 cups mesclun, for serving
Instructions
Step 1
Marinate the lamb: In a large bowl, season the lamb generously with kosher salt and black pepper. In a blender or small food processor, purée ⅓ cup of the oil, the parsley, rosemary, mustard, lemon zest, thyme, and garlic. Scrape the marinade onto the lamb and rub it all over the surface. Cover with plastic wrap and refrigerate 3–12 hours.
Step 2
Heat a gas grill on one side to medium-high (alternatively, heat a grill pan over high heat). Grill the lamb meaty-side down on the hot side until the bottom is browned, 6–8 minutes, then flip and cook until browned on the other side, about 5 minutes more. Transfer the rack to the cool side and close the grill. (Alternatively, if using a grill pan, turn the heat to medium and cover with a large heatproof bowl.) Cook, turning once more, until a thermometer inserted into the thickest part of the meat reads 130°F, 15–20 minutes for medium rare. Transfer to a cutting board, tent with foil, and let rest for 10 minutes.
Step 3
Meanwhile, in a bowl, toss the mesclun with the remaining 2 tablespoons of oil and salt and black pepper to taste, then spread in an even layer over the bottom of a platter.
Step 4
Transfer the grilled rack of lamb to a plate, tent loosely with foil, and set aside to rest for 10 minutes (the lamb will continue cooking as it rests).
Step 5
To serve, slice the lamb between the bones to make chops, then arrange atop the bed of mesclun. Pour over any accumulated juices and serve hot.