Grilled Watermelon, Avocado, and Shrimp Salad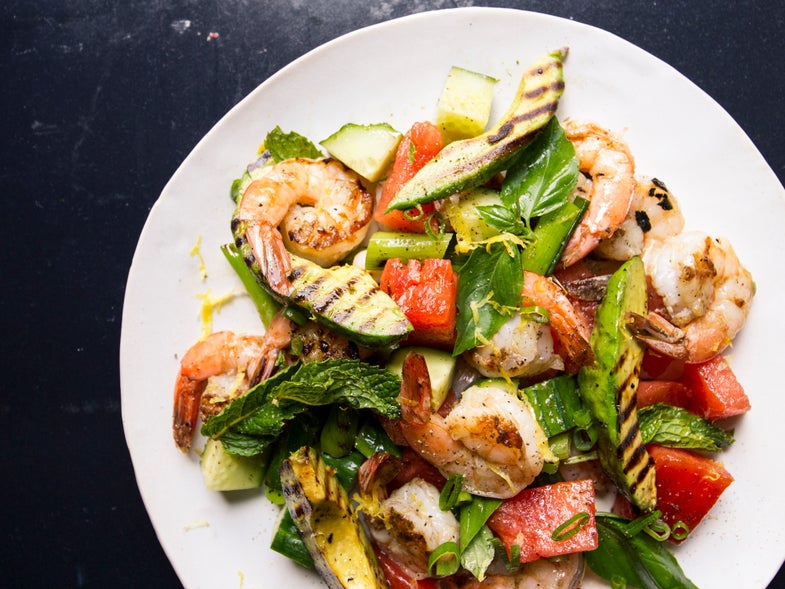 This substantial summer salad is a tribute to the "everything tastes better grilled" philosophy of cooking, one with which I am currently obsessed. Here, watermelons get even sweeter from the flames, shrimp gets crisp and plump, and avocado turns deliciously smoky. If you're grilling outdoors, keep the skin on your avocados and simply grill them halved, then spoon out their centers and cut them into wedges. Otherwise, I recommend grilling them indoors with a grill pan. Either way, you're going to get a creamy and toasted avocado. The only thing not grilled here is the cucumber, but why not, go ahead and grill that too if you are so inclined. —Farideh Sadeghin, test kitchen director
What You Will Need
Grilled Watermelon, Avocado, and Shrimp Salad
Grill everything in this fresh summer salad, then toss with lemon juice and cucumber for the ultimate summer fix.
Time: 30 minutes
Ingredients
1 lb. peeled and deveined shrimp
3 lb. watermelon, cut into 2-inch wedges
3 spring onions, trimmed, green parts thinly sliced, white parts left whole
2 avocados, peeled, pitted, and cut into 1/2-inch wedges
5 tbsp. olive oil
Kosher salt and freshly ground black pepper
2 lemons, zested and juiced
1⁄2 cup basil leaves
1⁄2 cup mint leaves
1 English cucumber, cut into 1/2-inch pieces
Instructions
Light a grill; thread shrimp onto skewers. Brush shrimp, watermelon, white parts of spring onions, and avocados with 3 tablespoons oil; grill, turning once, until charred, about 4 minutes for shrimp, 7-8 minutes for watermelon, and 2-3 minutes for scallions and avocados. Season with salt and pepper and transfer to a platter.
Remove watermelon rind and cut into 1-inch pieces; place in a large bowl. Remove shrimp from skewers and add to bowl with watermelon; cut spring onions into 1-inch pieces and add to bowl. Add spring onion greens, avocados, remaining oil, salt, pepper, lemon zest and juice, basil, mint, and cucumber and toss carefully to combine; transfer to a serving platter.