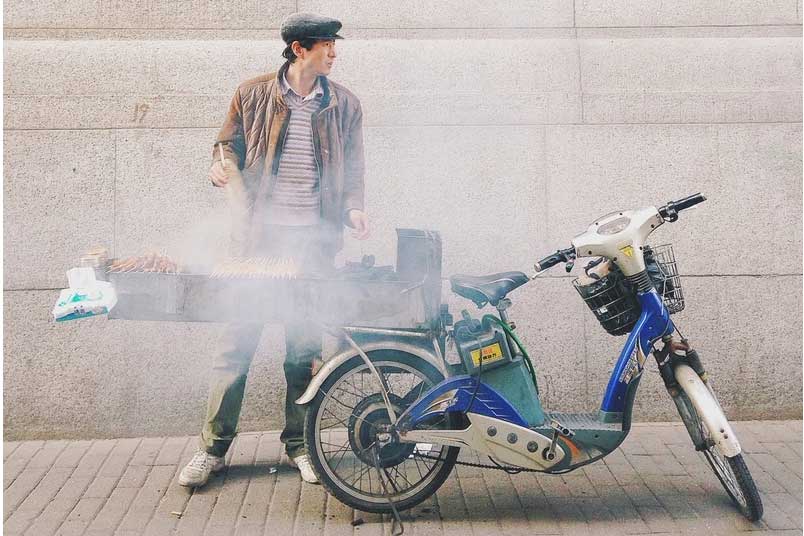 Travel
All the Ways We Grill Around the World
Motorcycles, shopping carts, giant hot stones—anything can be a grill if you want it
Grilling season is in full swing, and we're setting fire to burgers, vegetables, and even cocktails; it's hard to find something that doesn't taste better when given the hot coal treatment.
The grill may also be the world's most portable cooking method—put your mind to it and you can shape just about anything into a firebox on the go. By way of example, here are 10 grilling methods we've spotted around the globe that go way beyond the backyard kettle classic.
Thailand: Bring Your Grill On Your Back
On the island of Ko Samui, Thailand, vendors can carry everything they need—even the hot grill itself—all on their backs.
Ukraine: Grates and a Pot Full of Coals
Photographer Olga Drach captured this moment in Kiev, Ukraine. Fish gets sandwiched between grates over a pot filled with coals.
In Quintanilla del Coco, a small town of 20 inhabitants in northern Spain, people from both inside and outside the village gather to celebrate mass at the chapel. The day consists of dancing to the tune of a large orchestra, drinking wine, and grilling meat at the shrine. As for the grill itself? Nothing more than grates rising a couple inches off the ground on a bed of ash. Low tech and plenty effective.
Czech Republic: The Importance of Accessories
Matěj Šmucr took this photo at a parkside grilling party with friends in Prague. The portable grill is designed to not produce smoke, but we're into the artistic touch of the gas mask.
In Khayelitsha Township in Cape Town, South Africa, locals prepare their braai (grill session or barbecue). These street stands are a common sight on weekends.
New York: All You Need Is a Shopping Cart
A variety of grilled meats gets packed in foil to go at a not-quite-legal shopping cart food stand in Queens, New York.
Mexico: Beachside Grilling
There's nothing quite like eating camarones (prawns) right on the beach. In Playa Los Muertos in Puerto Vallarta, a variety of skewers are prepared right on the sand.
The Philippines: Getting Ahead
At a backyard barbeque held on a farm in Manila, lechon and chicken are grilled over coals. The heads will most likely be saved to make sisig (a sizzling dish of chopped pork) after the remainder of the body is sold to attendees.
In Kapadokya, a historic region of eastern Turkey, there are several shops that sit outside of the Zelve Monastery. Here, one of the locals flips the gözleme (a traditional Turkish flatbread) over a hot stone griddle near the monastery area.
A motorcycle gets a makeover with a portable grill in Shanghai, China.
In a small town outside of Entebbe, Uganda, a woman and her son prepare a mid-day stew at a small roadside eatery called Hajat's. After started a small fire in a clay basin, the young boy threw the salted meat on a wire rack to cook.
These fish are stacked on spikes by a beach bonfire in Marbella, on Spain's southern coast.