A Nigerian Artist is Turning the Food of Her Childhood Into Art
Haneefah Adam is making gorgeous edible portraits with fermented yam, smoked fish, and leaves of amaranth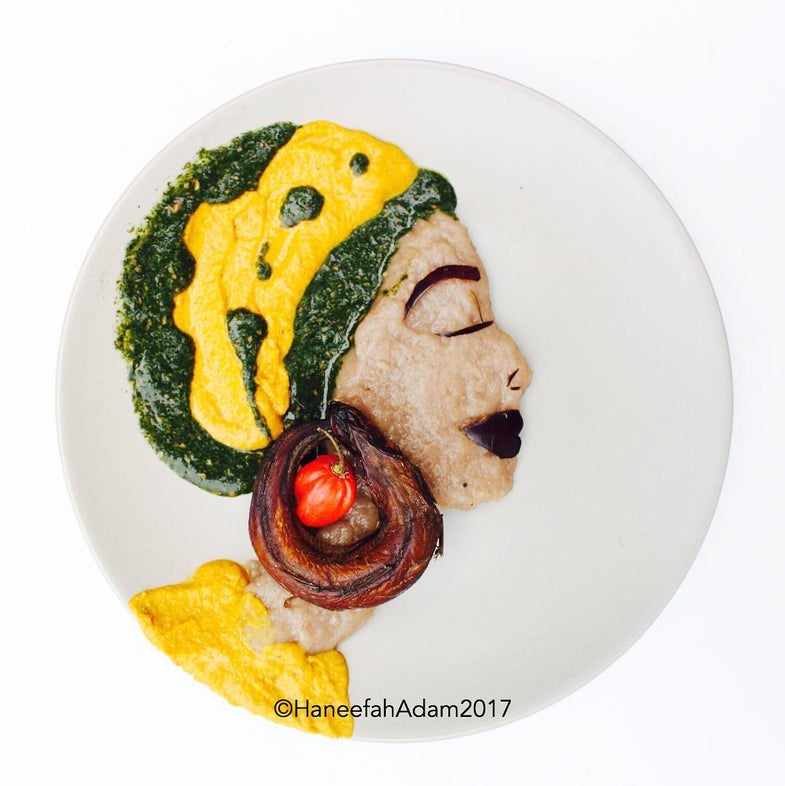 The earring is a loop of dried fish around a jewel of fresh chile, set over skin tones made from abula, a western Nigerian fermented yam paste similar to Ghana's famous fufu. Abula is usually enjoyed with a hot soup, which gives this portrait its vibrant yellow and green colors. Gbegiri soup (the yellow) is a fish soup, typically made with smoked mackerel and ground crayfish that are cooked in a stock with beans. The green details come from ewedu soup, a Yoruba specialty, made with crushed and seasoned ewedu leaves and more ground crayfish.
It's just one of the plated portraits that Nigerian blogger and artist Haneefah Adam has been sculpting on her Instagram, each garnering thousands of likes.
After experimenting with the idea for about three years, Adam submitted some of her food art to a national competition, Tech Meets Art Nigeria, which gained her even more internet fame.
The portrait Adam chose to submit to the Tech Meets Art competition is made with the ingredients for ogbono soup, a comfort food from the southeastern part of Nigeria. The "right" way to make this dish is hotly contested, as every family makes their own version. But the essential ingredient is ogbono seeds, which come from a wild African bush mango. The rest is up for debate: vegetables or no vegetables, shaki (tripe) or fish, okra or not; it all depends on your taste and the ogbono you were raised eating. @muslimhanie
Another one of Adam's reconstructed dishes from Nigeria's Yoruba cuisine is efo riro, a soup rich in vegetables and assorted meats. But the star ingredient is amaranth, a leafy green that is sometimes compared to kale for its nutritional qualities. Efo riro is traditionally served with a chewy semolina bun called semo, also included in the portrait. @muslimhanie
Adam has kept her plate full since she received a degree in pharmacology in the United Kingdom. After graduating, she launched a lifestyle blog and created the Instagram-famous Hijarbie, a version of a Barbie doll that wears a hijab and dresses in the modest fashion of Muslim women around the world. Although not yet on the market, Hijarbie has more than 80,000 loyal followers.
The absence of a doll that young Muslim girls could identify with lead Adam to focus more on the importance of representation. Now she uses her food art to showcase the culture and identity of Muslim women in Nigeria.
"The portrait expresses and celebrates the beauty of an African woman and her uniqueness as a vibrant and colorful spirit," reads a quote on her blog, Muslim Ahanie. "She's a beautiful, strong woman that wears her deep sense of heritage with pride."