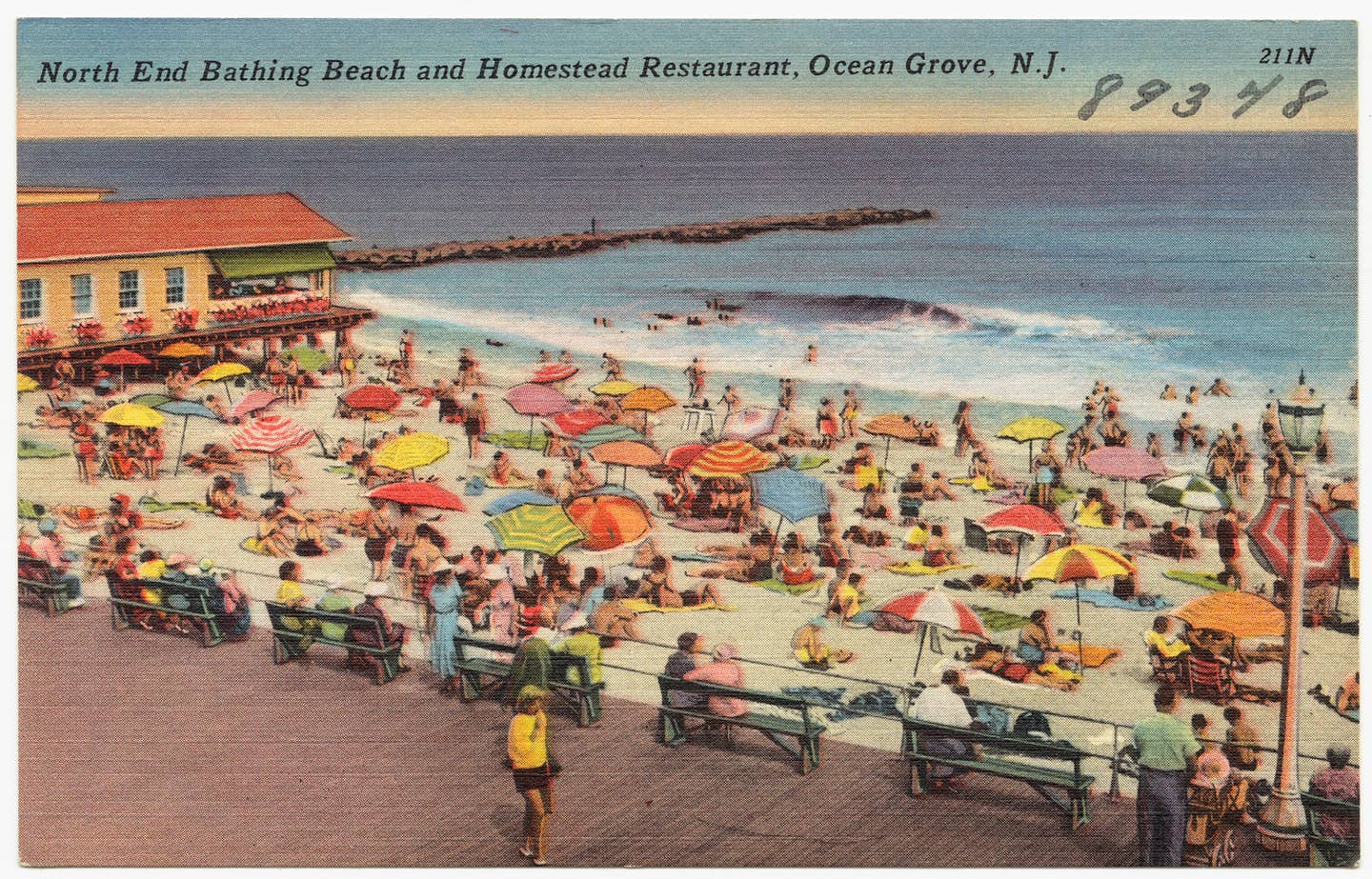 Culture
There's No Home Like the Homestead, the Jersey Shore's Quintessential Beach Restaurant
The iconic boardwalk dining spot is gone but not forgotten
I was a lucky child: I got to spend my summers at the Jersey Shore. It was the halcyon '60s, and every year when school let out, we'd pack the car and head to my grandparents' house in what was then West Deal, N.J., about two miles from the Allenhurst Beach Club, cramming seven extra occupants into a small three-bedroom home. We'd take most of our meals at a picnic table on the enclosed back porch, eating my grandmother's excellent Italian-American food, and we ate well.
But once a year, usually toward the end of the season, we'd splurge on a dinner out at the grandly iconic and now departed Homestead in Ocean Grove, just south of Asbury Park. You could smell the salt air at this family-run restaurant, a stone's throw from the water's edge, which was always abuzz with its neatly dressed visitors from up and down the Jersey Coast.
Opened in 1915, the Homestead was housed in a white clapboard building that stretched out on pilings from the boardwalk."Dine Over the Ocean," read one of the establishment's now-collectible postcards. The prized tables were near the windows, of course, and we always waited as long as we had to in order to get one. In the lobby were albums containing thank-you notes from college students who had been waiters and waitresses there in seasons past; we read them with no small amount of wonder that they had come from so many states in the country to work in this little seaside town.
Dinner was an elegant affair. It started with the restaurant's famous fruit cup topped with orange sherbet, a melon ball, and a sprig of mint. Servers placed cornbread on bread plates with silver tongs. They also brought a selection of appetizers on porcelain dishes piled on a large brown wooden tray; you pointed to what you wanted and it was served to you then and there (my favorite was the sliced tomatoes on a bed of iceberg lettuce with Russian dressing). Entrées included what were then considered fancy things: prime rib and fillet of sole and breaded veal cutlets. (There were no cocktails or wine with dinner, though; Ocean Grove was, and is, a dry town.) It all happened decades ago, but I remember the experience so vividly, and fondly. It was emblematic of what to me were picture-perfect childhood summers by the sea.
Woody Allen would later film a nostalgic movie, Stardust Memories, in Ocean Grove. One of my younger cousins landed a part as an extra in it and actually got a second or two of close-up screen time. That was a big deal, since no one else in the family was ever in a movie, and we still laughingly bring it up when we see him. But by the time the film was made, the Homestead had just closed, shuttered in 1978 as, I suppose, tastes in food changed and newer restaurants stole its thunder. It's too bad. It would have been the perfect location for a cast closing party.