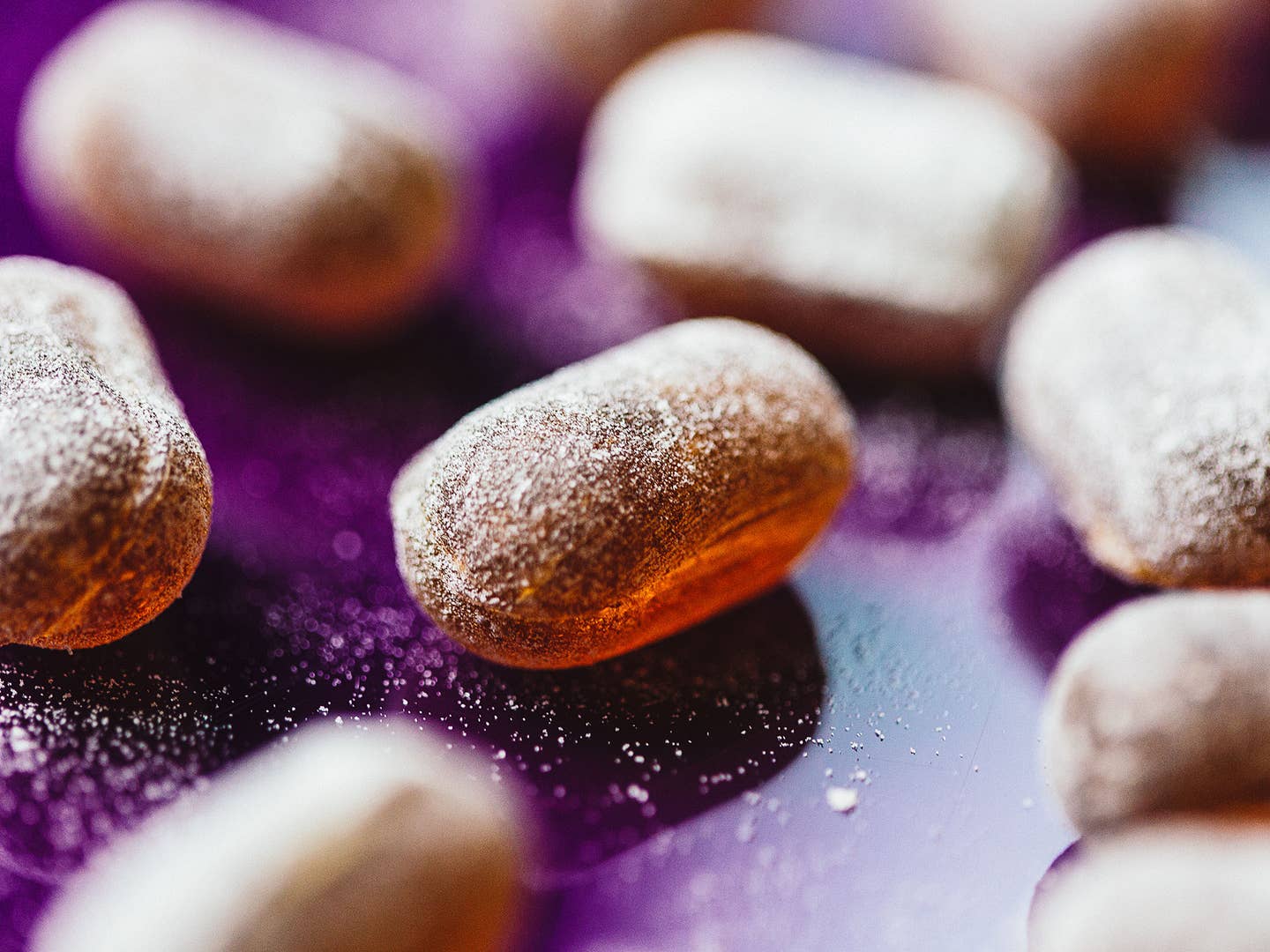 Culture
Horehounds Are the Old-School Candy You're Missing Out On
Don't let the name—or bittersweet rootsy flavor—freak you out. These sweets are delicious
What's your favorite childhood candy? That was the topic of discussion one afternoon in the SAVEUR test kitchen. People brought up the usual York patties and Junior Mints, and then I asked, "Have you ever had Horehounds before?"
"Whore what?" Suddenly I was getting a lot of bewildered looks and slack jaws. I backpedalled, quickly, explaining that Horehounds, no "w," are a beloved hard candy from my childhood back in Missouri. I then tried to describe their unique and, for me, uniquely compelling flavor. The best I could muster without any candies nearby for inspiration: slightly bitter, slightly sweet, root beer-like flavor. For the rest of the day I couldn't keep Horehounds off my mind. The following day, my fond reminiscing blossomed into a full-blown craving for this candy. In fact, it was so bad that I had to rush-order a 1-pound bag.
My first taste of these candies came during a camping trip along the Current River in Southern Missouri. I remember my dad showing my sister and me this unfamiliar package while we stopped for gas outside of Rolla, Missouri. He told my sister and me that it was a very special candy, and he couldn't believe he had stumbled upon them here. My dad remembered eating them as child after his Grandfather brought them on their own camping trips. So, in a moment of nostalgia, he decided to do the same for us.
He tore open the bag and handed us this dark brown and sugar-flecked lump that looked nothing like the candy we were used to seeing. Much to our surprise, we were hooked from the second it hit our tongues. My sister and I couldn't get enough. From that summer on, Horehound candies became a must-have for every camping trip, and my love for this wonderful and uniquely flavored candy was solidified.
Horehound candies get their distinctive flavor and bitterness from their namesake herb, a bitter flowering plant in the mint family. Native to Europe, Asia, and North Africa, it has been used for millennia as a treatment for lots of ailments—you can find mentions of it in ancient Roman texts from the 1st century B.C. It continues to appear after that in other works about herbal remedies, and has been prescribed to soothe everything from sore throats to digestive woes. It's said to rid the body of intestinal parasites and calm inflammation, and was even used to treat serious illnesses like tuberculosis and typhoid. Its leaves, stems, and flowers are used, often dried, for medicinal purposes.
Horehound is most commonly found in its dried form, which you can steep and drink as a tea, or as a lozenge. It is still regarded as one of the finest cough and congestion suppressants around (it's even one of the main ingredients in the cough drop Ricola). This remarkable herb could very well be the original cure-all.
But growing up, my family never used the Horehound candies for their medicinal prowess. They were more of a special treat that my dad always stashed somewhere in his truck for special occasions. To this day, the mere mention of Horehound candies around my family puts a smile on our faces.