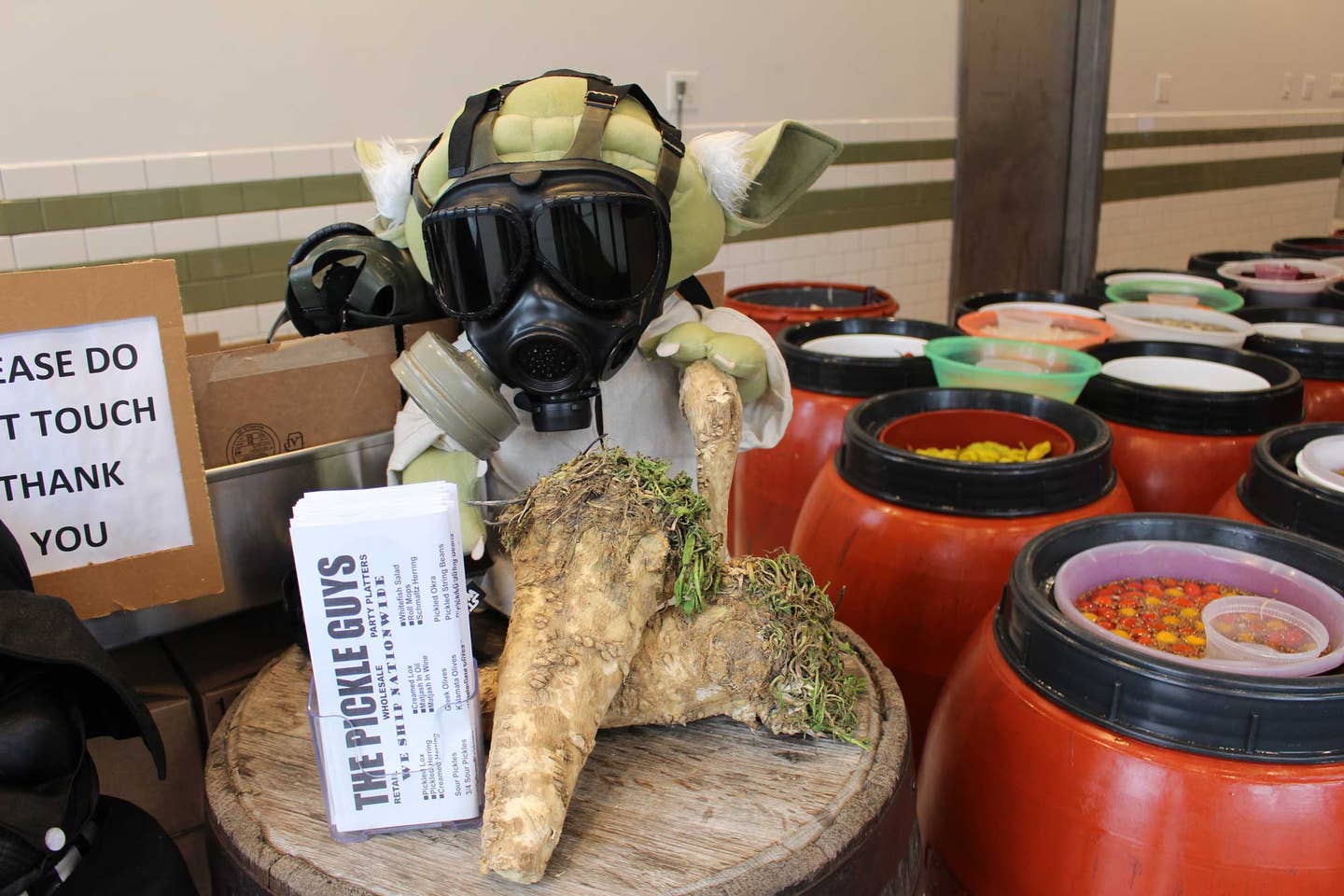 Travel
These Pickle Guys Are Grinding 2,700 Pounds of Horseradish for Passover
Gas mask optional, but highly recommended
Passover is just around the corner, and in New York, Jews are steadfastly stocking up on matzo, cleansing their houses of chametz (verboten leavened bread products), and, of course, putting on gas masks to grind horseradish on Grand Street.
Alright, so that last one is less universal. But for the past few years it's been a fixture of the Pickle Guys' storefront on the Lower East Side, a neighborhood that was once one of the greatest hubs of America's Jewish community. Back in the day it was home to countless shops where you could fish a pound of kosher dills out of wooden barrels for a few pennies. Today, almost all of those pickle shops are gone, but The Pickle Guys carry the tradition on, and come Passover they turn their attention to one particular pickled piece of produce: horseradish. A lot of it. 2,700 pounds, owner Alan Kaufman estimates, for the season.
Over the past few years, the public grinding has become a neighborhood attraction, drawing crowds of tourists and locals to watch as Pickle Guys staff grind, mix, and bottle their incendiary horseradish relish. The fumes are so strong that, on busy days, grinders wear gas masks to keep excessive eye and nose inflammation at bay.
An essential component of Ashkenazi Jews' Passover seder, horseradish sauce is little more than just that: ground horseradish fixed with a salt or vinegar brine. The Pickle Guys sell two versions: a milder, sweeter style tempered with fermented beet juice and a full-throttle plain one that, if you huff it head-on, is liable to singe your eyebrows off. Way fresher, hotter, and more flavorful than anything you'll get in a grocery store. We love it in the mayo served with these roasted parsnips, and, for something a little more treyf, this Creole shrimp remoulade.