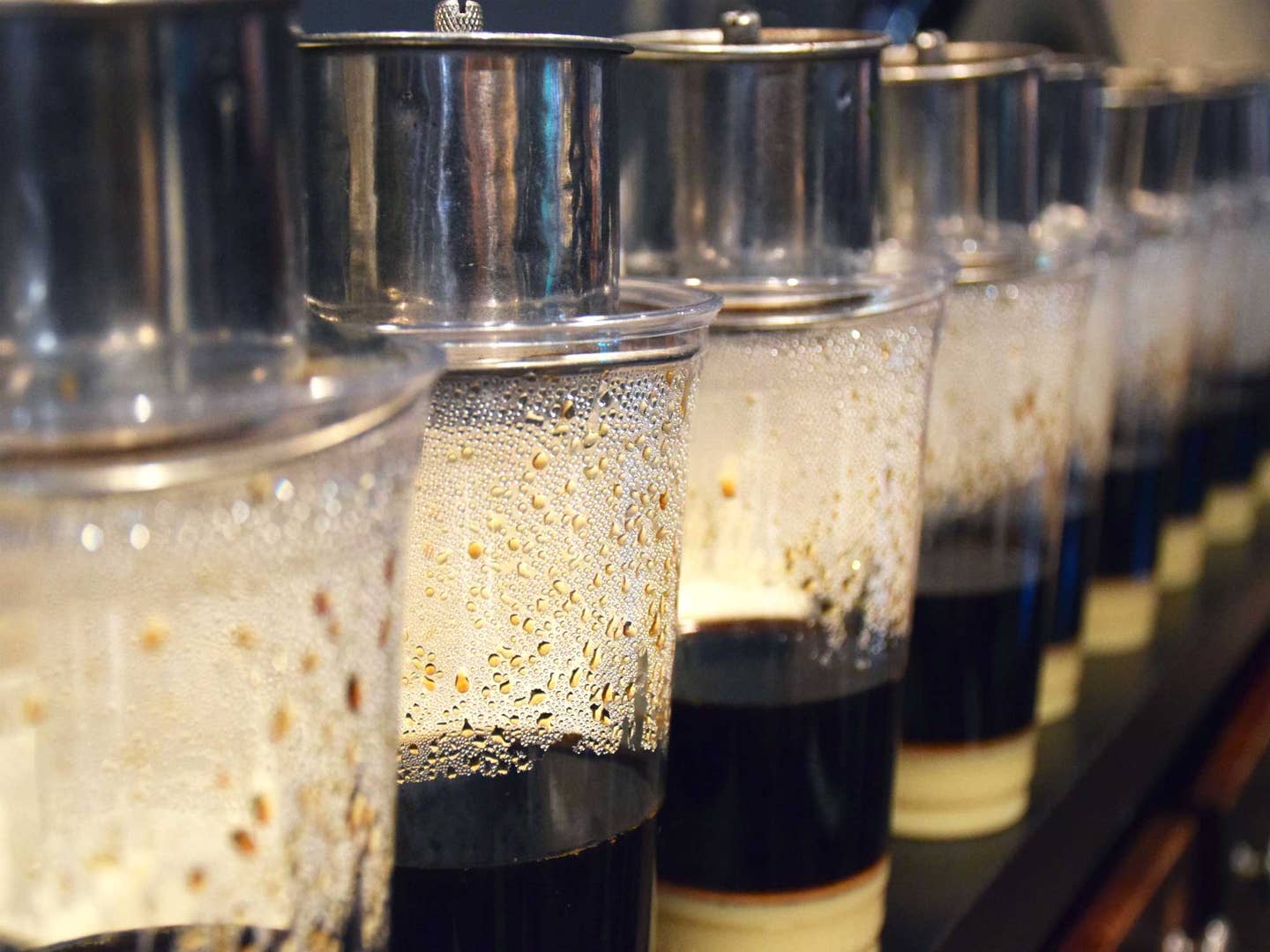 Drinks
Houston is Crazy for Vietnamese Iced Coffee
Good cà phê sữa đá is as much a Houston birthright as a plate of fajitas or a stiff margarita
If you stop by any of midtown Houston's many bánh mì shops or casual Vietnamese restaurants during the lunch rush, you're likely to find the same scene. Behind the counter, a row of to-go cups sits, each wearing a stainless steel top hat, slowly dripping tar-black coffee onto a waiting bed of thick, ivory-colored condensed milk. A quick stir marbles the mixture before turning it lustrous shade of tan. This is cà phê sữa đá, Vietnamese iced coffee, and it is the bittersweet fuel that keeps Houston humming.
Houston's metropolitan area is home to one of America's largest Vietnamese populations, many of whom operate restaurants in the city, where coffee is almost a given. It's no surprise that drink caught on with a wider audience—it's also just plain good: dark roasted beans—or a dose of bitter chicory—bring balance to the syrupy sweetness of condensed milk, and putting it on ice is just as refreshing in sunny Houston as in the swampy heat and humidity of Vietnam.
As the saying goes, everything's bigger in Texas. This is certainly true in the state's largest city, where tastes run big and bold, making the intense flavor and powerful caffeine boost of cà phê sữa đá a perfect fit. "It's not a delicate drink," says Huan Le, founder of Houston-based cà phê sữa đá bottler Caphin (a punny bit of linguistics, taking its name from the Vietnamese word for coffee, "cà," and the name of the filter used to brew it, "phin"). "If you think about where we are, I think it fits in that kind of category of bold flavors that people like here more so than other places."
"I think it's part of our Houston thing," Le continues. "Chris Shepherd [the James Beard award-winning chef of Underbelly] called us a Creole city, and I think it's in the same vein. [Vietnamese coffee] is sort of a Creole product." Cà phê sữa đá is drinkable fusion, typically made with Vietnamese-grown dark roast beans originally planted for Western demand. Vietnamese drinkers took to condensed milk both for convenience and also for food safety, since fresh milk doesn't last long without refrigeration in a tropical climate.
The iced coffee has become so much a part of Houston food culture that it's transcended its original banh mi shop forms, and you can find all kinds of versions across the city's multi-cultural landscape. You'll find its flavor in everything from beer to beignets, cocktails to high-end coffee shops.
In downtown Houston, The Honeymoon café adds a New Orleans touch with a plate of beignets drizzled with cà phê sữa đá caramel. If you need another caffeine boost, you can pair it with a Leather Elbows cocktail, a cool and creamy mix of rye, cold-brew coffee, and sweetened condensed milk.
Local brewery 8th Wonder gives Houston's NASA base a nod with their Rocket Fuel, a robust porter boosted by locally roasted coffee and a dose of lactose (milk sugar), essentially cà phê sữa đá in beer form. The roaster behind the beer, Greenway Coffee Co., also supplies Blacksmith, a nationally renowned coffee shop that also serves a mean Vietnamese Steak and Eggs. There, David Buehrer and company give cà phê sữa đá the craft coffee treatment, mixing single origin espresso with the standard sweetened condensed milk.
Caphin started two years ago, selling their Artisan blend, a recreation of Vietnamese iced coffee as you'd drink it on the streets of Saigon. Since then, the company has followed up with an array of Houston-centric flavors, each showing the cross-cultural influence that defines the city's food scene. Most recently, Caphin rolled out an Horchata variant, a nod to Houston's vibrant Latino community. "Caphin, to pick up these other flavors, is just this Houston melting pot idea. It came so naturally that we didn't even really think about it. It just seemed like what we do. We're here, and that's the flavor," says Le.
If you really want a pitch perfect Houston pick-me-up, though, I suggest the following: Grab a bottle of Horchata-flavored Caphin, head over to the Shipley Do-nuts on North Main, and pick up a boudin kolache. Few meals are more resolutely Houston than drinking a Mexican-inflected Vietnamese iced coffee alongside a Czech pastry stuffed with Cajun sausage. Creole city, indeed.
Nicholas L. Hall is a husband and father who earns his keep playing a video game that controls the U.S. power grid. He also writes about food, booze, and music, in an attempt to keep the demons at bay. When he's not busy keeping your lights on, he can usually be found making various messes in the kitchen, with apologies to his wife.