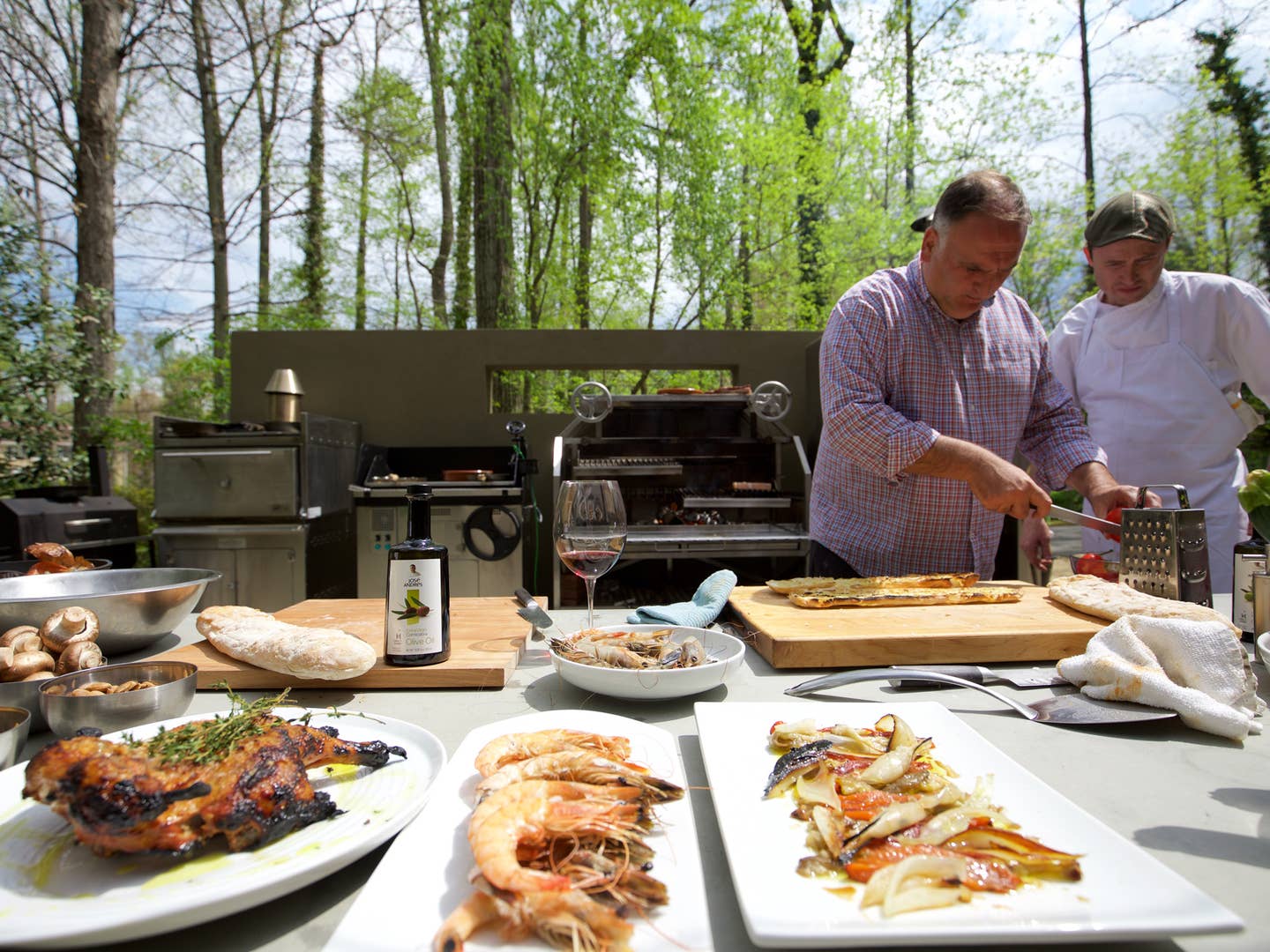 Culture
How Chef José Andrés Celebrates the Fourth of July
The American history buff and owner of 21 restaurants tells us how he celebrates the Fourth of July
The America Eats Tavern, which celebrates historical Americana foods, may not be what you expect from José Andrés, the celebrated Spanish chef and owner of 21 restaurants in DC, Las Vegas, Miami, Los Angeles, and Puerto Rico, including renowned dining concepts such as minibar by josé andrés, Zaytinya, Oyamel, and Jaleo. Andrés, who is Dean of the Spanish Studies program of the International Culinary Center, is often considered the unofficial Ambassador of Spain. But, he is also an avid American history buff, who became a U.S. citizen in 2013. "It felt natural to me," he said. "My three daughters were born here, I have spent half of my adult life here. I guess you know where you come from, and you know where you belong."
The America Eats Tavern, he says, is a natural evolution of his career. Born in Asturias, Spain, Andrés has called Washington, D.C.—where he lives with his wife and three daughters—home for 25 years. "When you are living in Washington, D.C. for this long, you better get some interest in American history," he jokes. "It's always fun to understand where and how things arrived in America. Where did mac and cheese show up, what was the first ketchup, what is the origin of the Philly cheese steak?"
Andrés answered those questions and more in 2012 when he opened a pop-up restaurant a collaboration with the Foundation for the National Archives, which put up an exhibition on how America eats. "Every country has a story that can be told through its cooking," said Andrés, who is an adjunct professor at George Washington University where he teaches the class, "The World on a Plate: How Food Shapes Civilization." "America was created by the immigrants who reinvented its food, until their dishes were displaced by the next wave of newcomers." The restaurant's recipes, which Andrés tirelessly researched, date back to the 1600s, including a "Vermicelli Prepared Like Pudding," the grandfather of today's mac 'n' cheese born in Philadelphia, 1802. Also on the menu: Fish Fry Remoulade (1893), Spoonbread with Oyster Ice Cream and Caviar (1847), and Shrimp and Anson Mills Grits (1607).
The menu also included a fascinating (and delicious) variety of historical ketchups. "Today we think only of tomato, but there were historically dozens of incredible ketchups used to add flavor to meat and fish," said Andrés, who developed recipes for eight ketchups including, oyster, blackberry, mushroom and anchovy.
Many of these recipes (including the cool ketchups) can now be found on the menu at the America Eats' permanent home at the Ritz-Carlton Tysons Corner, which Andrés opened in 2014. Here, Andrés puts local ingredients to work—meats, oysters, wines, cheeses, blue crabs, beers, and other products from the Virginia, Maryland, and Pennsylvania area. "I am always searching," he says. "You'll find a new oyster that captivates you. The American black walnuts can be so amazing, even in their short season. I became more and more fan of ramps and all the wild mushrooms. I have been falling in love with the great Virginia wineries and the tropical Pawpaw fruit, which I loved so much that I planted an entire grove of shrubs." He is a man seriously smitten with honest American food.
Celebrating the Fourth of July is especially meaningful to Andrés. "As an immigrant, it is a big celebration of being alive and being part of this country," he said. "It's always a happy moment. When I have been in Spain on the Fourth, I have gone to the American embassy, and we celebrate around the flag, all together, people who share the same values."
Andrea Strong's writing chronicles the world of food—from farm to fork, and all the stops along the way. Her work has appeared in The New York Times, New York Magazine, and a host of other publications, including The Strong Buzz, her blog devoted to New York City's food scene. She lives in Queens with her husband, her two kids, and her big appetite.