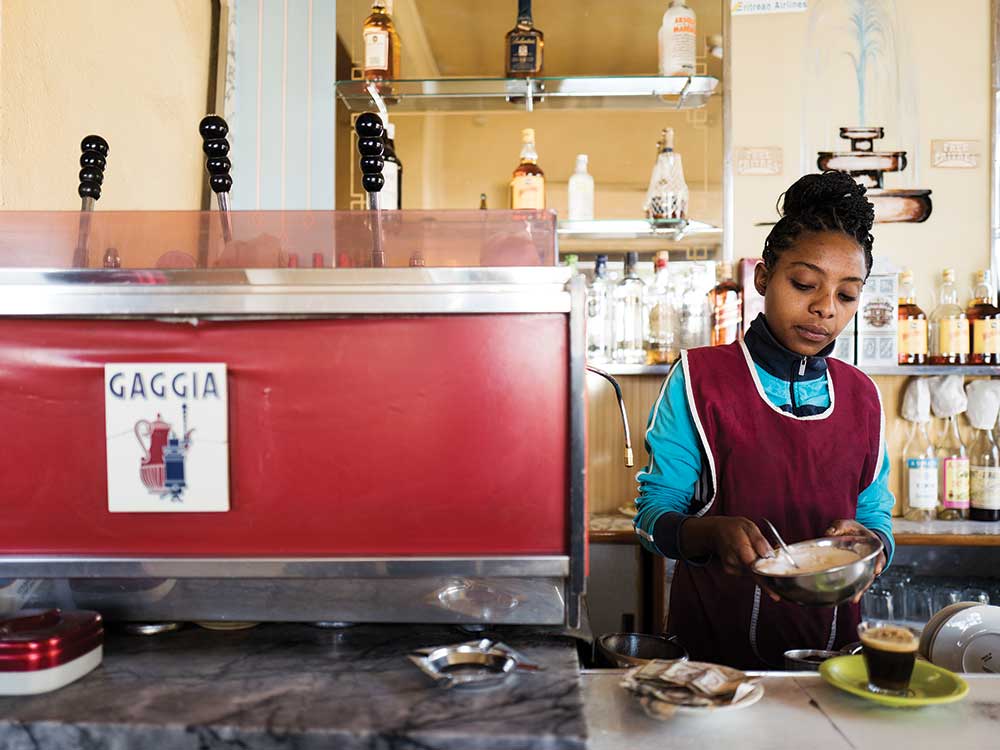 Culture
How Lasagna Landed in Africa
After Italian occupation, Eritreans reclaimed the layered dish as their own
In Asmara, Eritrea, bowling alleys are adorned with stained-glass windows. A former gas station, modeled after an airplane, is flanked with breathtaking 98-foot wings. Called "Piccola Roma" by Mussolini in the 1930s, Asmara stood as the bustling hub of colonized Italian East Africa, and by the start of World War II, Italians—lured by the promise of Mussolini's burgeoning African empire—outnumbered Eritreans. The city was recently designated a UNESCO World Heri­tage site thanks largely to its Modernist appearance.
Pizzerias, gelaterias, and pasta shops are still abundant here, and café culture runs deep throughout the city. Families of the Eritrean and Ethiopian diaspora, including my own, still celebrate major holidays with lasagne, which arrived in the country along with cappuccino and cycling. Similar to the Italian classic—though at times eschewing ricotta—pans of lasagne are common in Eritrean households during holidays and long weekends. Recipes have been passed down from grandparents who lived through the occupation. While traditional dishes like zigni (beef stew cooked with berbere, a spice blend) and shiro (chickpea powder mixed with berbere, garlic, and onions) are quotidian staples, panettone is still served in the days leading up to Christmas, and Italian food is a reminder of the country's historic challenges and triumphs.
Under Mussolini, Asmara was deeply segregated, with parts of the city only accessible to Italians and Europeans. Education and public transportation were intentionally limited, as was the ability to enter many restaurants and bars. Eritrean women and men were often employed as maids and domestic servants. Following decades of feeding and cleaning up after Italians, the assimilation of their cuisine seemed inevitable. From cinemas to espresso machines, reclaiming Eritrea after World War II meant reinhabiting Italian-built spaces and infrastructure—literally taking them over. Today, Asmarinos pride themselves on making excellent cappuccino and pasta, both of which are consumed in great quantity. At high-end restaurants like Al Sicomoro near the United States Embassy, pasta is served atop white tablecloths alongside local fare, while nearby pizzerias churn out wood-fired pies.
There are those who worry about what this means for Eritrean identity. Who are we if the world continues to define us by our colonizers' accomplishments and culture? While Italian food will never disappear entirely from Eritrea, its continued presence is no cause for alarm. The long-established traditional cuisine of this country is celebrated around the world, even if lasagne continues to have a place on the table.
The African Pasta Diaspora
Tunisia: Tunisians consume the third greatest amount of pasta per capita in the world (26 pounds per person according to the Union of Organizations of Manufacturers of Pasta Products in 2014). Just 96 miles from Sicily, the country has adopted its own variations on pasta—which is generally referred to as makarouna—including sauces flavored with harissa and tabil, a spice blend of garlic, chile, caraway, and coriander.
Somalia: Colonized by Italy in the 1880s, Somalia has long been acquainted with the European power's cuisine. Called baasto in Somali, pasta appeared in Somalia during the Italian occupation. Suugo suqaar is an adaptation of Bolognese with cubed meat and xawaash, an aromatic mix of cumin, coriander, black pepper, turmeric, cardamom, and other spices. Federation, a combination of rice and pasta, is usually served at takeout restaurants—along with a banana, which should be mixed in.
Libya: Across the Medi­terranean from Italy, makarouna or macroona is often made with tomato- and spice-based sauces. Chunks of meat are cooked in the sauce, to which the pasta is added directly and cooked until tender. The resulting dish is a stewy hybrid of traditional Libyan rice dishes and Italian ragù.