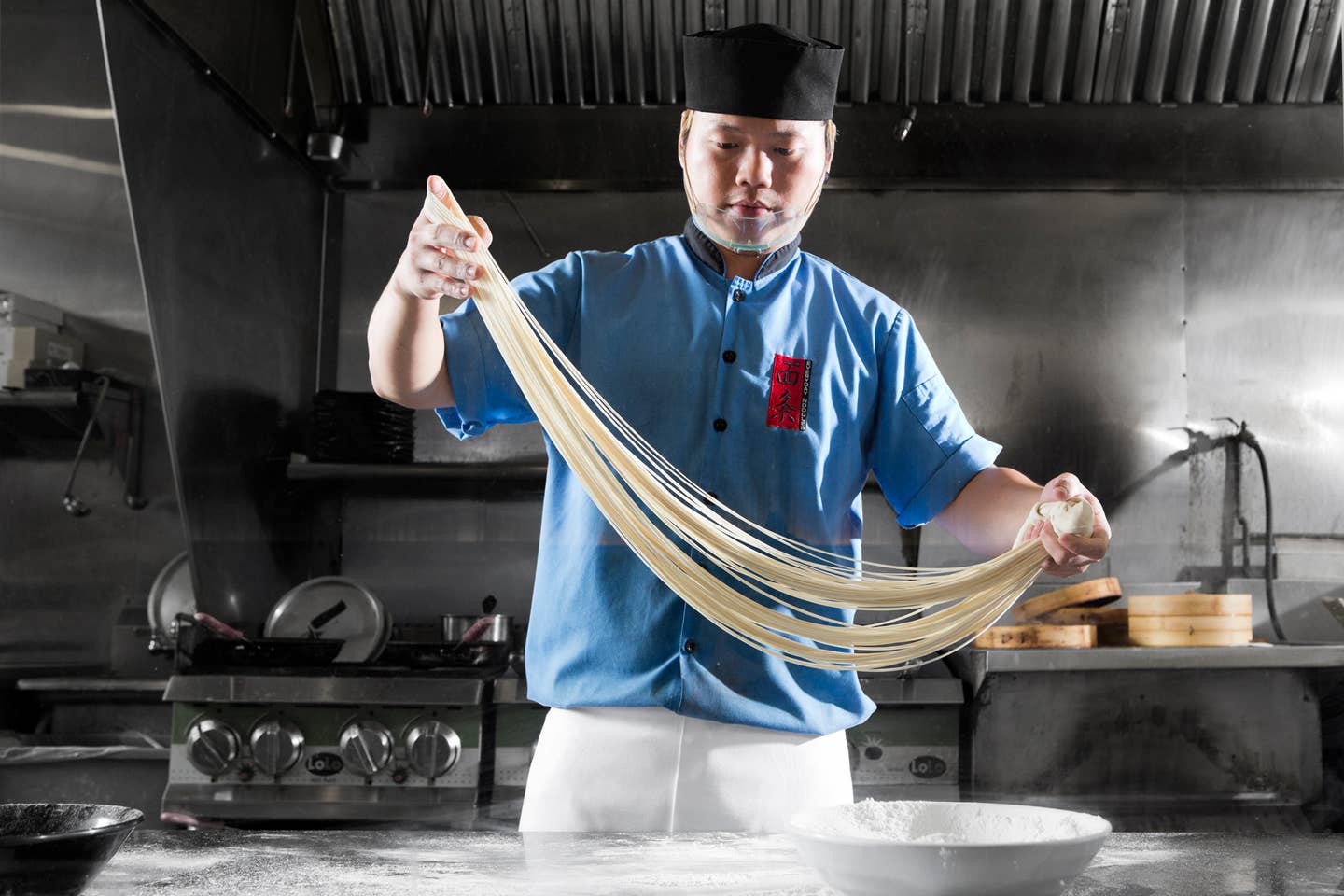 Travel
America's Next Great Chinatown Takes Root in Pittsburgh
A booming population of international students is driving demand for excellent regional Chinese cuisine
Wei Zhu made sure he delivered the duck to the table himself because it's such a special dish.
The 49-year-old chef-owner of Chengdu Gourmet in Pittsburgh's Squirrel Hill neighborhood placed the platter in the center of a lazy Susan already crowded with dishes, from glossy stir-fried cabbage, matchstick-cut vinegared potatoes, Sichuan cucumbers, and sad jello noodles—so named because they're hot enough to make you cry.
Leaning toward the table's center, Zhu used scissors to cut through the crispy skin, revealing the eight treasures inside that lend the dish the name eight-treasure duck. Sticky rice mingles with shrimp and scallops, several types of mushrooms, and vegetables diced like confetti.
Pittsburgh sits at the gateway to the Midwest and the crux of the Appalachian mountains, with more bridges than Venice, a vibrant arts community, and a growing restaurant scene. But the city has not been known for its national diversity, with a 2012 census survey showing that only 4 percent of residents were born abroad.
That's changing now as schools like University of Pittsburgh, Carnegie Mellon, Duquesne University, and Point Park University are attracting more international students from Asia—especially China. Five years ago, Pittsburgh universities each counted under 1,000 Chinese students in their undergraduate and graduate programs combined; today more than 5,000 Chinese students, and several thousand more residents, call Pittsburgh home—a number that's expected to keep growing.
The surge in diversity has sparked changes in restaurant kitchens around the city, with Chinese-American and pan-Asian restaurants recruiting Chinese chefs with the help of overseas government agencies, cooking schools, and placement services in New York in order to get cooks with the cultural literacy and specialized skills to serve more regional Chinese cuisine.
Mike Chen has been a pioneer in the regional-Chinese-food boom. The longtime Pittsburgh restaurateur opened Everyday Noodles in 2013, his eleventh restaurant, and the one that's the most true to the foods he grew up eating in Taiwan.
Chen opened the noodle house a few years ago after a trip to Toronto, a city thick with Chinese restaurants. Inspired by those restaurants' regional Chinese menus, he decided to do the same in Pittsburgh, so he linked up with the Taiwanese government to recruit cooks. Today, he helps Taiwanese cooks get H-1B visas, which allow them to stay in Pittsburgh between three to six months so they can work in his restaurant. When their visas are up, they return to China and he seeks out new staff.
At Everyday Noodles, those cooks put their skill to work making traditional starters like wood ear mushrooms, tofu skins, and clear batons of jellyfish salad. But the big draws are xiao long bao—Shanghai soup dumplings—and bowls of broth full of ropy hand-pulled noodles.
One evening, I watch a young cook through the open kitchen as thrusts a muscle of dough overhead, the center bowing with its weight. He loops and pulls, twists and turns the dough, dividing it into more manageable sections. He repeats the rhythmic kneading that ends with his fingers lacing dough into delicate noodles. Of the noodle soups, I like the pickled mustard greens with chopped pork, served atop thick or thin noodles in a fragrant consomme.
No matter the time of year, just about everyone gets the soup dumplings, says Chen. Once the server lifts the lid from the bamboo basket, a diner spears a liquid-filled purse with a chopstick to let the steam out before she dips it in black vinegar and sesame oil. Another grabs a soup spoon and ladles one into her mouth. Variations on this scene play out across every visit, as diners practice their own personal soup dumpling rituals.
"This place is good," said Chen Li, a graduate student at Carnegie Mellon from the northern province of Hebei.
While she was waiting for takeout at Everyday Noodles, she said it took her a while to figure out where to go among Pittsburgh's Chinese restaurants.
"I had a lot of Americanized Chinese food that reminded me of the '80s," she said. It has only been within the past year that she has found her regular places serving dishes that resonate with her.
Across the street sits Sakura Teppanyaki & Sushi, a Japanese restaurant on its face, but the sandwich board out front courts Chinese students with the day's specials written in Chinese.
The place is owned by Ping Geng and Feng Gao from Xi'an, the capital city of China's Shaanxi Province, who have lived in Pittsburgh for about 20 years. They first opened nearly a decade ago as a Japanese restaurant, but when Chinese students learned that Gao was a skilled Chinese cook, they asked for off-menu dishes from his home city.
Today, so much of their clientele comes from northwest China that Gao went to a Xi'an cooking school in May to learn more regional dishes and to recruit cooks for the restaurant. He recently found a new head chef who has moved to Pittsburgh to work at the restaurant.
In the meantime, Gao features a separate Xi'an menu at the restaurant inspired by his cooking school experience. It's filled with classics like hot oil noodles with chile flakes and chile oil, scallions, and wilted bok choy. Xi'an's proximity to central Asia means the local diet is high in lamb, and at Sakura the lamb skewers are almost dainty, with meat pounded thin, rubbed in cumin and dried hot pepper, and served on sticks as thin as wire.
There is also an eight-treasure spicy sandwich, a flaky flatbread with crisped tendrils of dough around the edges. Inside, marinated pork joins a medley of celery, carrots, onion, garlic, and peanuts, served with a side of chile oil and scallions. But the meal that draws crowds so large they line up out the door is weekend breakfast. Students and professors come here for congee and fried you tiao (dough sticks) with sides like tripe sauce and salty bean curd.
Looking Beyond Pittsburgh
Another university town with an increasing number of Chinese students is the Urbana-Champaign metropolitan area, since the University of Illinois campus there hosts nearly 5,000 Chinese students, more than any single U.S. university.
Four years ago, restaurants such as Golden Harbor Authentic Chinese Cuisine in Champaign opened to accommodate the growing number of Chinese students. The family-run business features several menus, including a "Chinese Menu" of cold appetizers, Hong Kong–style noodles, rice cakes, and congee; "New," less traditional with separate categories for pork liver and homemade salted pork; and a "Taste of Taiwan."
Diving Deeper into the Hot Pot
Back in Pittsburgh, Zhu at Chengdu Gourmet uses an agency in Queens, New York, to hire line cooks from his hometown. Today, he has five cooks in the kitchen, with the newest one having most recently moved to Pittsburgh from New York a few months ago.
When Zhu was a teenager, he got his start first baking Western-style cakes, then transitioned to savory cooking. In a Chengdu restaurant, he spent five years just honing his knife skills. Today, Zhu's cooking is nuanced, with a range of dishes from the Sichuan canon—think mapo tofu and cumin lamb. But he's also serving off-menu and special items that are closer to what's being served in Chengdu and Chongqing right now.
Though the presentation at Chengdu Gourmet is far more casual than his training would suggest, the special family-style dishes display fine-tuned skills, with ingredients cut like flowers or feathers or, for that special-occasion dinner, a duck deboned in one fell swoop. Then it's stuffed, roasted, and flash-fried before serving.
My favorite order at Chengdu Gourmet is the Chongqing-style beef in a hot, spicy broth. It calls to me at least once a week—even after Zhu teases me that in Chengdu, it's so eight years ago.
The bowl is defined by the seductive ma la, the combination of chiles and numbing peppercorns, atop cauliflower florets, lotus coins, fronds of enoki mushrooms, thin slices of beef, and triangles of fried tofu.
The fragrance also captivates, with its Chinese five-spice and star anise, clove, and cassia, which is somewhat like cinnamon. The deeper you dig in, the better it tastes.
Melissa McCart is the dining critic for the Pittsburgh Post-Gazette. Before that, she wrote about food in South Florida for the Broward-Palm Beach New Times and freelanced for a decade in Washington, D.C., for the Washington Post, Washingtonian, Washington City Paper, and Gourmet, among others. You can often win her over with a bowl of bouillabaisse or cioppino.