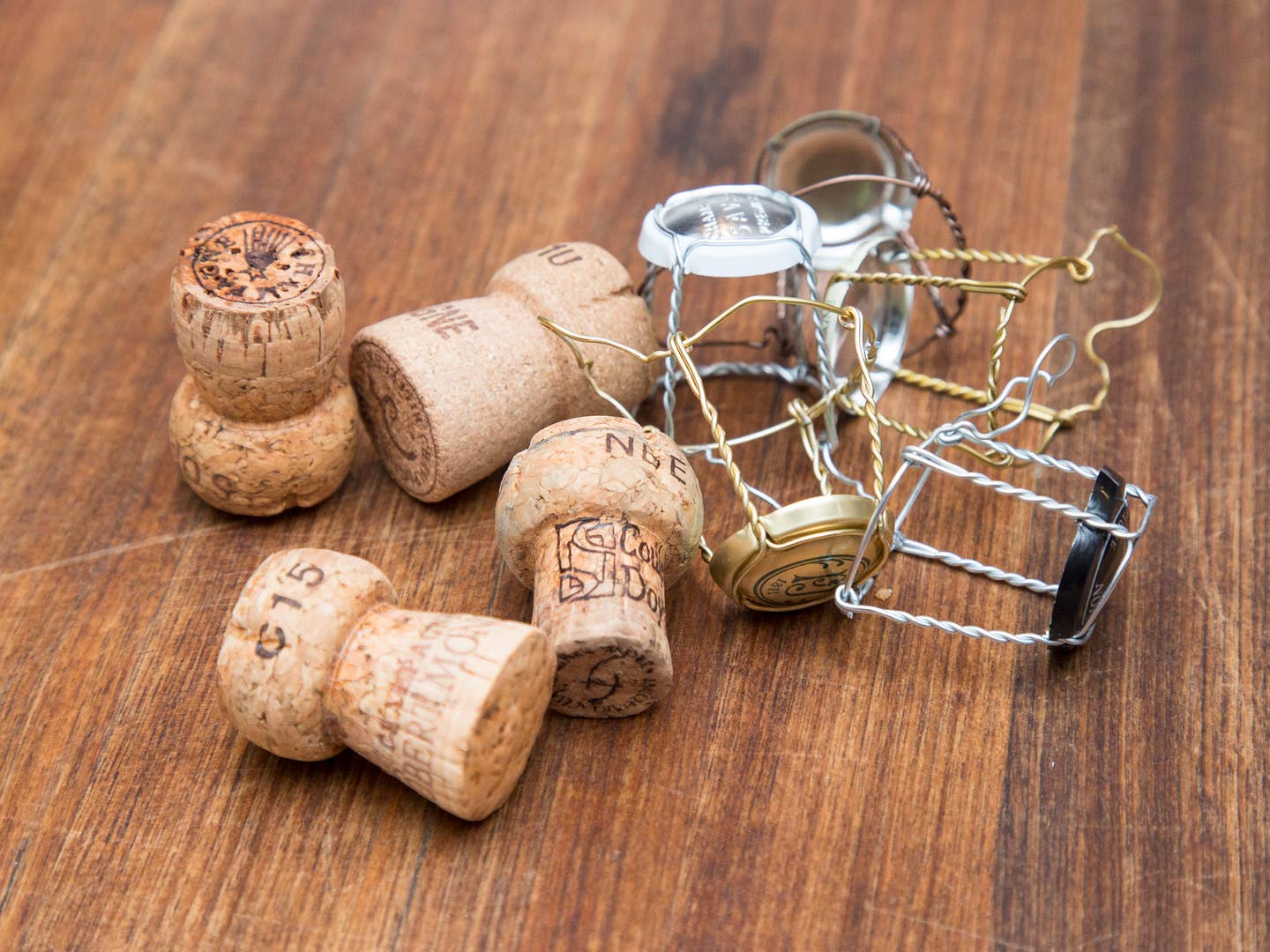 Drinks
What a Blind Tasting Taught Us About Shopping for Champagne
The Tablet Hotel co-founder on the merits of affordable bubbly
Laurent Vernhes was the first to show up at our office for the Champagne tasting last week. The seven wine directors he invited from hotels he works with around Manhattan trickled in later. Vernhes, who co-founded Tablet Hotels 16 years ago, had instructed each guest to bring two bottles of Champagne. The idea? Conduct a blind tasting and pay attention not to labels, but to the primordial elements of Champagne that make it the elegant beverage it is. Though for those of us who aren't experts, what are those elements, and how can we better understand what to look for when buying Champagne?
"Sure, Champagne is a luxury item," says Lauren Blake, a sommelier at the Archer Hotel, "but that doesn't mean it has to be considered such a lofty product." Vernhes agrees, which is why he capped the bottle price at $100 for the tasting. He had also brought with him a half case of his own Champagne, Maison Vernhes, which comes in under the $100 price point. "I don't believe you have to accept you're going to drink something not as good just because you pay less," Vernhes says. He and Blake both want Champagne to be more accessible.
Part of this access comes from a rudimentary knowledge of Champagne. For Tristan Prat-Vincent, wine director at Park Hyatt New York, "The easiest way to approach Champagne is through the varietals and styles." He was talking about the three grape varietals allowed in the production of Champagne, which is itself the region in northern France where the wine is (and can only be) made: pinot noir, pinot meunier, and chardonnay. There are two styles of Champagne; blanc de blanc (Champagne made from only chardonnay, a white grape) and blanc de noir (Champagne made from pinot noir and/or pinot meunier, red, or black, grapes). From these two styles come non-vintage (a blend of grapes from more than one year), vintage (Champagne made from grapes harvested in a single year), and rosé (which can be made in different ways but gives the wine a pink blush) Champagne.
Each of these styles has an identifiable character. That's not to say all blanc de blanc or non-vintage Champagnes taste the same, but there are common traits reliably found within each Champagne subset. Chardonnay, for example, produces Champagne with finesse and structure—all the elements of the wine come together in perfect balance. Pinot noir is a high-acid grape and makes bright, tart Champagne. Pinot meunier, a mutation of pinot noir, brings some of this acidity but is coveted for the body, fruit, and aromatics it brings to Champagne. Vintage Champagne is rarer than non-vintage, and is made only in years when the cold region produces ripe and balanced fruit. This makes vintage more coveted and complex, because it is aged longer (Champagne is an exceptional wine that needs time to develop) than non-vintage, and, as a result, more expensive. Rose Champagne has a unique fruit profile all its own, which comes from the methods used to vinify the wine.
For the lay Champagne shopper, building this general knowledge may require a quick visit to Google. But the best way to learn is to drink it, and you should never be afraid to have a conversation when buying wine, Champagne or otherwise. "You have to ask questions," says Vince Mosso, wine director at the Bowery Hotel. "It always comes down to taste. It's subjective, so ask questions and talk about what you like in wine." Having a base knowledge of Champagne grapes and styles will guide you to what those things are you like in wine. It will eliminate some of the fear and anxiety that comes with buying Champagne and it will help inform better purchases; ensuring you get your money's worth.
Vernhes had wrapped each of the Champagne bottles in foil. So in addition to notes, the professionals were taking their own advice—asking each other questions about the Champagnes they had before them to better understand the product. With all 14 Champagnes tasted and scored (based on a 100-point scale reflective of appearance, aroma, and taste), Vernhes went home to tally the winners. Here are the top four picks.
Four Champagnes to Seek Out
H. Blin Blanc de Noirs (around $40)
This 100% pinot meunier has a perfect balance of acidity, fruit, and body, and the Henri Blin estate showcases the grape's ability to make great Champagne.
Maison Vernhes Brut Réserve
Maison Vernhes is a blend of all three Champagne grapes. "I think blends are more integrated," says Vernhes, "and I like the impact of pinot noir here especially." Vernhes' Champagne has great acidity from the pinot noir, but the elements of the other grapes make this fuller-bodied (pinot meunier) Champagne focused and structured (chardonnay). But this is new to the U.S., and not yet available for retail.
Billecart-Salmon Brut Rosé (around $86)
With a subtle, pink hue, this rosé (a blend of all three Champagne grapes) was a winner for its elegant and persistent bubbles, bright citrus aromatics, and long finish.
Savart Premier Cru l'Ouverture (around $36)
Savart's entry-level Champagne is 100% pinot noir. It's clean and crisp yet complex, refreshing and very gulpable.