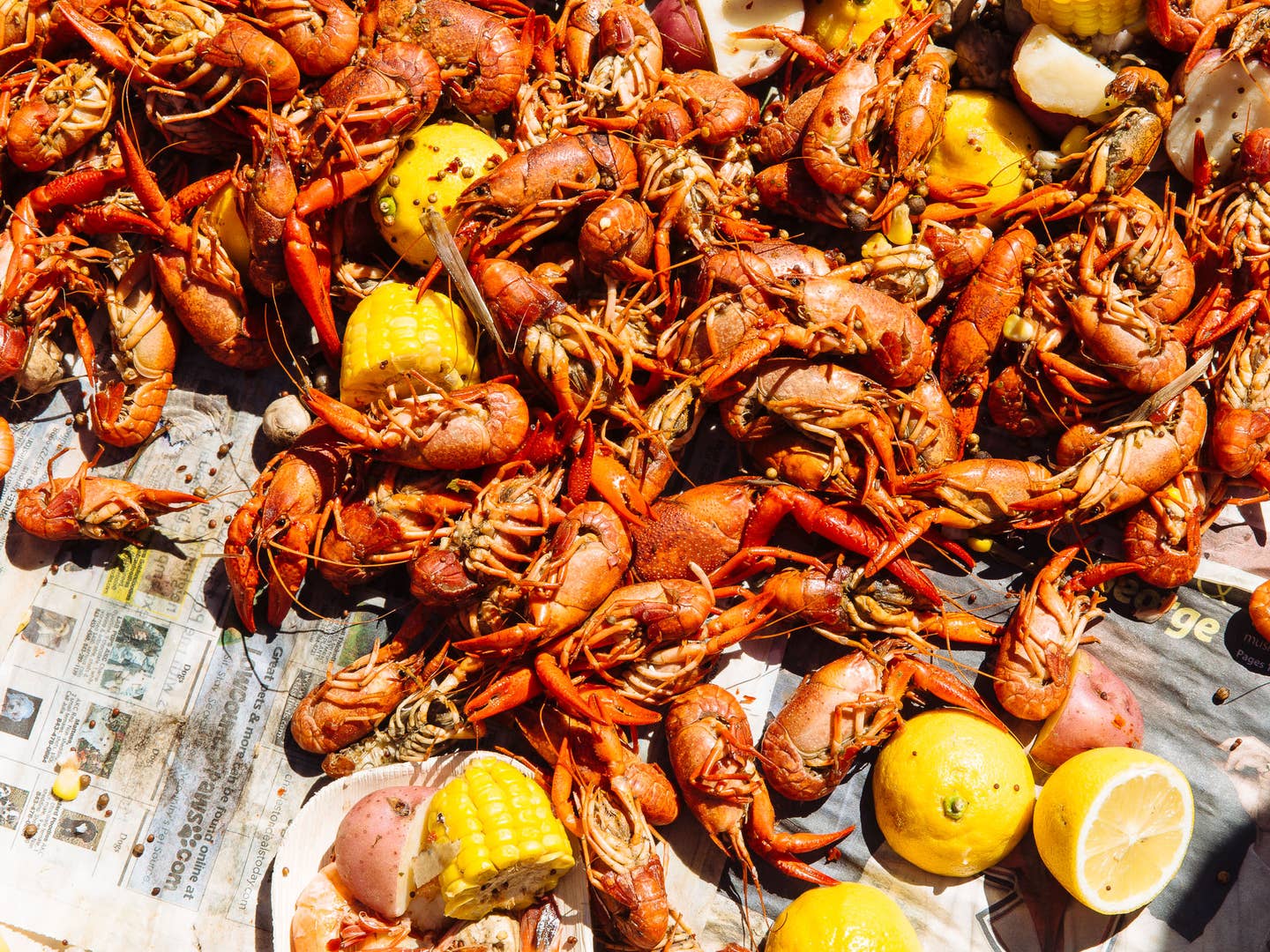 Culture
What's Goes Into a Crawfish Boil? (Besides Crawfish, That Is)
From Cajun crawdads to Lowcountry shrimp, it all depends on who you ask
Know your way around a traditional Cajun crawfish boil? How about a Lowcountry shrimp or crab boil? As a Houston native, I'm partial to the lemongrass-and-ginger–laden rendition of my hometown, but that's just the thing: despite being one of the most storied communal traditions of the South, the boil is a deeply personal and inherently customizable art. That's why at this year's Charleston Wine + Food Festival, staff photographer Matt Taylor-Gross and I decided to stuff our faces at a Cajun-meets-Lowcountry crawfish extravaganza, featuring three chefs preparing their own takes on a boil.
Jean-Paul Bourgeois' Cajun Boil
From New York City's Blue Smoke restaurant, Cajun chef Jean-Paul Bourgeois prepared a traditional Louisiana boil of crawfish and shrimp using a method taught to him by his father, with Zatarain's liquid crab boil and powder crab boil, along with his own personal additions of artichokes, orange, garlic, lemon, and even pineapple at the end for a sweet-and-sour finish. One of the main differences between the Cajun boil and the traditional Lowcountry boil, according to Bourgeois, is the use of seasoning: the former soaks all of it in the water whereas the latter often leaves a dusting of seasoning on the outside of the protein.
Then there was chef John Bel of Meauxbar in New Orleans, Louisiana, who dubbed his boil a "French Quarter seafood boil." Born and raised in the Big Easy, Bel incorporated ingredients he said are not typically used in a Cajun boil, but rather in the city of New Orleans itself, like Brussels sprouts, one of Meauxbar's most popular items. Like Bourgeois, Bel grew up boiling through his childhood. His boil featured some of his family favorites, like mushrooms, and a kitchen sink of spices including: allspice, cayenne pepper, clove, fennel seeds, and mustard seeds.
Jason Culbertson's Lowcountry Boil
Last but not least was Jason Culbertson of Grill Force One, a roving Charleston-based food rig operating out of nearby breweries and at local events. Though his creation was called a Lowcountry boil, Culbertson wanted to do something a little different by highlighting not only Charleston's famous shrimp but also some of the city's locally-sourced meat and organic produce. His boil included Andouille sausage and kielbasa from Meathouse Butcher Shop on Johns Island as well as sweet potatoes he harvested himself at Rooting Downs Farm—all simmered down in a shrimp and corn stock.
Regardless of where or how you enjoy a boil—be that with New England lobsters or Gulf Coast crawfish—two things will always be true: a boil is best served surrounded with friends and family (or at least some folks who won't judge you as you throw back a few pounds of messy seafood) and an ice-cold beer to wash it all down.